WWE's WrestleMania 36 Location and Date Revealed; Tampa Becomes Third Florida City to Host Event
After weeks of rumors and speculation, the WWE announced that Tampa Bay will host WrestleMania 36.
The WWE revealed the location on Thursday inside Raymond James Stadium, home of the NFL's Tampa Bay Buccaneers, hours before its official announcement. WrestleMania 36 is set for Sunday, April 5 2020.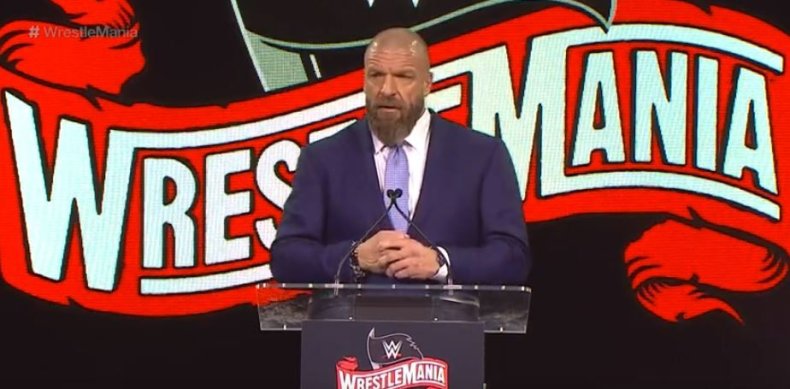 WrestleMania 36's location will mark the third time since 2012 that Florida has hosted the biggest wrestling event of the year. WWE held WrestleMania 33 in Orlando and WrestleMania 28 in Miami.
This will be the fourth overall WrestleMania in the Sunshine State, the first being in 2008 when WrestleMania 24 took place in Orlando at what was then known as the Florida Citrus Bowl. The main event that year was the World Heavyweight Championship match between the champion Edge versus The Undertaker.
Newsweek subscription offers >
During the WrestleMania 36 press conference, WWE COO Paul Levesque AKA Triple H, announced that his promotion, NXT will be hosting a Takeover event in Tampa that same weekend.
Raymond James Stadium opened in 1998 and has a capacity of more than 65,000. It's also been host to two Super Bowls. The first was in 2000 when the Baltimore Ravens won their first championship against the New York Giants. It was also the host for the 2008 Super Bowl where the Pittsburgh Steelers defeated the Arizona Cardinals.
This stadium is also set to host the Super Bowl in the 2020-21 season.
This year's WrestleMania 35 is set to take place in MetLife Stadium in New Jersey on April 7.
What do you think of WrestleMania 36 being held in Tampa? Where would you want to see it in 2021? Let us know in the comments section below.
WWE's WrestleMania 36 Location and Date Revealed; Tampa Becomes Third Florida City to Host Event | Culture