WWE's Serena Williams: Asuka on 500 Days As NXT Women's Champion and Beating Goldberg's Undefeated Streak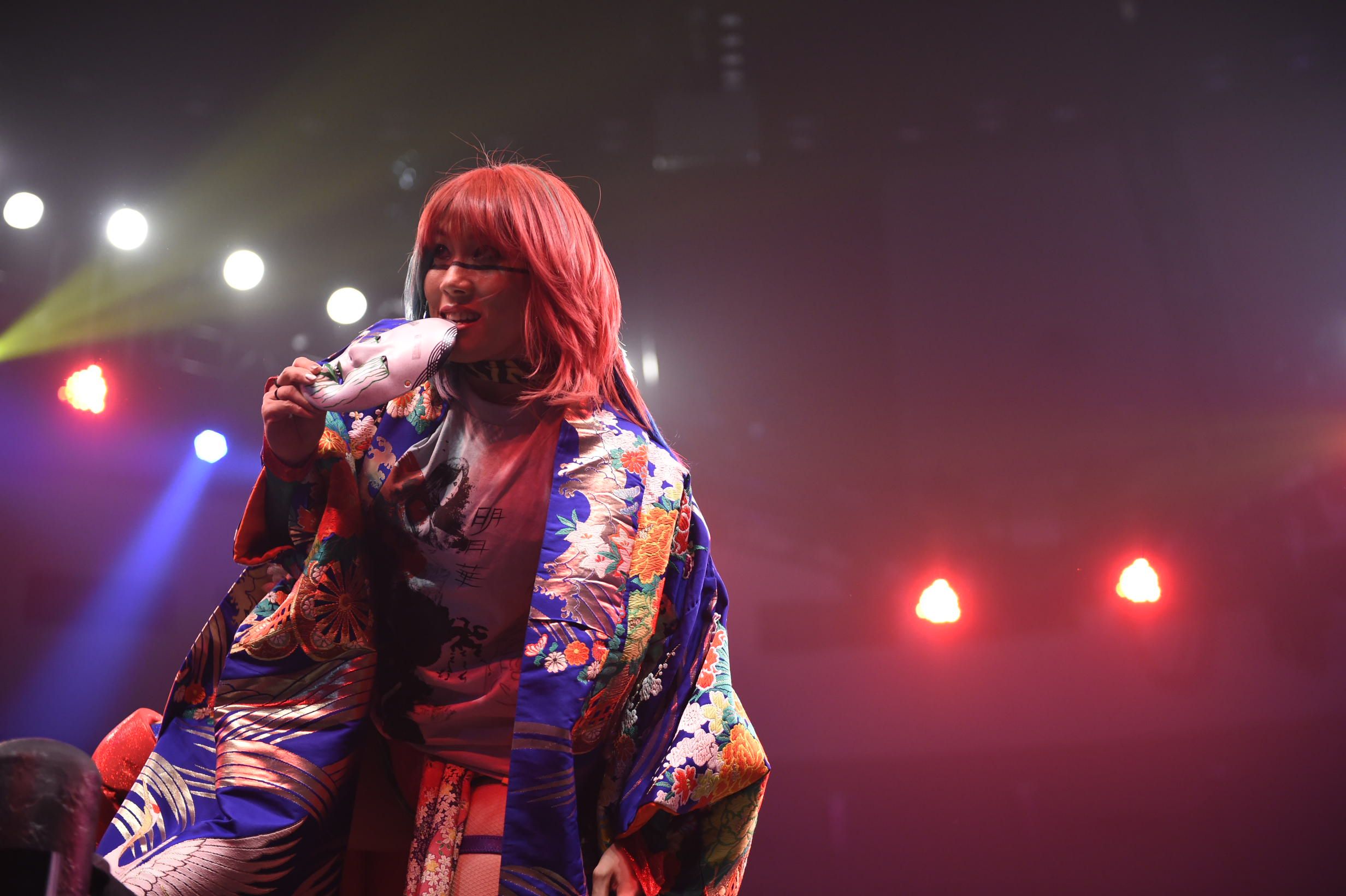 "Unstoppable. Untouchable. Undefeated." Those are the words World Wrestling Entertainment (WWE) executive vice president Paul "Triple H" Levesque used May 27 to describe one of the most successful wrestlers in recent history. It wasn't John Cena, the stalwart face of WWE, whom Levesque was slapping on the back. Nor was it directed at the many ultramasculine behemoths you would more easily associate with WWE. Levesque was praising Asuka, the Japanese female wrestler who has been tearing it up in NXT—one of WWE's popular touring shows—since she arrived in late 2015, and forged a heady road to superstardom that parallels tennis's Serena Williams and UFC's Ronda Rousey.
Come midnight August 14, the 35-year-old grappler's NXT women's championship reign will cross 500 days—an unprecedented number in the modern era of professional wrestling. Three days after that, Asuka will overtake '80s star Rockin' Robin's 502-day reign as WWE women's champion, laying claim to the longest title reign by a female competitor in modern-day WWE. (Only one woman, the Fabulous Moolah, has held a WWE women's championship longer: more than 10,000 days from 1956 to 1984, though that predates WWE incorporating the title into its canon, and the exact length of the reign is disputed.) And when Asuka walks into the Barclays Center in Brooklyn, New York, for her next big title fight on August 19, it will be with an 180-plus-fight undefeated streak.
"When I decided to sign a contract with WWE, I decided two things," Asuka tells Newsweek, speaking through a translator. "I was determined not only to win, but to leave [breaking] records. That is something I feel like I can do as a return to WWE [for hiring me]."
It's indisputable that professional wrestling, unlike other sports, is scripted. The matches are choreographed, the outcome of matches predetermined by a writing team. It is more akin to a soap opera than an Olympic sport. But like the success of Wonder Woman in a male-dominated Hollywood, Asuka's record-setting hot streak in WWE matters. Wrestling is an industry that historically has been shaped around musclebound men in spandex. Asuka and a handful of other women in WWE are changing that. They signify a growing equality between male and female wrestlers, and a change in the company's philosophy.
Asuka's winning streak would have been unthinkable even five years ago, when the average women's match on Raw, WWE's top-rated show, lasted around three minutes. At its worst, in February 2015, Raw featured a 30-second women's tag-team match. That precipitated fans to furiously tweet the hashtag #GiveDivasAChance. It trended for nearly 48 hours and made global headlines. WWE took notice—and started giving women a chance.
Now, two years after the WWE-stylized "Divas revolution," Asuka was recently part of a week of programming that featured women in the main event of Raw, SmackDown Live and NXT. (She successfully defended her NXT women's championship in a brutal "last woman standing" match.) The commitment to female representation is paying off, too. Nielsen figures show that female viewership of WWE television programs has grown to 38 percent, and the company told USA Today in March that merchandise sales for T-shirts and other apparel featuring its women has grown since the shift in direction.
Asuka is a talent who commands the respect of WWE fans. She's also earned distinction from her peers. In May, Asuka notched her 174th victory in NXT, overtaking legendary wrestler Bill Goldberg's 173-win streak in World Championship Wrestling (WCW) from 1997 to 1998. Goldberg, one of the biggest stars in wrestling at the height of its popularity in the 1990s, offered his congratulations on Twitter. "The 'streak' is in very good hands," he wrote, and, in the process, bridged the gender gap in wrestling a little bit more. "It was unbelievable to me to overcome that record," Asuka says.
• • •
Asuka, real name Kanako Urai, was born in Osaka, Japan. As "Kana," she wrestled 11 years in the notoriously tough Japanese joshi puroresu ("women's wrestling") scene. The in-ring style in Japan is harder-hitting than the softer style seen in WWE—it isn't for the meek. Asuka established herself as a top woman on the Japanese circuit and even produced her own live shows featuring other wrestlers. Little did she know at the time that WWE had an eye on her, too.
WWE announced it had signed the Japanese wrestler in September 2015. At the time, Levesque remarked, "Her exciting in-ring style will make an immediate impact on the already impressive NXT women's division." There was a weight of expectation on her, Asuka says, when she joined the company. WWE was in the beginning stages of restructuring its women's divisions, and Asuka was the company's first star signing. "When I got the call from WWE, I asked them why they picked me, and they told me, 'Among all the women's wrestlers, you're the one we want to pick.' I felt a lot of expectation," she says. "I felt I had to do my best to [prove I'm the best to] them."
Prior to the "Divas revolution," women's matches were a novelty on WWE television, and a large concentration of its female wrestlers hailed from modeling or acting backgrounds. "I wanted to change women's wrestling in WWE. In wrestling, men and women do the same thing, but sometimes the men look more powerful and more impressive. I am trying my best to fill the gap between men and women," says Asuka.
The Japanese competitor had her first match against Dana Brooke on the NXT TakeOver special Respect in October 2015, bringing new flavor to a WWE women's match with her stiff strikes and kicks to her opponent. Asuka won, of course, beginning her undefeated streak. "I was wondering how the WWE [audience] would react to me. When I had my debut match [in NXT], I realized I can make it here."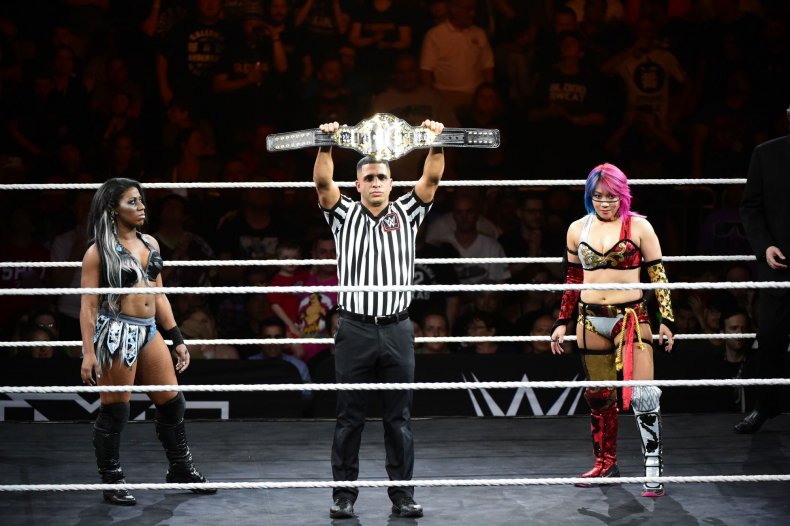 Levesque, however, always knew his star signing would make it in WWE, and the wrestler-turned-executive's early belief in Asuka has manifested into a close working relationship. "I have a big trust in him," the champ says. "Whenever I have an idea, I always talk to him. He always gives me amazing advice."
Navigating an entirely new language and culture has been more of a challenge for the Japanese wrestler. Asuka resides in Orlando, Florida, close to WWE's Performance Center, where she trains between NXT live events and television tapings at Full Sail University in Winter Park, Florida. When she moved to Orlando, WWE provided her with translators and helped her to find a house. "It was my first time living in the U.S., but they were so supportive," she says. "The language was a big wall for me...I'm still struggling. Driving is an issue. When I was in Japan, I didn't have to drive all the time, but here in Florida, you have to drive all the time. But American people are very friendly, cheerful and kind to me. So I'm really thankful to the American people."
• • •
Asuka, the character, is a bad guy. She saunters to the ring with a brazen arrogance, her NXT women's championship around her waist and a geisha mask covering her face. When she steps into the ring, she removes her mask to reveal a cocky smile that immediately disarms her opponent. "No one is ready for Asuka" has become a catchphrase for the grappler. Many have tried to fell the champion, including the popular Bayley and the impressive Nikki Cross, but no one has managed to topple her yet.
Next to step up to bat is Ember Moon, whom Asuka defeated once before, in April, at NXT TakeOver: Orlando. They will compete again at NXT TakeOver: Brooklyn III August 19, and the Reddit scuttlebutt is that Moon could end Asuka's record-making run. Not so, says Asuka. "I'm going to go to TakeOver and beat Ember Moon and keep my title. Then I will probably go to Raw or SmackDown and get another title."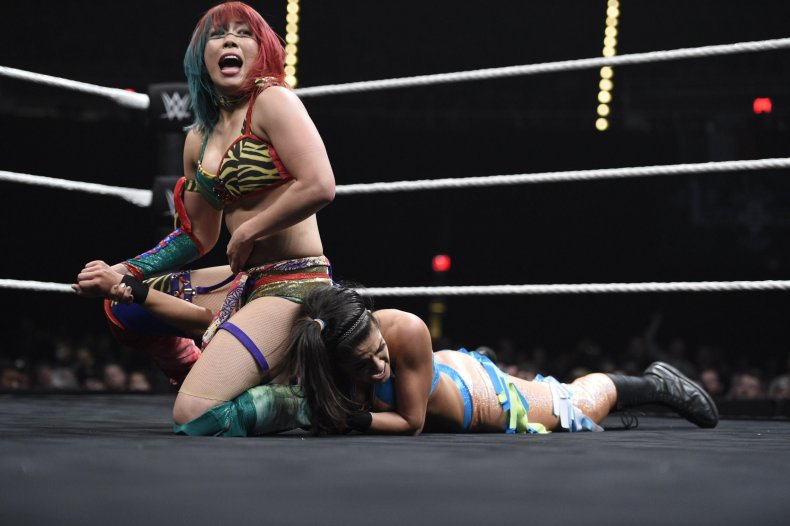 Such is her confidence that Asuka is already looking beyond her next fight to competing on WWE's signature programs on the USA Network. Fans have been fantasy-booking what might happen if Asuka were to face some of her fellow women's division revolutionaries, like Charlotte Flair or Sasha Banks. They're at the top of her wish list, too. "I don't use the words 'respect' or 'admire' toward my opponents, but I'm interested to have matches with Sasha and Charlotte," the champ says. "Those two women I've never faced before."
If NXT TakeOver: Brooklyn III is the end for Asuka's history-making run in NXT, Sasha and Charlotte had better be on notice. "Of course I want to go to Raw or SmackDown, that's one of the reasons I joined WWE," says Akusa. "But I think there's an appropriate timing...I'll go when it's the right time."
WWE NXT TakeOver: Brooklyn III airs August 19 on the WWE Network.