WWE's Titus O'Neil: Why Strong Fathers Shouldn't Be Afraid to Cry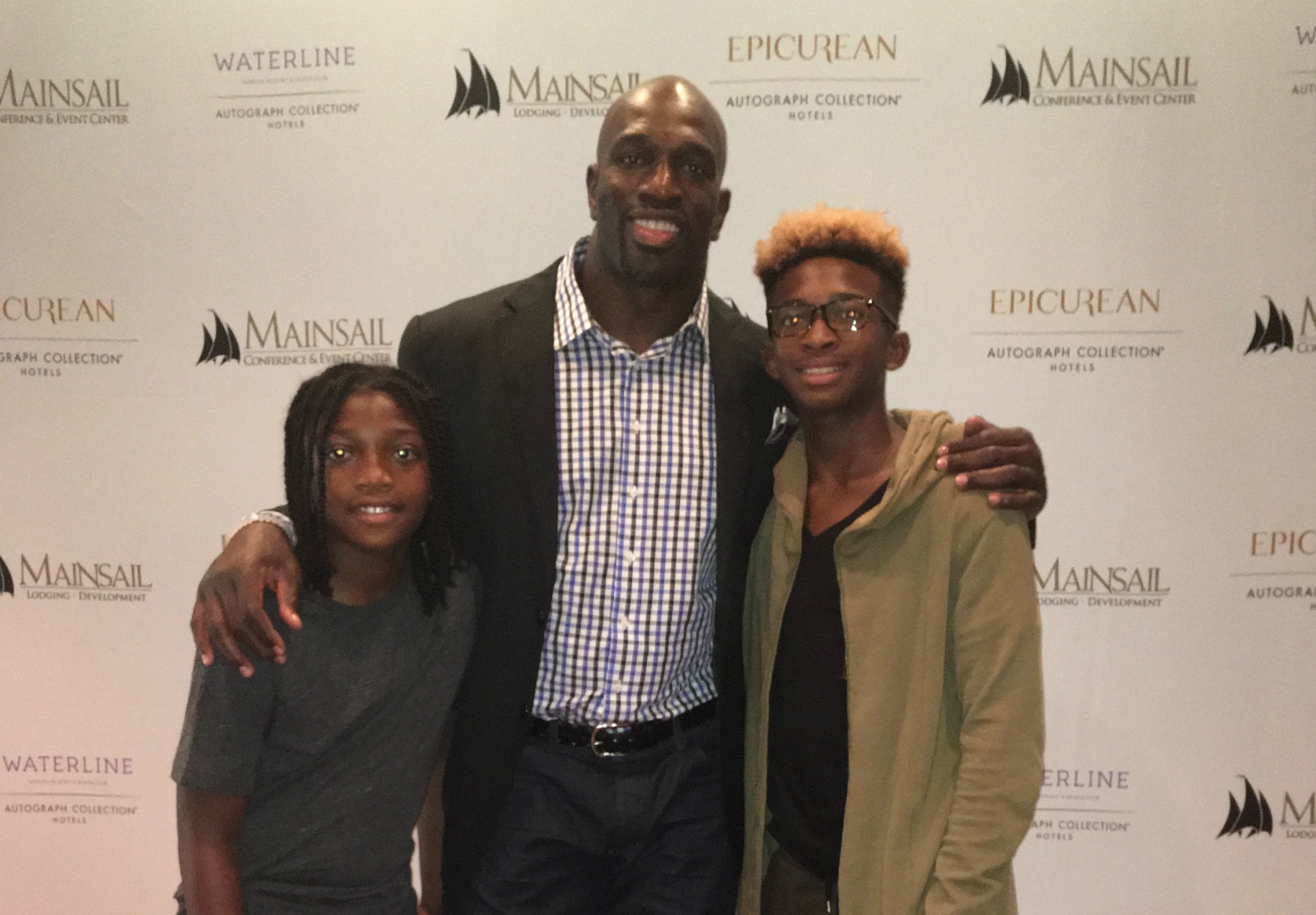 As we approach Father's Day this Sunday, I'm reminded of the honor of being named Celebrity Mega Dad of the Year in 2015. It was a surreal moment for me. My two sons were very excited, especially considering the other big star nominees Kaká, Ashton Kutcher, Vin Diesel and David Beckham.
But truth be told, every day for me is Father's Day. Being a father is my greatest honor and something I'm very grateful to experience every single day. Each day I get to wake up and tell my kids I love them and hug them, or talk to them on the phone or video chat with them when I'm traveling for work with WWE. That is Father's Day for me and I cherish every moment.
I never met my biological father—I grew up in a single parent home. The one thing that I knew at a very early age was that I would be an active and present father, simply because I didn't want my kids to feel the emptiness that I felt as a kid, and the lack of a positive male role model in the home. My mom was a phenomenal mother, she did everything she could, but she couldn't teach me how to be a man. We need positive male role models. Even as an adult, I have father figures in my pastor and in Charles Blalock, a man that raised me as his own son.
People often think father figures are just a biological father, but that's not necessarily true. When there are positive male role models present, you see young people prospering. My role as a father is not just to be a provider but also to teach my sons by example how to love and respect others and their differences, how to live with character, integrity and pride in who they can be and what they can accomplish in life with the right attitude, work ethic and opportunities.
As a WWE Superstar, I get to travel the world, meet some extraordinary people and put smiles on plenty of faces. My kids have also joined me in putting some smiles on faces when they go with me to community service events; they've fed the homeless with me, they've visited the elderly with me... I want them exposed to all of this because then they will hopefully have a better understanding and compassion for people. As we've seen with the tragic events in Orlando, there are some people that aren't fans of genuinely loving people. I want my kids to be examples of how to love people from all different walks of life.
There is no question that I'm very proud of my sons for not only their athletic success, but also, and more importantly, their academic success. Recently, my youngest son won "Citizen of the Month" at school. My eldest son got a superlative award for always encouraging others and being a positive role model at his school—and he's only 12. To top it all, they are both honor roll students.
My fans know me as a larger-than-life WWE Superstar who takes no mercy in the ring. That may come with stereotypes of masculinity or being "macho"—that men like me must be emotionally closed off. But I don't conform to stereotypes. I hug my kids. I kiss my kids. I cry in front of my kids and I cry in front of other people. I'm not afraid to be emotional. Men in general need to come to grips with reality when it comes to being vulnerable and expressive—I think that makes you even more powerful because people see you as a more genuine and real person.
My advice to fathers this Father's Day is "take a moment to make a moment." At WWE, we have a campaign with the Ad Council and the National Responsible Fatherhood Clearinghouse (NRFC) and that's our message: take a moment to make a moment. That moment can be as simple as going outside and playing catch with your child.
This Father's Day, I look forward to spending some time with my children as they travel with me to Las Vegas for WWE's Money in the Bank pay-per-view event Sunday. I'm in a championship match and my sons will be right there cheering me on. Sure, I don't need to wait one time of the year to be acknowledged as a father—but it would make my day a little sweeter to become the United States Champion on Father's Day with my boys in the crowd.
Titus O'Neil is father to TJ, 12, and Titus, 10, and is a WWE Superstar. He was voted 2015 Celebrity Mega Dad of the Year.