WWII Hero and 'Candy Bomber' Contracts COVID-19, Family Says
Gail Halvorsen, known as the "Candy Bomber" for his actions during the Berlin Airlift during the 1940s tested positive for COVID-19 on Thursday, according to members of his family. Halvorsen is 100 years old.
The resident of a long-term care facility in Provo, Utah, Halvorsen is reportedly quarantining. Halversen acquired the nickname of the "Candy Bomber" after World War II during the blockade of Berlin which began in 1948. Soviet forces prevented citizens in areas of Berlin controlled by the Allies from receiving food, fuel and medicinal supplies. In a 2009 interview, Halverson said he was initially unsure about helping German nationals.
"They'd started the war," Halverson said, "and we had been told what beasts these people were—killing Jews and everybody else, whatever it took. Germans were bad news."
During a supply run into Berlin, Halvorsen was met by some German children. "Those kids were giving me a lecture, telling me, 'Don't give up on us. If we lose our freedom, we'll never get it back.'"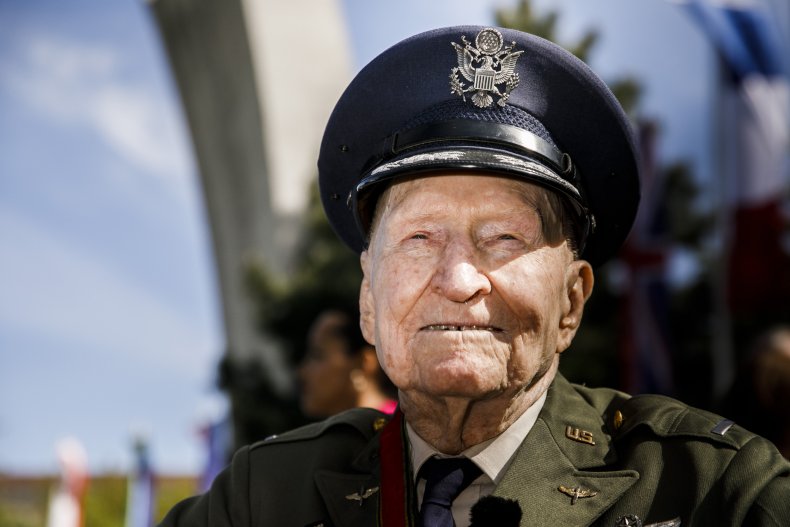 Halvorsen promised the children that the next time he brought supplies, he would drop chewing gum from the airplane as it landed. However, Halvorsen failed to get permission from his commanding officers. On a trip to base operations in Berlin, Halverson surprised to find a mass of letters addressed to him. When he explained his actions to airlift commander General William Tunner, Tunner said, "Keep doing it."
Eventually, the entire squadron began dropping candy to German children in an operation Tunner named "Operation Little Vittles." By the end of the Berlin Airlift operation in 1949, Operation Little Vittles pilots had dropped over 23 tons of candy using over 250,000 parachutes.
"Without hope, the soul dies," Halvorsen said. "And that was so appropriate for the day. In our own neighborhoods people have lost hope, lost function because they have no outside source of inspiration. The airlift was a symbol that we were going to be there—service before self."
Halvorsen continued his famous candy drops after returning from the service in his home state of Utah, where he would fly over towns in the state and deliver sweets from the skies. Halvorsen continued to make public appearances for decades. In 2019 at the age of 99, Halvorsen sat in the co-pilot's seat for the annual Christmas Candy Drop at Kitty Hawk, North Carolina.
In 2019, Utah Congressman John Curtis signed a letter to the White House recommending Halverson be awarded the Presidential Medal of Freedom, the highest civilian honor that can be bestowed onto a civilian.
"The colonel has such an amazing story that inspires people to be better," Curtis told KUTV in a 2019 interview. Newsweek reached out to Curtis's office for comment.