WWII Veteran Threatens to Shoot Anti-Trump Protesters at New York City Parade: 'Give Me a F***ing Gun'
A Second World War veteran angrily confronted a group of anti-Trump protestors—who were also veterans—during a New York City parade for Veterans Day on Monday, threatening to shoot them all.
In footage shot by a journalist for ScooterCaster, and shared widely on social media, including a retweet by Donald Trump Jr., the elderly veteran approaches a group of protesters standing on the sidewalk during the parade to chastise them.
"We're all vets just like you, sir. We're all vets," says one of the protesters, who is standing in front of a banner that reads: "Trump: Veterans aren't your political props."
"Are you enjoying this country?" the WWII veteran, who claims he served in the Pacific under General Douglas MacArthur and was at the surrender of Japan, asked.
The protesters say no, because Trump is president and "he's running it the wrong way." Another man off-camera pleads with the WWII veteran: "Let them have their say, it's OK."
But the WWII veteran says: "Give me a f***ing gun, I'll shoot the sons of bitches...It ain't OK. I fought for the freedom you guys enjoy."
When another protester holding a sign that says "Veterans for impeach punk prick" repeats that he is also a veteran, the WWII veteran replies: "I don't give a shit. No you wasn't, not with that f***ing sign. You want to take me on?"
The protesting veterans start chanting: "Here for the vets, not for Trump."
In another video of the same confrontation, shown by CBS News, the protester says he does not want to take on the veteran. "I want to punch the shit out of him," the WWII veteran says, pointing at the protester, and then says they all have "a lot of hate."
"You're full of hate," a woman who is protesting replies. "We're trying to support you and you're here screaming at us."
The WWII veteran appears to be Jimmy Bishop, who was interviewed by Patch at the parade. "He's our president, we voted for him," Bishop told Patch of Trump, and added that protesters "should all be shot."
Patch also identified one of the protesters who clashed with Bishop as Vietnam War veteran Bruce Frankel.
In an interview with ScooterCaster, Bishop reiterates his threat to shoot the anti-Trump protesters. "Anybody who holds a sign up against our president is what upsets me. And I'm not afraid of any one of them. If I had a gun here now I'd wipe them all out," he said.
"I'm upset right now. I come over here to enjoy Veterans Day and look at what I got. I fought for the freedom that they're enjoying. I was in the Pacific with MacArthur against the Japanese and I was also at the surrender of Japan. And I am mad. I'm not afraid of any one of you mothers."
"Veterans fought for the right of all people to express their opinion," a spokesman for the New York parade's organizers told Newsweek.
The NYPD did not respond immediately to a request for comment.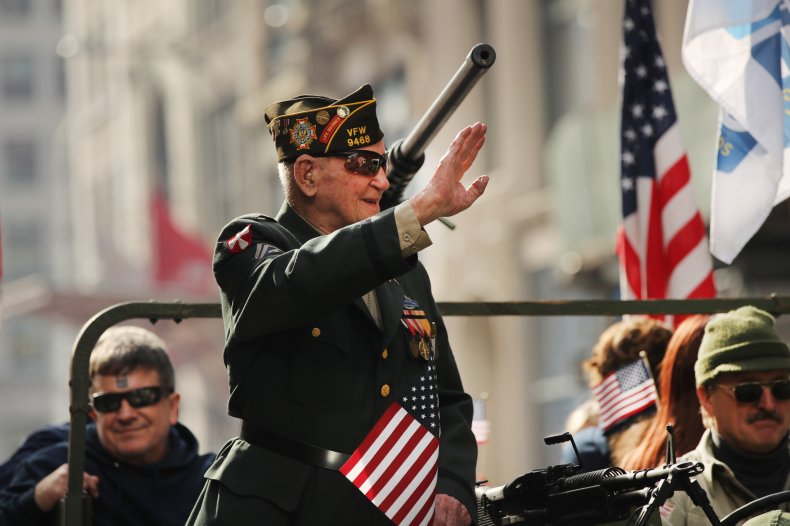 This article was updated with a comment by the parade's organizers.