WWII Vets Take 'Dream Flights' in Biplanes From 1930s and 40s
A national nonprofit organization is looking to give back to veterans who gave their service to the country. Dream Flights, a Nevada-based organization, is taking World War II veterans up in the skies for a free flight in a restored Boeing Stearman biplane, which was used to train aviators during the war.
According to its website, Darryl and Carol Fisher created the organization in 2011 and have provided flights to more than 4,200 veterans and seniors living in long-term care facilities.
Wendy D'Alessandro, a spokesperson for Dream Flights, told Newsweek Darryl is a third-generation aviator, and his father and grandfather flew Stearman biplanes.
One day in 2011, Darryl and his father were out flying a restored Stearman biplane, and Darryl asked if they could honor some local senior veterans.
"They gave their first Dream Flight to a World War II veteran in Oxford, Mississippi," D'Alessandro said.
The reaction from the veteran and the local community was so powerful that Darryl felt compelled to create the nonprofit.
Dream Flights is now looking to honor and celebrate as many veterans who served in World War II as possible and launched Operation September Freedom, which runs through September 30.
"Fewer and fewer of our Dream Flyers are WWII veterans," their website reads. "Every day, we're losing the opportunity to celebrate them. So in 2021, we're dedicating our entire Dream Flight Tour to WWII veterans. Our mission is to honor as many as possible, thanking them for fighting for freedom."
For these veterans, the experience of stepping onto the plane was described as a time machine.
"When they land, it's transformative," D'Alessandro said. "They have just a sparkle in their eye, they've got a spring in their step."
In Williamstown, West Virginia, one pilot told WTAP these flights are positive for veterans.
"I could see him smiling from ear to ear and I know that he loved it and had a great experience," the pilot said.
Ray Brown, a veteran who was taken up for his own flight, recalled his time spent fighting in World War II before he had a chance to soar through the skies.
"Germans would climb the trees and, when you'd shoot a guy out of the tree, he comes down, breaking limbs and everything else," he told the local news outlet. "When he hits the ground he bounces a little bit...but stuff like that...it was an every day, every minute occurrence when you [were] out—somebody was getting shot or getting shot at."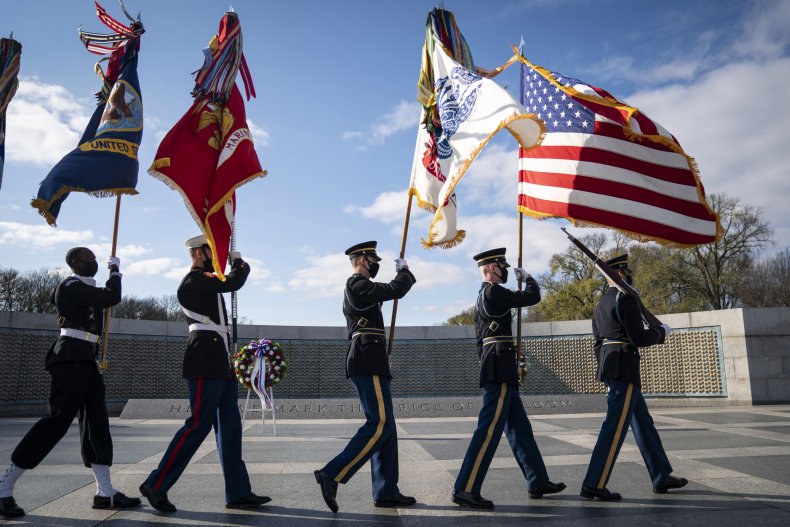 Over in Lewiston, Idaho, the nonprofit took William Lester Welch, a World War II veteran known as "Les," for a flight, according to KLEW.
After getting helped into the biplane, Welch enjoyed a 15-minute flight before touching down.
At the end of their flights, both Brown and Welch were given signed caps.
Clint Cawley, a volunteer pilot, gave Les a signed cap. "Les, thank you for your service," was etched onto the hat.
"These hats are only for World War II veterans, like yourself, that sacrificed and served so that we could honor you today," Cawley said. "Thank you for everything you did for us."
The two were also asked to sign their names on the back of the plane they remember so well from serving more than 70 years earlier.
D'Alessandro said it's important to honor these veterans now and listen to their stories.
"Some of these veterans who were at these major battles, you see them a little bit slower, they're not standing up as tall, but boy, when you look in their eyes, that it's there," she said. "Just because their bodies are slower, the spirit is still there."
Updated 07/26/2021, 1:59 p.m. ET: This story has been updated with statements from Wendy D'Alessandro, a spokesperson for Dream Flights.