'Wynonna Earp' Season 4 Part 2 Release Date: When Will the Show Return?
Wynonna Earp fans have been enjoying the SyFy show over the last month and a half, after waiting for nearly two years for new episodes. However, August 30 sees the network air the Season 4 midseason finale, after which time fans have yet another wait on their hands before they get to see Part 2 of the supernatural western.
Luckily, however, fans will not have as long to wait for new episodes as they did last time. Earlier this week, SyFy released the midseason trailer for the show, which gave the first hint of the release date for Season 4B.
In this promo, which sees Wynonna (played by Melanie Scrofano) reciting a nursery rhyme in the woods, the network reveals that Season 4, Part 2 is coming in 2021.
Though they have not confirmed exactly when in 2021 the show is coming back, it is expected to be sooner rather than later. In March, filming had to end on the show due to the coronavirus, hence why the season had to be split into two batches of six.
However, the show was one of the first to start filming again amid the COVID-19 pandemic. In late July, the team returned to Calgary to keep shooting the next six episodes.
"Day 1 was weird," Scrofano said of going back to filming in a CBR interview, "but Day 2, even, felt a lot better! We have a lot of new rules, even stuff like putting your cup down; you can't do that anymore! You can't even drink on set almost."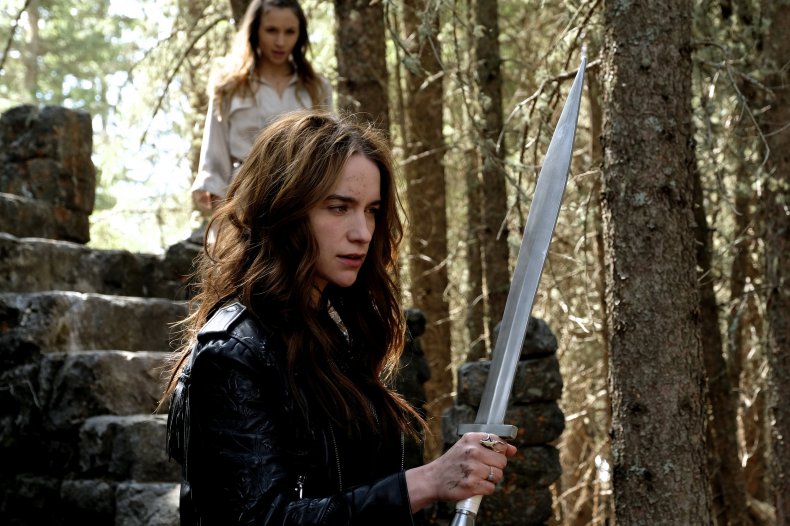 As the show has already been filming for a month, an early 2021 release date seems likely.
In August, Wynonna Earp writer Brendon Yorke spoke to The TV Junkies about all the work that had gone on on the show during lockdown. He said: "By the time production was shut down we had drafts in play for 407-410. We had a sense of the shape of 411 and 412, which Emily [Andras, showrunner] had yet to write.
"Most of the writers were more or less 'done' when the show resumed, which left Emily with 407-410 to edit and all of 411-412 to write from scratch. The greatest challenge fell on Emily to get it all done on time."
Though the makers of Wynonna Earp have not revealed exactly when the show will return, they have teased that the pandemic will not feature in the show, but some of the emotions it has brought out will be. Talking to USA Today, Andras said, "a lot of feelings people have had now after months self-isolation are going to be reflected in the show...isolation and even certain themes of quarantine."
Wynonna Earp Season 4 Part 2 is coming soon to SyFy; Seasons 1 to 3 are streaming on Netflix and Season 4 Part 1 is on SyFy.