'Wynonna Earp' Season 4: Why This Season Was Delayed For So Long
Wynonna Earp Season 4 starts on SyFy on Sunday, July 26 at 10 p.m. ET, 22 months after the last season finale. The SyFy show's fate seemed precarious for a long time following financial difficulties at its production company, but over the next six weeks, the first half of the new season will air.
The Melanie Scrofano show was renewed for Season 4 and 5 in 2018, and all seemed well with the show after a rocky first season and having to write around Scrofano's pregnancy in Season 2.
Why Wynonna Earp Season 4 was delayed
However, at that point, Wynonna Earp's production company IDW Entertainment has financial troubles. Series creator Emily Andras told New York Post: "Season 3 went well and we got greenlit for not one but two seasons from the network, and then we found out we had financial trouble.
Newsweek subscription offers >
"It was nothing I had ever heard of in this industry—of the network wanting a product and the studio saying, 'We're not sure we can afford to make it...It was really fraught."
Filming was meant to begin in February 2019 but was then pushed back. Asked why at the time a fan on Twitter, Scrofano replied: "I don't know anything, unfortunately. All I know is we aren't shooting and I don't know why."
Newsweek subscription offers >
However, a public filing revealed that IDW had to take out some loans as they had, "need for a cash infusion" to make not only Wynonna Earp but V-Wars and The October Faction (both of which were canceled after one season by Netflix) and Locke & Key, recently renewed for Season 2.
At the time, an IDW spokesperson said: "Syfy ordered Season 4 of Wynonna Earp from IDW and is completely committed to the series. This has not changed."
However, the filing revealed that SyFy's licensing fee for the show only paid half of Wynonna Earp's costs. Asked about this by Vulture, IDW said: "We are in the process of working out the details for how the Wynonna story will continue and will share new details very soon."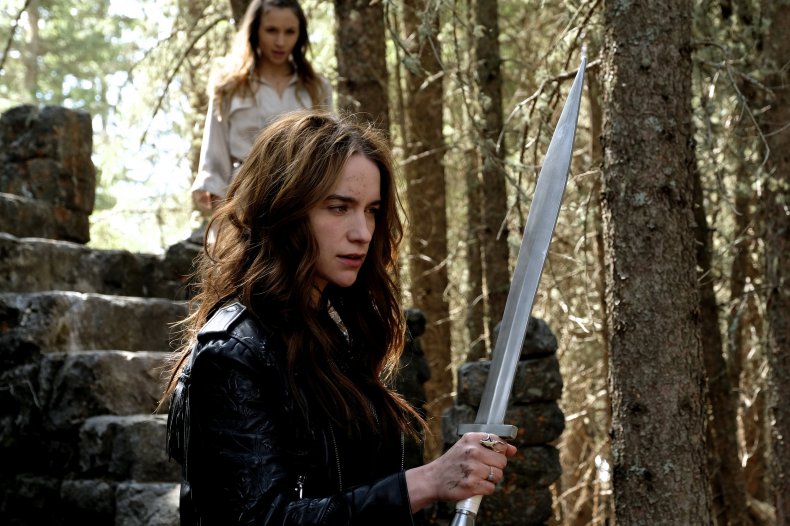 Eventually, IDW was able to make a deal with Cineflix, who is handling international sales of Season 4, in summer 2019. At that time, Variety reported that the show was aiming for a summer 2020 release date.
Filming on Wynonna Earp Season 4 the finally began in January 2020, and now in summer 2020 six episodes are ready to go, but the coronavirus has meant that production shut down on the back half of the season. Currently, production for Season 4, part 2 is set for summer 2020, but it remains to be seen when the show can continue to shoot in Calgary. "We are really anxious to get back to shooting," Nicole Haught actor Katherine Barrell told TVInsider.
'Wynonna Earp' Season 4: Why This Season Was Delayed For So Long | Culture