Wyoming Fires Map: Where Roosevelt Fire, Ryan Fire and Others Are Burning
A number of large wildfires continued to grow in Wyoming this week, spanning tens of thousands of acres throughout the state. The Roosevelt Fire, in western Wyoming, reached more than 48,000 acres, while the Ryan Fire, in the southern part of the state, reached almost 20,000 acres.
A map shows the location of the largest fires burning in Wyoming and the latest information regarding their growth.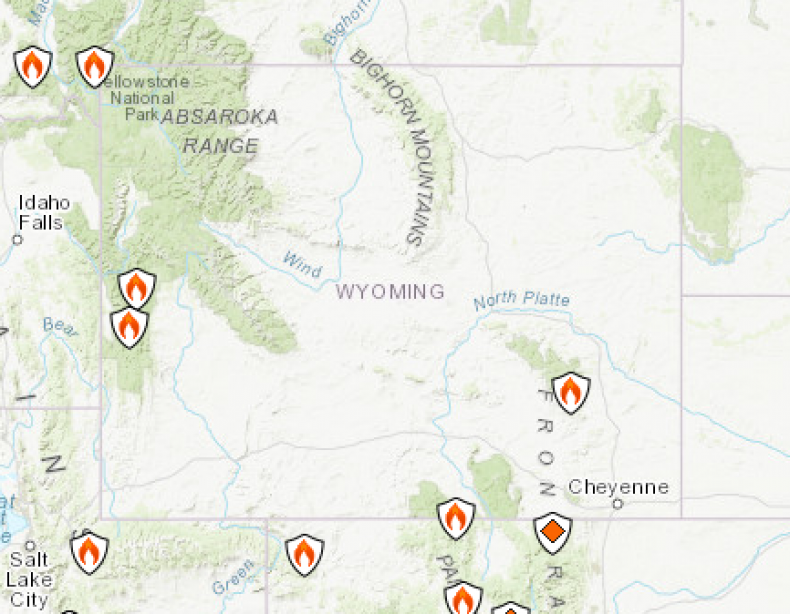 Roosevelt Fire
The Roosevelt Fire, burning south of Jackson, reached 48,348 acres according to the latest information released by the National Wildfire Coordinating Group (NWCG). Fire officials warned, however, that "due to extreme fire behavior," the exact acreage of the fire was unclear.
At least four structures were destroyed by the fire, Reuters reported. Evacuation orders were issued on Sunday for Rim Station, Rim Ranches and Sgt. Lane. Officials said the fire was "moving quickly," closing Highway 191/189 from milepost 110 to 160.
"We haven't had moisture for weeks, and the winds [Sunday] were going from 35 to 50 miles per hour," said Sublette County Sheriff's Sergeant Travis Bingham, according to Reuters. "The fire picked it up and ran with it."
The fire, which began September 15, was 22 percent contained. It remained unknown how it started. Some 800 fire personnel were on the scene working toward containment, which was expected around October 10.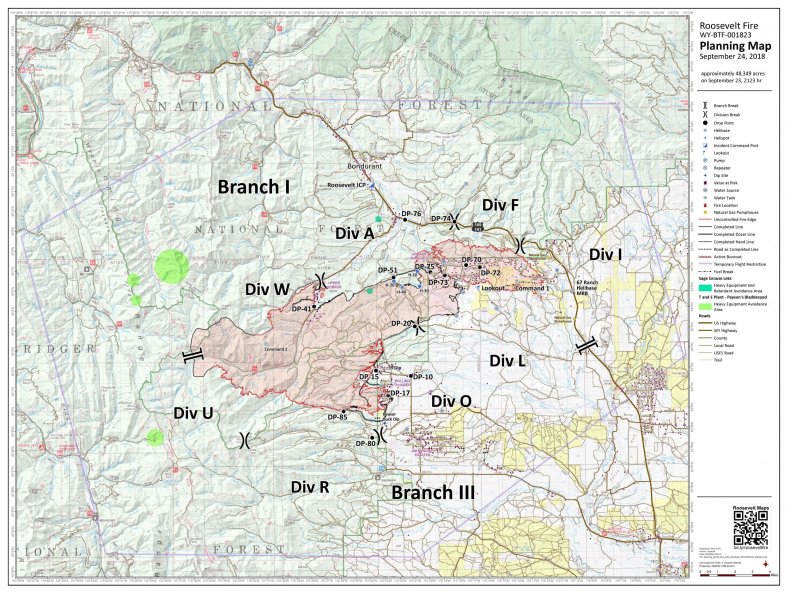 Ryan Fire
The Ryan Fire, burning on the border of Wyoming and Colorado, reached 19,328 acres on Monday, the NWCG said. More than 200 fire personnel were on the scene of the fire, which was not contained. Authorities were investigating the cause of the fire, which started September 15.
Evacuation orders were issued on Sunday for the Skyline community after the fire spread overnight on Saturday. Closures were in place for parts of Routt and Medicine Bow national forests.
Smoke from the Ryan Fire reached into Denver this week, carried by wind, South Metro Fire Rescue said on Twitter.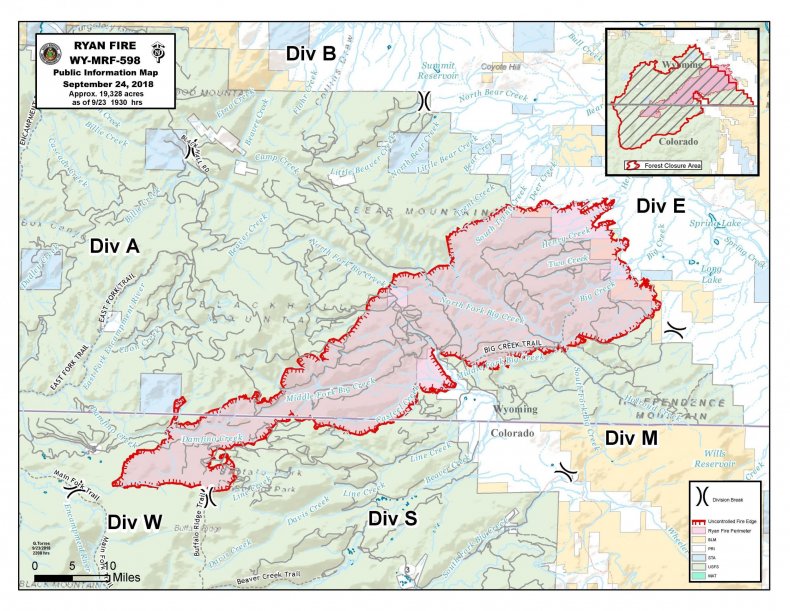 Marten Creek Fire
In Bridger National Forest, in the western part of the state, the Marten Creek Fire consumed 6,310 acres and was 20 percent contained. A red flag warning was in effect on Monday as the area experienced high winds, low humidity and dry forest fuels—conditions that aid fire growth.
The Marten Creek Fire began on September 16, 13 miles east of Afton. The cause was listed as "human," though further details were not released. Full containment was expected on November 1.