Wyoming Fires: Roosevelt Fire Impacts Hoback, Bondurant, Bridger Teton, Homes Destroyed
The Roosevelt Fire burning in western Wyoming reached more than 50,000 acres on Wednesday, impacting a number of nearby areas including Bondurant, Bridger Teton National Forest, and Hoback Ranches.
It was just 30 percent contained, according to the National Wildfire Coordinating Group.
An evacuation order was issued earlier in the week for Bondurant, in areas like Jack Creek, Dell Creek and others, the Sublette County Sheriff's Office said. At least 25 structures were lost, with more to be determined, the NWCG said. There were almost 1,000 fire personnel working on scene to contain the flames.
Many of the destroyed structures were in the subdivision of Hoback Ranches, the NWCG said. An assessment completed on 50 of the 153 homes in the ranches revealed that 22 of them had been destroyed.
"We've seen the highest of highs and lowest of lows," Sublette County Sheriff K.C. Lehr said at a community meeting on Tuesday, according to the Jackson Hole News and Guide. "This is very difficult. We plan to visit every residence. But some of it is still inaccessible because of fallen trees and it's still unsafe for our team to go in there."
Highway 189/191 remained closed on Wednesday as burnout operations continued, the NWCG said. A Red Flag warning was in effect as weather brought high winds to the area. Authorities said cellphone communications were impacted due to damaged facilities on Kismet Point.
Fire officials said they were reviewing evacuation orders on Wednesday but did not expect any to be lifted immediately.
The Roosevelt Fire began on September 15. The cause remained unknown. Authorities expected it to be fully contained by October 10. Elsewhere in Wyoming, other fires also continued burning this week. The Marten Creek Fire, in the western part of the state, reached 6,472 acres on Wednesday and was 62 percent contained. On the border of Wyoming and Colorado, the Ryan Fire reached 21,032 acres and was 30 percent contained.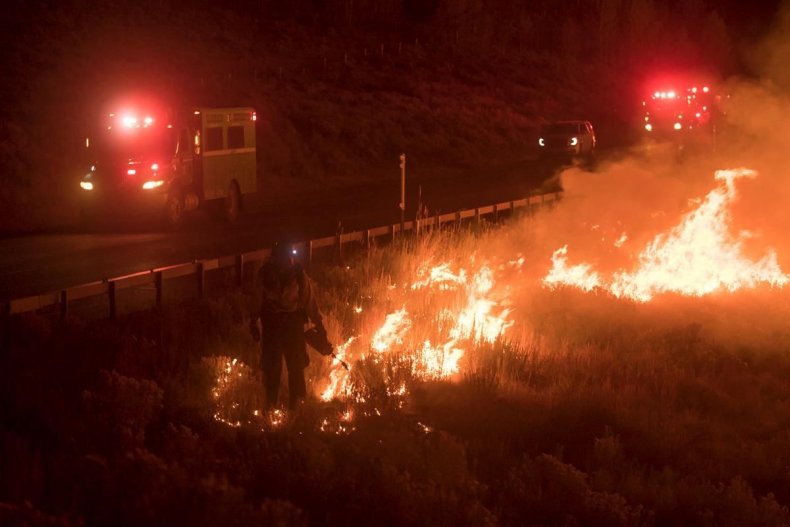 Wyoming Fires: Roosevelt Fire Impacts Hoback, Bondurant, Bridger Teton, Homes Destroyed | U.S.