'Bye Bye Liz': Cheney's Rejection by Wyoming GOP Delights Trump Acolytes
The decision by the Wyoming Republican Party to no longer recognize Rep. Liz Cheney as a GOP member has spurred a strong reaction among some conservatives.
The 31-29 vote by Wyoming's GOP central committee over her Republican membership came after votes by GOP officials in around one-third of the state's 23 counties, the Associated Press reported.
She has long been the focus of Republican ire since she voted for the impeachment of former President Donald Trump over the riot at the U.S. Capitol.
In February, the Wyoming GOP committee voted to censure her and in May was ousted as the No. 3 Republican in the House.
As one of only two Republican members of the January 6 committee, she has faced further criticism by Trump allies, some of whom were delighted with the symbolic vote over the weekend.
Ryan Fournier, founder of Students for Trump, tweeted: "The Wyoming GOP voted to no longer recognize Liz Cheney as a Republican. Bye Bye Liz."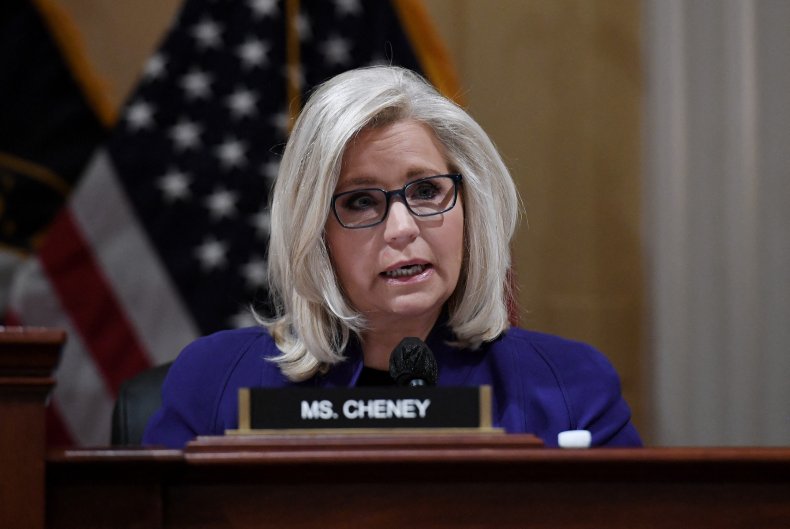 Lauren Chen tweeted to her 282,000 followers: "Is the GOP still "your party" @Liz_Cheney?"
Conservative pundit Carmine Sabia tweeted: "Donald Trump broke Liz Cheney."
Conservative talk radio host Joe Walsh tweeted that if Georgia Representative Marjorie Taylor Greene "was up against Liz Cheney in a Republican Primary anywhere in the country, it wouldn't be close.
"It would be Greene, hands down. Right now, there's no room in this GOP for Liz Cheney," he added.
Harriet Hageman, a Trump-endorsed candidate who will challenge Cheney's bid to be re-elected in 2022, said "It's fitting because Liz Cheney stopped recognizing what Wyomingites care about a long time ago.
"When she launched her war against President Trump, she completely broke with where we are as a state," Hageman said in a statement, the Casper Star-Tribune reported.
Meanwhile, the author Nick Adams succinctly wrote: "Liz Cheney is a Democrat."
The Tribune reported that the accusation Cheney was doing the bidding of the Democrats was not true.
When Trump was president, the paper noted that she voted with him on policy 93 percent of the time, higher than Trump allies Rep. Jim Jordan (R-OH) Rep. Elise Stefanik (R-NY) Rep. Paul Gosar (R-AZ) and Rep. Matt Gaetz (R-FL).
She has been critical of President Joe Biden's Build Back Better legislation which in recent days she tweeted "focuses more on weaponizing the IRS than helping American taxpayers."
She also described as "wrong" a proposal to tap the Strategic Petroleum Reserve to tackle high gas prices.
Cheney's spokesman Jeremy Adler dismissed as "laughable" the idea that the congresswoman was not a "conservative Republican," who was "bound by her oath to the Constitution."
"Sadly, a portion of the Wyoming GOP leadership has abandoned that fundamental principle," Adler said in a media statement, which meant they were being "held hostage to the lies of a dangerous and irrational man."
Newsweek has contacted Cheney and the Wymong GOP for comment.