WWE's Xavier Woods Has Surgery on Achilles Gives Fans Update On Condition
WWE superstar Xavier Woods will be sidelined for awhile after undergoing surgery to repair a torn Achilles tendon.
The vocal member of The New Day took to Twitter following surgery to give the WWE Universe and his followers an update on how he's feeling and what it means for his return.
Check out Xavier Woods' video below.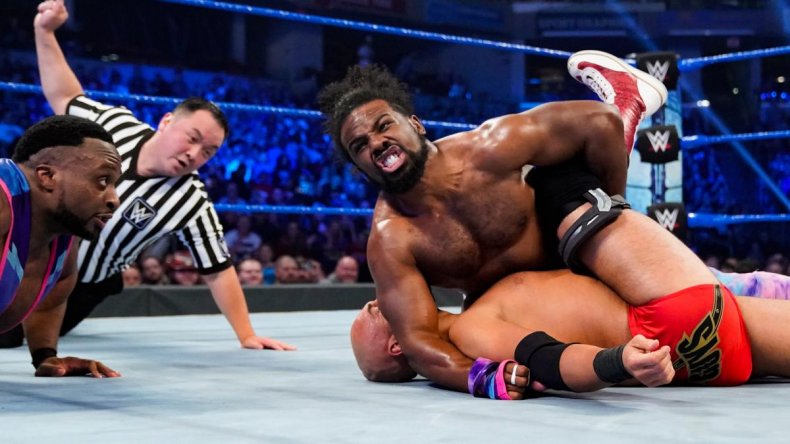 Woods, real name Austin Watson, confirmed that he underwent surgery on his Achilles but could not give his followers a timetable for when he could return to the ring. He also wanted to release the above video to cut through the rumors and speculation about his condition.
"In actuality, I'm very sad that I won't be able to wrestler for quite awhile. But thank you guys for supporting me and thank you in advance for keeping me sane after this freak accident," Woods said. "Job is dangerous, these things are always a possibility, but I'll be streaming a lot, creating content for Up, Up, Down, Down and going to cons a lot. But thanks."
While Xavier Woods won't be seen on WWE television for awhile, you can catch him streaming on his Twitch channel. Woods confirmed he's going to play the new title The Outer Worlds as early as tonight.
Woods was injured during a house show for WWE's tour of Australia last weekend. The New Day were taking on The Revival when Woods suffered an apparent lower leg injury, which prompted the referee to throw up the "x" to signify a competitor is hurt.
WWE.com confirmed the Achilles injury, but did not offer a status update at the time. An Achilles injury could take up to six months to heal, which would keep the New Day member out of commission until March or April.
Xavier Woods was scheduled to participate in the Tag Team Turmoil Gauntlet Match at the Crown Jewel pay-per-view on October 31 with his partner Big E. It's likely Woods will be swapped with former WWE Champion Kofi Kingston for the show, but we'll provide an update as soon as we learn more.
How long do you think Xavier Woods will be off television? Let us know in the comments section.