Xbox E3 2018 Sale: Games, Consoles and More on Sale
If you haven't bought an Xbox One console yet, this weekend will be a great time to make the jump. As reported on the Xbox News site, a massive Xbox sale in celebration of E3 2018 starts this Thursday, June 7.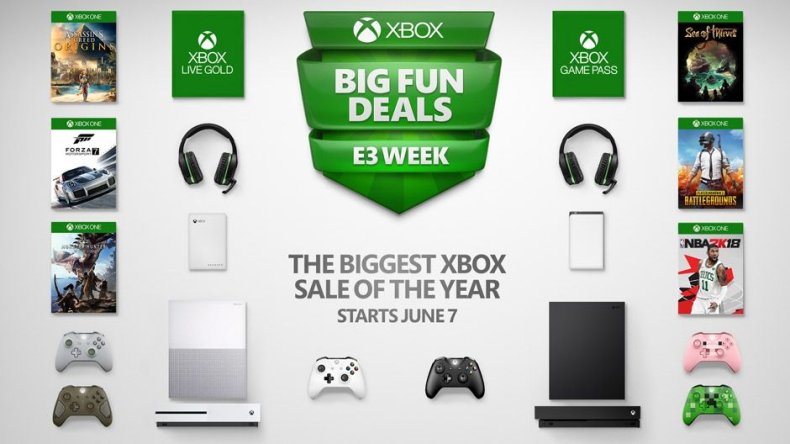 Xbox One S 500GB consoles are reduced to $200, while the One S 1TB bundles are $250. Console bundles include one game, and currently available bundles include Sea of Thieves, PUBG, Minecraft, Madden and more. For the first time ever, the Xbox One X is also on sale for $450.
Games will also be on sale, but don't expect any major steals. Games like Monster Hunter: World, Sea of Thieves and PUBG will be on sale for the first time, along with more than 300 other titles. A full list of games and discounts hasn't been released yet, but Microsoft has stated that full games start at $19.99. Add-ons like season passes and DLC will also be on sale, but the post didn't specify which games will feature these reduced prices.
First time Xbox Live Gold and Xbox Game Pass subscribers will be able to secure a single month-long subscription of either service for $1. All special edition, limited edition, black and white controllers will be $10 off and Xbox Design Lab custom controllers will start at $70.
As an added incentive to use the Microsoft streaming platform Mixer, any purchases over $9.99 made through Mixer Direct Purchase will also include a $5 Microsoft Store credit.
The Xbox E3 2018 Sale runs from June 7 to June 23. The full discounted games list will be revealed once the sale begins.
So what do you think? Will you buy a new Xbox One console during this year's E3 Sale? What games do you hope receive discounts? Let us know your thoughts in the comments section below.