Xbox Spending Controls: How To Set Limits on Your Child's In-Game Purchases
The "Xbox Family Settings" app now enables parents to approve their child's in-game purchases with a simple screen tap on their mobile device.
What Is the Xbox Family Settings App?
The Xbox Family Settings app launched in 2020 and allows parents to exercise greater control over their children's gaming activity.
With this facility, you can manage various aspects of your child's Xbox experience, including who they are interacting with online, how much screen time they are entitled to per day, and what content they have permission to access. This is all done remotely on a mobile device, meaning that you can set any necessary restrictions while you are out of the house.
Notable features include the option to vet incoming friend requests, weekly reports on what your child has been playing, and even the ability to pause their gaming sessions if you feel they are going on too long.
The Family Settings app itself is completely free and is compatible with all available Xbox platforms. That means that you can use it to manage your child's account on the Xbox Series X, the Xbox Series S and the Xbox One. Some functions, like imposing screen time limits, can even be applied to Windows 10 PCs.
How Spending Controls Work
The Xbox Family Settings app has just been upgraded with new tools that empower you to monitor your child's online spending more closely and even implement a few restrictions.
The biggest change is that you are now able to establish a spending limit for your child, so that you do not get an unexpectedly pricey bill at the end of the month. Games like Apex Legends and Fortnite are incredibly popular amongst the younger crowd, and they are loaded with opportunities for them to spend real-world money on cosmetic items, skins and controversial loot boxes. Even Minecraft has some premium content that is desirable for kids.
When left unchecked, it is possible for a child to rack up an exorbitant amount of money through these microtransactions, especially if your credit card information is stored on their Xbox account. The new spending controls are here to mitigate this problem, by letting you set a firm limit on how much they can buy.
Essentially, all you need to do is head into the app and decide how much you want to add to the wallet. You can top this allowance up at any time and it will apply to everything from buying brand new releases in the Xbox Store, to in-game purchases like those found in Fortnite or Call of Duty: Warzone.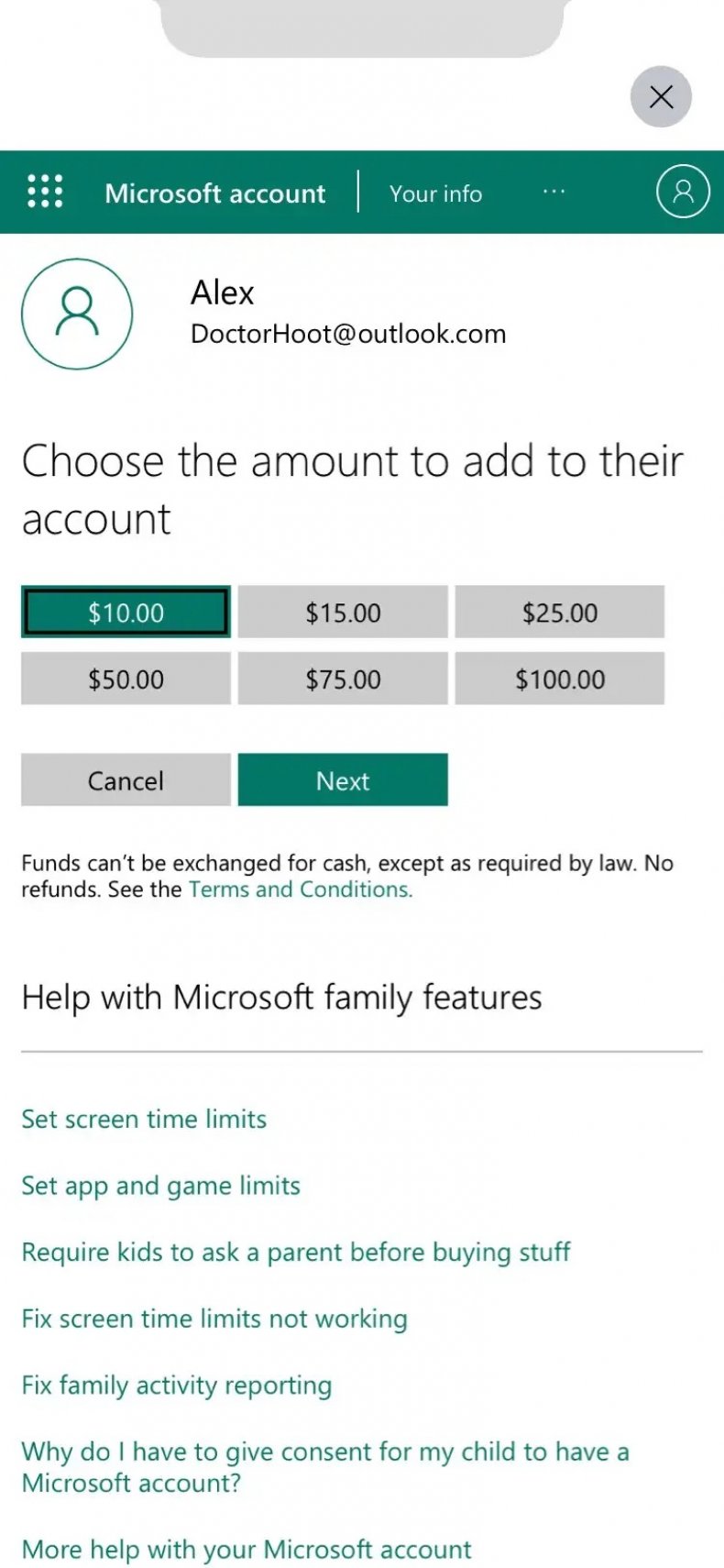 According to Xbox's official announcement, this has been a highly requested feature for some time now. The blog post reads: "One of the top pieces of feedback we've received from parents about the Xbox Family Settings app is to include options to track and manage kids' spending.
"Feedback has ranged from "I'd like to add money to my child's account as a reward for good grades on their report card. Can I do this from the app?" to "I want to give my kid an allowance to spend money on games through the app," and "How do I manage how much money my son can spend while he's gaming? I don't want any surprises!"
You are also able to view your child's account balance from the Family Settings app, in order to see how much money they have left and to review their spending history. This information can be found in the same tab that monitors screen time and content restrictions.
The "Ask to Buy" Function
If your child exceeds their allocated funds, it is still possible for them to request permission to pay for new items.
With the "Ask to Buy" function turned on; you will receive an in-app notification whenever your child is trying to purchase something they cannot afford. It will then be at your discretion to either approve this extra transaction or to deny it through an easy button press.
If you do not toggle the "Ask to Buy" function on, then your child will simply be unable to go beyond their allowance and they will have to ask you directly for more money.