Microsoft announced the acquisition of ZeniMax, the parent company of Bethesda Softworks, on Monday, a move that brings iconic franchises like Fallout, The Elder Scrolls and Doom under the Xbox umbrella.
According to the official press release, under the terms of the agreement, Microsoft acquired ZeniMax for $7.5 billion in cash.
"This is an awesome time to be an Xbox fan. In the last 10 days alone, we've released details on our two new consoles which go on pre-order tomorrow, launched cloud gaming in Xbox Game Pass Ultimate, and now we're making another investment in the most critical part of our strategy: the games," Phil Spencer, executive vice president, Gaming at Microsoft, said in a press release. "Generations of gamers have been captivated by the renowned franchises in the Bethesda portfolio and will continue to be so for years to come as part of Xbox."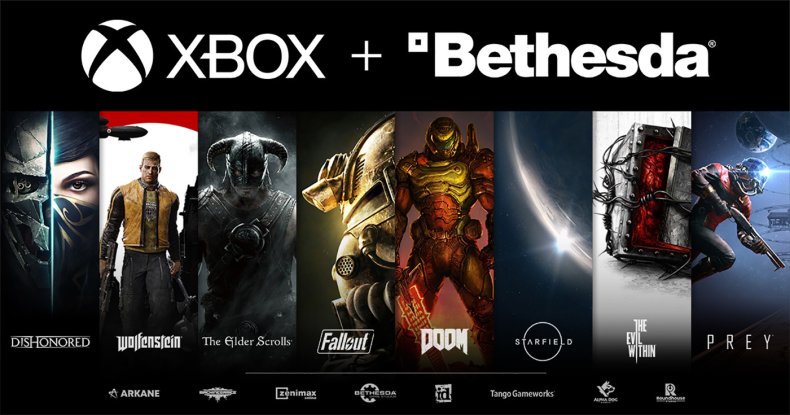 The acquisition is Microsoft's latest attempt to bring more users to its ecosystem of games, which includes the new cloud-gaming service, Xbox Game Pass. Now, with the addition of Bethesda, Microsoft will grow from 15 to 23 creative studio teams and will be adding Bethesda's beloved franchises to Xbox Game Pass. This also means that Microsoft intends to bring Bethesda's future games into Xbox Game Pass the same day that they launch on Xbox or PC, like the still-in-development Starfield.
Todd Howard, Executive Producer of Bethesda Game Studios, wrote in a blog post about how Bethesda and Xbox have a long history dating back to before the first Xbox console was developed.
"Like our original partnership [with Xbox], this one is about more than one system or one screen. We share a deep belief in the fundamental power of games, in their ability to connect, empower, and bring joy. And a belief we should bring that to everyone — regardless of who you are, where you live, or what you play on," Howard wrote. "We can't think of a better group of people to do that with than those at Xbox."
Pete Hines, SVP, Global Marketing and Communications at Bethesda Softworks, also gave his thoughts on the acquisition in a separate blog post, stating why Microsoft is the perfect fit for the game studio. He also wrote that he understands there will be many questions surrounding the deal and how it will affect Bethesda, but insisted that they are still the same game studio that was there before the acquisition and that the games will still be published by them.
He went on to say that the acquisition happened so Bethesda could become a better company and publisher with Microsoft's resources, which in turn means better games for the consumer.
"I believe in the people I work with. I believe in the company we have created together. I believe in the communities that have formed around the games we make," Hines wrote. "And I believe today's announcement is just the next in a long line of changes in our history that will lead to bigger and better games for all of us."
The graphic below, provided by Statista, illustrates Microsoft's largest acquisitions.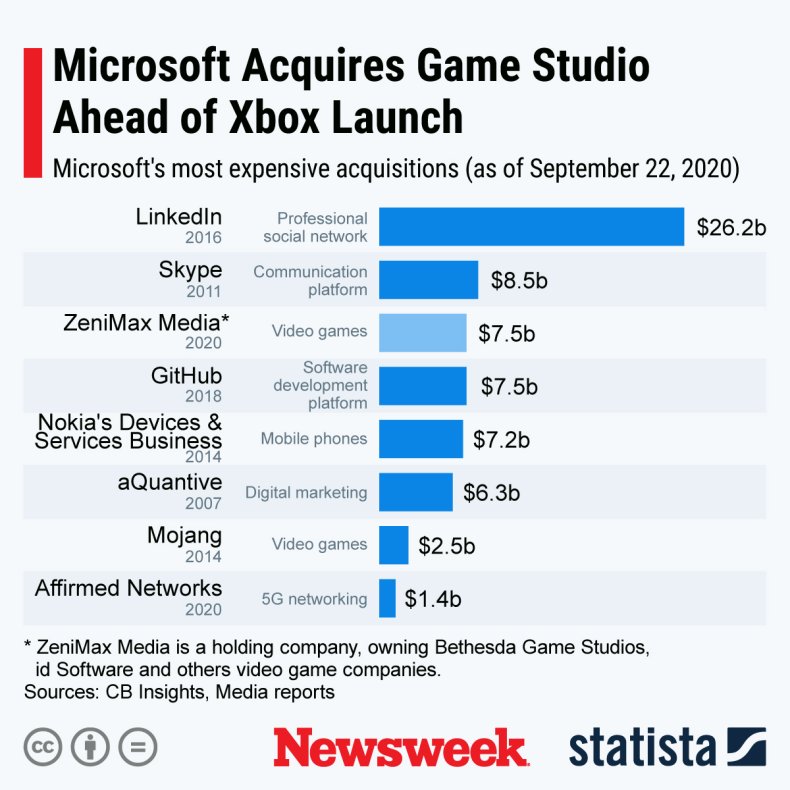 It's unclear what the long-term ramifications of this deal are, but it's highly unlikely that this acquisition will impact the release of already-announced Bethesda titles.
Deathloop, an action-adventure first-person shooter from Arkane Studios—the makers of Dihonored—is set for a 2021 release. It will release on PC and PlayStation 5 as a timed exclusive before it gets released for Xbox Series X.
Ghostwire: Tokyo from Tango Gameworks is also set for a 2021 release on PC and PlayStation 5.
Then we have the aforementioned Starfield from Bethesda Game Studios. This space RPG does not have a release date, and we don't have information on whether there will be console exclusivity, but the official press release confirmed that Microsoft plans to have the game on its Game Pass service on Day 1, so we know it's coming to PC and Xbox Series X at the very least.
The biggest mystery is The Elder Scrolls VI, which was teased, but there's even less information about that title than Starfield. Todd Howard confirmed at E3 2018 when the game was announced that it will be released sometime after Starfield.
What do you think of Microsoft acquiring Bethesda? Does the deal make you want to purchase an Xbox Series X/S over the PS5? Let us know in the comments section.
Update 9/22/20: This article was updated to include an infographic.