Xbox S Series Price Details as Microsoft Reveals 'Smallest Xbox Ever'
Price details of the Xbox S Series, the latest console coming from Microsoft, have been announced on the brand's Twitter page today.
The next-generation console, second after the Xbox X Series, was leaked by The Verge on August 9, 2020, when the outlet obtained photos of the controller for the console. Finally, the name and details of the console have been confirmed by Xbox but a launch date is unknown.
"Let's make it official!" says the Xbox tweet. "Xbox Series S, Next-gen performance in the smallest Xbox ever. $299 (ERP).
"Looking forward to sharing more! Soon. Promise."
The console pictured is a white square box with a black circle in the middle and a white controller. While it is confirmed as being the smallest Xbox, dimensions have not been confirmed by Microsoft.
However, another Twitter user known as WalkingCat (@_h0x0d), has shared an unconfirmed commercial for the Xbox S Series. "No point holding this back now I guess," they tweet.
The "commercial" says that the new console is "60 percent smaller than the Xbox X Series" and has next-gen speed with a custom NVME 512 GB SSD powering it. The ad also says that this new Xbox has "seamless game switching" and "fast loading times" and provides an "all-digital gaming experience" meaning no disk drive.
The performance of the console is also said to be "next-gen" with frame rates "up to 120 FPS." Other features include 4K streaming media playback, 4K upscaling for games, DirextX Raytracing and variable refresh rate and rate sharing.
According to The Verge, rumors of the console first spread after a document, which was leaked in June, spoke of a project, codenamed Lockhart, as well as multiple Project Scarlet consoles. Another next-gen console, codenamed Anaconda, is also rumored to be released in 2020. Project Scarlet refers to what is now known as the Xbox X Series.
But while Xbox has certainly created a buzz on social media about the new next-gen console, those in the industry question whether Microsoft's move will pay off long-term.
"The Xbox Series S is a bold move from Microsoft—it's going to be cheaper than most of its rivals," Mike Jennings, gaming and computer journalist, told Newsweek. "It's smaller than the full-power Xbox Series X, with no disc drive, a smaller SSD and games that run at native 1440p rather than 4K—games will only be upscaled to the higher resolution.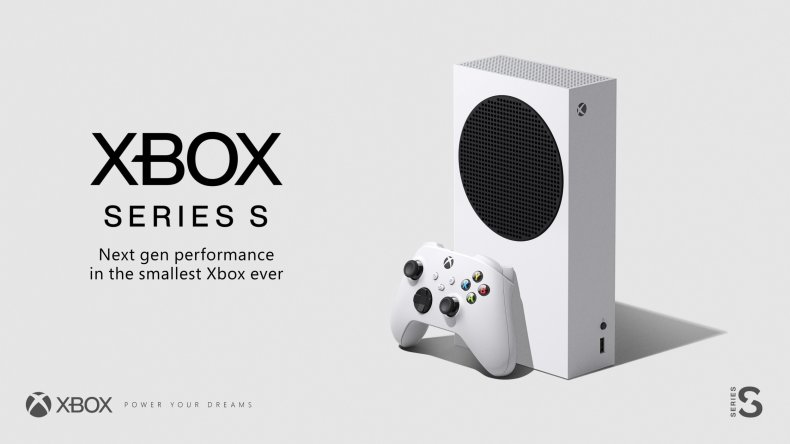 "For lots of people the Series S will be ample—combine this cheaper console with digital downloads and Microsoft's brilliant Game Pass subscription and you'll get a small, affordable machine that will play loads of triple-A and casual games at resolutions that will sate plenty of gamers," he continues.
"The big question now surrounds support for Game Pass, as Microsoft needs to keep loading it up with good games to make it worthwhile—and how Sony responds with the PS5 Digital Edition's pricing."
The Xbox S Series will be $299 ERP. Launch date to be confirmed.