Xbox Series X Restock Updates for Costco, Antonline, Target and More
The Xbox Series X and Series S may not be available in stores for the next few months, but gamers can still try to buy a console when limited stock becomes available online.
Retailers have been restocking the next-gen Xboxes infrequently, but gamers who stay up to date with updates from retailers and follow the right Twitter accounts, such as @Wario64, have a chance of getting their hands on a console.
The Series S is available at Antonline at the time of writing but, if it sells out, keep reading to find out what the latest situation is at major retailers such as Costco and Target.
Costco Xbox Series X Restock
Costco restocked the Series X console on Tuesday but it has since sold out. The bundle came with an additional controller and was priced at $539.99. It was available to members only and was limited to one per customer.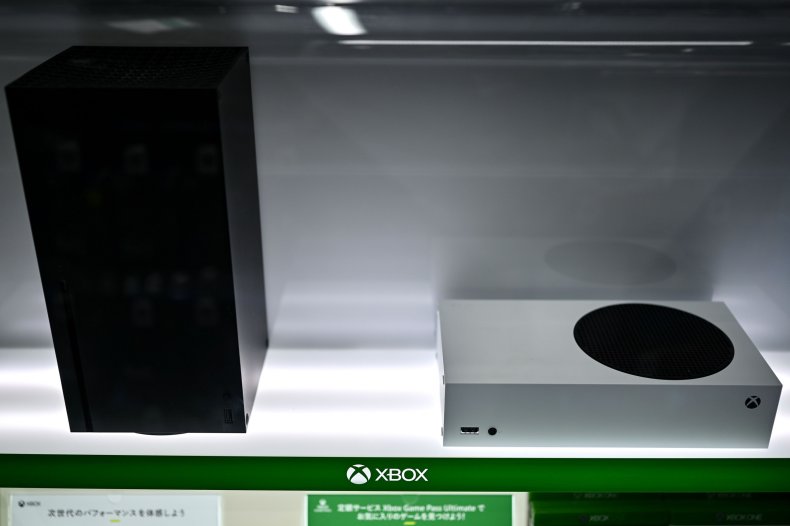 Antonline Xbox Series X Restock
The Xbox Series S is available at Antonline right now. The bundle comes with two controllers and an Xbox Game Pass Ultimate 3-Month membership and is selling for $404.97.
The Series X is not currently available but Catherine Comerford, chief merchandising officer at Antonline, told Newsweek: "Consumers should be keeping an eye out every week for new next-gen console drops on our social media channels—specifically Twitter. Our goal is to have additional next-gen inventory available for customers each week."
Target Xbox Series X Restock
The Xbox Series X and the Series S were previously marked as "sold out" on the Target website, but customers are now encouraged to check stores within a 50-mile radius for stock.
Target has not said when the next-gen Xbox consoles will restocked, but check the Target website frequently and follow accounts such as @Wario64 to be notified about drops.
Walmart Xbox Series X Restock
The Xbox Series S is listed as "out of stock" on the Walmart website. The consoles were previously not listed on the website and customers were met with an error message when searching for the Xbox.
Customers searching for the Series X are still met with the following message: "Oops! This item is unavailable or on backorder."
Best Buy Xbox Series X Restock
Best Buy's Xbox Series X and Series S consoles and bundles are all marked as sold out and Best Buy has not announced when it expects more stock.
Check back at Newsweek for more updates and turn on Twitter notifications for Xbox restock accounts to find out first when more consoles drop.
Newsweek has affiliate partnerships. If you make a purchase using our links, we may earn a share of the sale.