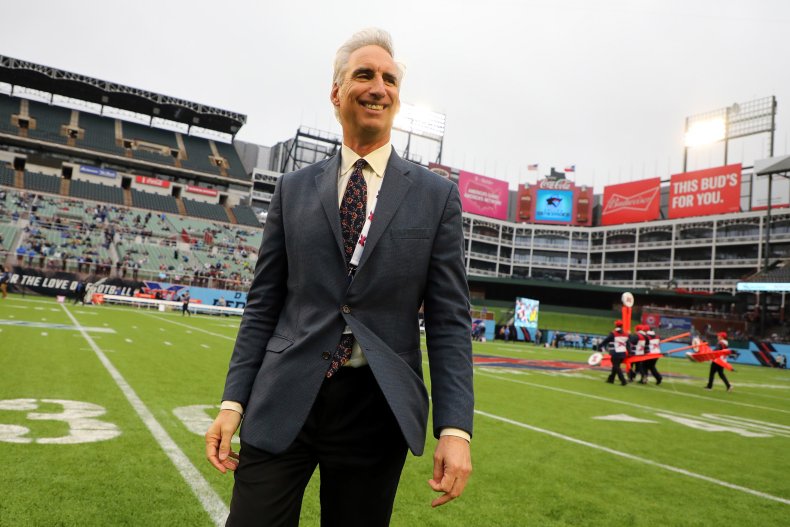 XFL Commissioner Oliver Luck publicly commented about his son, recently-retired Indianapolis Colts quarterback Andrew Luck, calling him "Mr. Mom."
On his program, The Dan Patrick Show, host Dan Patrick asked Oliver Luck Wednesday if his son was in need of a job following retirement. The elder Luck responded: "No he doesn't, thank you for asking. He's Mr. Mom right now, he and his wife had their first child about 3 months ago. So he's doing a lot of babysitting."
A four-time Pro Bowl quarterback and former number one overall pick in the 2012 NFL draft, Andrew retired at age 29 prior to the start of the 2019 season--a decision that shocked the football world at the time. He cited his battle with numerous injuries throughout his seven-year career with the Colts as one of the main reasons for his early retirement.
On why Andrew was able to "disappear" easily since the retirement, Oliver Luck said: "He's one of those millennials that isn't involved in social media. As a result, it was very easy for him to get out of the spotlight and live his own life."
Luck also spoke about other players who decided to make an early exit from the NFL--including former Carolina Panthers' linebacker Luke Kuechly, who called it a career at the end of the past season at the age of 28. Luck discussed about how early retirement from the NFL has changed since his playing days as a Houston Oiler from 1982 to 1986.
"I really admire anybody who's played in the league who leaves on his own terms," Luck said. "So, watching Luke Kuechly for example, great career, great player, and I just love it when a guy says, 'I'm in control, I'm gonna walk away when I want to walk away, I'm not gonna let the game determine when my career is over.' Guys like me were told when we were done. But I really admire that, because that's called taking control. It's also taking control of your post-playing future, which is critical for a lot of guys."
According to Luck, his son "lamented" about how good the Colts' offense was this past season, and stated that he thinks that the team's general manager Chris Ballard was the "GM of the year."
Uncommon Knowledge
Newsweek is committed to challenging conventional wisdom and finding connections in the search for common ground.
Newsweek is committed to challenging conventional wisdom and finding connections in the search for common ground.
About the writer
Matthew Impelli is a Newsweek staff writer based in New York. His focus is reporting social issues and crime. In January 2023, Matthew traveled to Moscow, Idaho where he reported on the quadruple murders and arrest of Bryan Kohberger. Matthew joined Newsweek in 2019 after graduating from Syracuse University. He also received his master's degree from St. John's University in 2021. You can get in touch with Matthew by emailing m.impelli@newsweek.com. Languages: English.