XFL Concessions Vendor Tests Positive For Coronavirus, Worked Game in Seattle Last Month
The sports world has dealt with the outbreak of the coronavirus and how it could affect each sport, the players and its fans. From the NBA to March Madness, and countries outside of the U.S. taking preliminary precautions, another wrinkle has surfaced.
A concessions vendor at CenturyLink Stadium in Seattle, Washington, has tested positive for COVID-19, which worldwide has affected more than 92,000 people and is responsible for nearly 3,100 deaths—mostly in China.
A CenturyLink Stadium employee who worked the XFL game between the Seattle Dragons and Dallas Renegades on February 22 last month, which had an attendance of 22,060, has tested positive for coronavirus. King County's government issued a statement that said people who attended that game should not be worried.
"There are no extra precautions required for those who attended the Feb. 22 game or who will attend upcoming events, but all King County residents should know that the risk for infection with COVID-19 is increasing in our community," the county stated.
"As of now, Seattle's professional sports organizations—Dragons, First & Goal/Seahawks, Mariners, and Sounders FC—will continue with scheduled events. The teams are in touch with local health officials and their respective leagues on a regular basis, as this public health issue continues to evolve."
Jeffrey Pollack, who is the XFL president and COO, issued a statement that said fan safety is important to the new professional football league.
"The health and safety of the extended XFL family -- especially our fans in Seattle -- is of the utmost importance," Jeffrey Pollack, XFL president and COO said in a statement. "We share everyone's concern about this public health issue and understand it is evolving on a daily basis."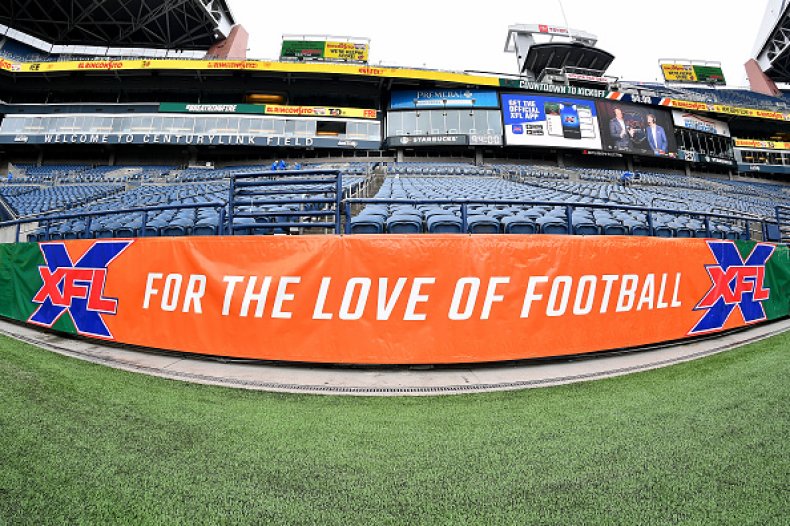 The XFL, which has played four weeks of football, said it will continue monitoring reports from medical experts regarding coronavirus, and that it will make decisions based on the well-being of the league and its fans.
The virus has led the NBA to issue a warning to its players to not give high-five hand slaps to fans, just fist bumps. One group has insisted the NCAA play its March Madness tournament games before empty arenas.
"The NCAA is committed to conducting its championships and events in a safe and responsible manner," Remy stated. "Today we are planning to conduct our championships as planned, however, we are evaluating the COVID-19 situation daily and will make decisions accordingly."
The NCAA men's basketball tournament begins March 17 with two days of games called the First Four, and the full tournament schedule begins March 19 with 16 first-round games followed by 16 more games on March 20. The tournament draws nearly a billion dollars in revenue from ticket sales, corporate sponsorships and TV contracts.
Three of the four largest cities in America—New York City, Los Angeles and Houston—will host regional sites for Sweet 16 and Elite 8 rounds (Chicago is the third-largest city and will not host any games this tournament). The Final Four will be in Atlanta, home to the busiest airport in the country.
Some countries like Japan have halted or suspended sports activity for nearly a month while their government battles the newest pandemic.