XFL Owner Dwayne Johnson Once Tried to Rip Out a Football Teammate's Tongue
Dwayne 'The Rock' Johnson once tried to pull out his teammate's tongue during a play fight.
The new XFL Owner was once an aspiring NFL player before made it big in Hollywood, having famously played college football at the University of Miami before his wrestling career took off.
In an interview with Sports Illustrated from 2016, Johnson describes a humorous story about how he once tried to pull a teammate's tongue out—yes really.
During practice with his friend and fellow linemate Kevin Patrick, Johnson got into something of a scrape with Patrick who teased him about Warren Sapp being a better player.
"I was always running hot because I wasn't getting the playing time that I thought I deserved," he said in the profile piece.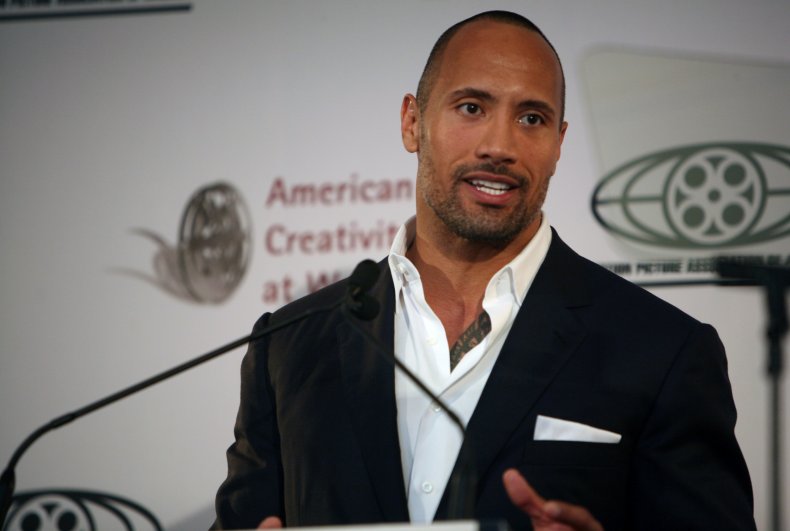 "The truth of the matter is Warren Sapp was just a better player, but when you're young, you can't see that. Me and Kevin were in a coach's office, and he was talking s***, as always, but this time I just lost it," he explained.
"It was like a movie fight—the desk got turned over, stuff was flying all over the place. We spilled out onto the weight room floor, still going at it. He wouldn't stop talking, so I decided to pull his tongue out. I stuffed my big ol' hand into his mouth, and I had a couple of fingers around his tongue, but it was so damn slippery! I was quite serious about pulling it out, but I couldn't quite get a hold of it."
He added: "Eventually I gave up, the fight ended, and two minutes later we were hugging each other. It was so dumb."
It was reported this week that Johnson has agreed to purchase the XFL for approximately $15 million with Redbird Capital as his partner.
The Jumanji star issued a statement Monday about the deal, confirming his plans to create "something special."
"The acquisition of the XFL with my talented partners, Dany Garcia and Gerry Cardinale, is an investment for me that's rooted deeply in two things—my passion for the game and my desire to always take care of the fans," the 48-year-old said in a statement.
"With pride and gratitude for all that I've built with my own two hands, I plan to apply these callouses to the XFL, and look forward to creating something special for the players, fans, and everyone involved for the love of football."