After China State Media Said Trump 'Paid the Price' for COVID-19 Response, President Xi Wishes Him Well
After Chinese state media showed little sympathy for President Donald Trump following news of his positive coronavirus diagnosis, China's president has sent a message expressing hope that the American first couple recover quickly soon.
On Friday, the Global Times, which reflects the more hawkish aspects of Chinese government policy, said that Trump had himself to blame. The publication's editor-in-chief, Hu Xijin, tweeted that the U.S. president and his wife, Melania Trump, "have paid the price for his gamble to play down the COVID-19."
"The news shows the severity of the U.S. pandemic situation. It will impose a negative impact on the image of Trump and the US, and may also negatively affect his reelection," Hu added.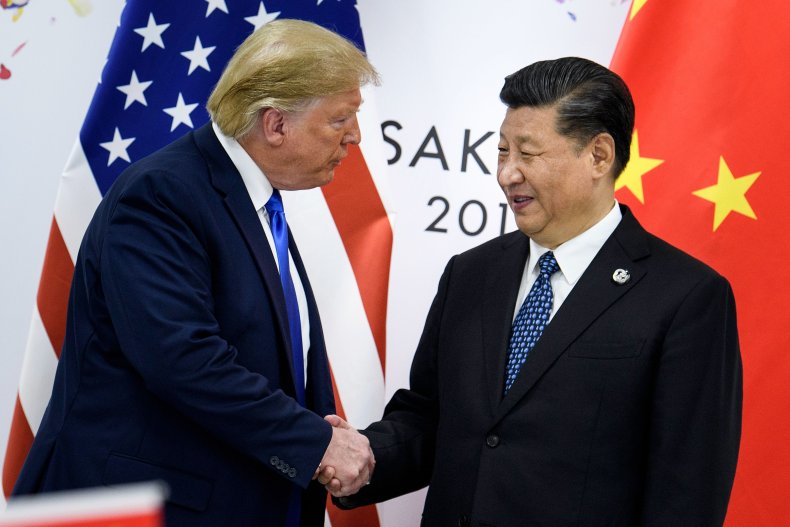 Other state media outlets linked Trump's infection with his repeated public dismissals of the pandemic. The China Daily said: "Since it emerged earlier this year, Trump, the White House and his campaign have played down the threat and refused to abide by basic public health guidelines."
However on Saturday, there was finally a warmer message coming from Beijing, with the Global Times tweeting an image of Trump and the first lady posing with President Xi and his wife. With it was the message: "Chinese President Xi Jinping sent a message of sympathy to @realDonaldTrump and Melania Trump on Saturday, in which he and his wife Peng Liyuan hope the presidential couple an early recovery from COVID-19."
Trump blames China for the pandemic and accuses it of downplaying the severity of the outbreak from its epicenter in Wuhan, claims which have angered Beijing which, in turn, accuses Washington of mishandling the virus.
It has added to a febrile climate of diplomacy between the countries exacerbated by a trade war and Washington's criticism of Beijing on its actions in the South China Sea and its clampdown on freedoms in Hong Kong.
However, the Global Times has also published a piece calling for greater cooperation between Beijing and Washington to tackle the pandemic, which it believed "would benefit both the US, as it still struggles with the pandemic, as well as the rest of the world."
"It would be sad if some U.S. politicians refuse to accept this common-sense approach due to their shortsightedness," it added.
The article also warned against gloating about the president's condition, saying, " that it is only natural that Chinese people feel upset with the U.S.'s increasingly extreme China policy, especially as some U.S. politicians slander China over the pandemic.
"However, I hope that Chinese people restrain themselves when they comment on Trump's infection."
The graph below by Statista shows the world leaders who have contracted Covid-19.