Xi Jinping Makes Announcement of China's Greatest Fear | Opinion
Chinese ruler Xi Jinping this month unveiled Beijing's "Global Security Initiative," a plan to "promote security for all in the world." Everyone, he declared, should "uphold the principle of indivisible security [and] build a balanced, effective and sustainable security architecture."
What exactly is "indivisible security?" At first glance, this vague phrase looks devoid of content. "I don't see how new architecture could be built around this, so I think instead this is an attempt to weave China's worldview into the fabric of international security discourse," said Jude Blanchette of the Washington, D.C.-based Center for Strategic and International Studies to Reuters.
Blanchette could be right, but Xi's jargon-laden, cliché-filled speech, which opened the Boao Forum for Asia Annual Conference 2022 on April 21, revealed perhaps Beijing's greatest fear. That fear would be the world "decoupling"—one of Xi's favorite words—from China.
"We humanity are living in an indivisible security community," Xi said at Boao, China's answer to Davos. "Countries around the world are like passengers aboard the same ship who share the same destiny. For the ship to navigate the storm and sail toward a bright future, all passengers must pull together. The thought of throwing anyone overboard is simply not acceptable."
Throwing China overboard is not acceptable to Xi, but it is nonetheless occurring and he should not be at all surprised. During his tenure as the Communist Party's general secretary, he has, among other things, gone out of his way to disadvantage foreign businesses in China, pushed Chinese companies to delist stock in markets outside China and stolen even more American and other foreign tech.
At the same time, Xi closed off Chinese society and moved the country back to totalitarianism. These and other moves undermined China's economy, which looks like it began contracting perhaps as early as the end of last year.
The extreme COVID-19 control measures, which now paralyze much of the eastern part of the country, including Shanghai, are closing factories and slowing the transport of goods.
Yet it is not just disease forcing businesses to shift out of China. "Decoupling" has been occurring for some time. In the middle of last year, for instance, American footwear and apparel maker Steve Madden announced that, due in part to supply chain problems, it was moving about half its women's production from China to Mexico and Brazil.
"Many companies feel they can't leave China for various reasons, but those that have the opportunity are escaping," Los Angeles-based Jonathan Bass, who moved home furnishings production from China last decade, told Newsweek. "And Beijing is worried, even threatening foreign factories with immediate nationalization to make sure they will not leave now."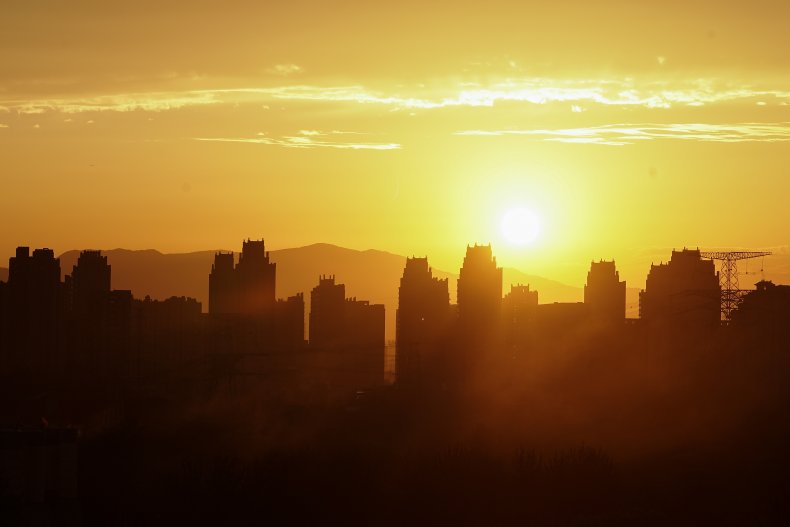 The Chinese regime is going to great lengths to keep manufacturing in the country. A friend told me that a Communist Party-controlled company in the Xinjiang Uygur Autonomous Region, in northwestern China, told an American retailer last week that it would no longer be able to buy China-made goods if it also bought products from U.S. factories.
Despite determined efforts to keep foreigners in China, they are fast reducing their exposure. "Investors are ditching China on an unprecedented scale," CNN reported on April 25.
Investors pulled a record $17.5 billion of portfolio assets—stocks and bonds—from China in March. The U.S.-based Institute of International Finance notes that the outflow was confined to China, and was not part of a broader flight from emerging markets. The pullback continued a trend evident in February.
It's not hard to see why money is fleeing. For one thing, other countries present better growth stories. As President Biden boasted in January, U.S. gross domestic product was growing faster than China's "for the first time in 20 years."
This disparity in economic growth results in, among other things, higher yields in safe haven America, especially because the Federal Reserve continues to increase U.S. interest rates while the People's Bank of China, China's central bank, has begun dropping Chinese rates.
Chinese monetary authorities are now caught in a bind. They need to force rates down to stimulate the economy, but such efforts are aggravating an even bigger worry for them: capital flight. The renminbi, the Chinese currency, is now plummeting, abruptly down about 3 percent in recent days. To the consternation of image-conscious Beijing, the U.S. dollar is now in a long-term upswing.
There are also geopolitical factors forcing portfolio investors and factory owners to exit China. Xi has long endorsed "Wolf Warrior diplomacy," an aggressive and militant approach to other countries.
Xi has made it clear, in writings and speeches, that he believes China should be far larger than it is today. That means Chinese territorial aggression against India, Japan, the Philippines, Taiwan and others will roil East and South Asia for years to come. "The Communist Party's Global Security Initiative is about one thing...world domination, plain and simple," said James Fanell, retired U.S. Navy captain and former director of intelligence of the U.S. Pacific Fleet, to Newsweek.
Business did not pay much attention to Chinese belligerence until February. And then everything changed. As Oxford University's George Magnus, speaking to CNN, pointed out, "China's support for the Russian invasion of Ukraine was clearly the catalyst for capital to leave China."
Xi Jinping may not think he's on the wrong side of history, but he is clearly on the wrong side of an emerging divide as the international system moves to the "new world order" that Biden talks about.
Xi proposes "indivisible security," but he is, with friend Vladimir Putin, splitting the world into camps. And, in the process, he is forcing an exodus from China.
Gordon G. Chang is the author of The Coming Collapse of China. Follow him on Twitter: @GordonGChang.
The views expressed in this article are the writer's own.