'Not My President': Chinese Students Worldwide Protest Xi Jinping's Indefinite Rule
Chinese students are protesting President Xi Jinping's power grab in universities around the world with posters that feature the phrases "Not My President" and "I Disagree" in English and Chinese ("我不同意").
On Sunday, Beijing's National People's Congress removed the presidential term limits from its constitution in parliament, with an overwhelming majority in favor. Only five voted against or abstained out of 2,964 delegates.
Although criticisms of the move have been heavily censored in Beijing, Chinese students in Western universities worldwide have stood together to voice their dissent to China's return to the one-man-rule system that governed during the reign of Communist leader Mao Zedong.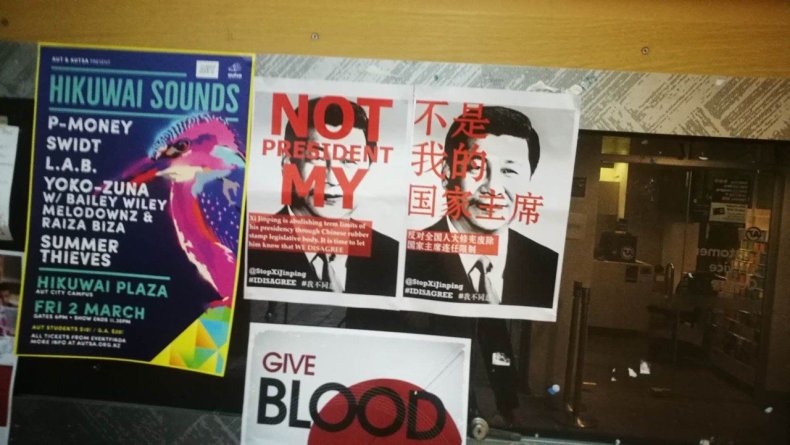 In recent weeks, the same anti-Xi posters have popped up across various universities in America, the U.K., New Zealand, Australia, the Netherlands, Canada, Argentina and Hong Kong. These posters, which show a portrait of Xi Jinping with "Not My President" emblazoned across it, are a rare display of defiance by Chinese students living in regions where freedom of expression still stands.
The posters originated from a Twitter campaign called "Xi Is Not My President," which was created officially on March 1 by a group of five Chinese students and young professionals living abroad in three continents.
Speaking to Newsweek, an activist and founding member of the group, who declined to be named, claims that the purpose of the campaign is to raise awareness and encourage Chinese youth to be more engaged in politics.
Many Chinese people are discouraged from expressing unfavorable opinions on politics because "exposing yourself publicly as a dissenter often leads to future barricades in the job market and jail time without due process," he said.
The campaigner explains that the movement does not set out to reverse the decision that had already been rubber-stamped on Sunday, but rather to give those who can protest a unified platform to stand together.
"We feel like we are morally obliged," he said. "Back home [in China] if you express any dissent, your social media account will be deactivated, and the relevant discussions will be banned, so most people have become cynical about getting involved."
He added: "Which is unfortunate because expressing your dissent ideas is a matter of dignity. However, free speech is protected in Western countries, which is where our campaign has lifted off."
The campaigner hopes the movement will encourage his generation to interact and discuss politics more freely because he believes they will be "the force that is going to create change in the future."
Last Friday, Wei Lebao, a Chinese student at Australian National University (ANU) in Canberra, who left China five years ago after being jailed for the Arab Spring, tweeted selfies of himself putting up the posters around campus, using the campaign's hashtag #NotMyPresident.
The posters first reportedly emerged at the University of California in San Diego on March 1 and were quickly followed by colleges in New York, including Columbia, before it later launched worldwide through the Twitter page.
"We put up some posters, set up a twitter account and a gmail and then to our surprise everything just started to grow organically. We didn't even have to talk our friends into promoting it. People just started to download the posters and put them up at various universities," the campaigner said.
He added: "Chinese people tend to remain indifferent about politics. They usually don't care but when Xi Jinping announced his plans to abolish the two term rule in February, that quickly changed. People started to express their anger and disapproval and it shocked me. This is something that shakes the core of our generation; scrapping term limits definitely destroys the fantasy that we have freedom."
President Xi, who came to power in 2012, currently serves as the General Secretary of the Communist Party of China, President of the People's Republic of China and Chairman of the Central Military Commission.
In 1982, China implemented a two-term limit on its president and vice president to facilitate a smoother transition of power in the country. Under the constitution, Xi would have had to leave his post in 2023, when his second term expired. Beijing's move to abolish the term rule will effectively allow Xi to remain in power indefinitely.