Xi Jinping Is Tightening His Grip on China, Joe Biden Adviser Warns
Xi Jinping is taking steps to solidify his position as China's central decision-maker, potentially isolating himself from moderate voices that might advise against more assertive policies, Biden's Asia czar said during a discussion on Tuesday.
Kurt Campbell, who is the National Security Council's Indo-Pacific coordinator, said the United States and China must find common ground to cooperate while coexisting in a new paradigm of competition.
Speaking at an annual conference hosted by the Center for a New American Security (CNAS) think tank, President Joe Biden's policy chief for the region hinted at some of the administration's challenges as it seeks to engage with the Chinese government.
"We believe increasingly that part of what President Xi has done has taken steps to put him as the central leadership figure in China that makes all the decisions," Campbell said. "There is a smaller and smaller group of people that work with President Xi on that decision-making, and it's always a question of whether you're able to affect the inputs that President Xi is receiving as China makes its calibrations about the best approach to global politics."
Xi is now no longer part of a "coherent team of leaders" at the highest level of government in Beijing, he told CNAS's Richard Fontaine, alluding to the way this may have influenced China's more assertive foreign policy posture in recent years.
Commenting on the "pushback" China's policies have received from all corners of the international community, Campbell said: "Every interaction that we've had privately suggests that concerns about China's assertiveness have only risen in recent years. It's fair to say that the Chinese foreign policy establishment understands that clearly."
He added: "But the question is, is that feedback—'Look, the steps that you're taking are undermining Chinese soft power'—is that getting through to the most inner circle in the Chinese leadership cadre?
"That is a question that we cannot answer, but I would simply say: over the course of the last year or two, the country that has done the most to create problems for China is not the United States, but China."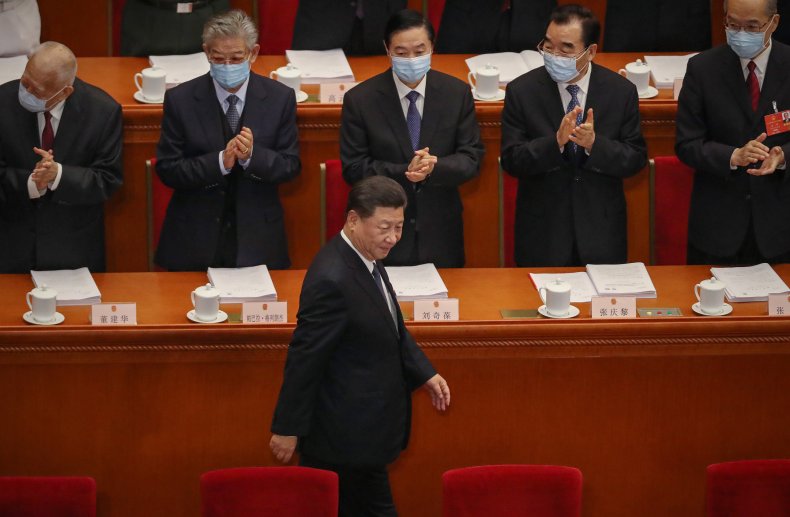 Campbell's remarks echoed similar comments he made during a Standard University event on May 26, when he said Xi had "almost completely disassembled nearly 40 years of mechanisms designed for collective leadership" since becoming party leader in 2012.
The Biden administration and Campbell in particular have noted China's seeming unwillingness to engage in "hotline" communication as a form of de-escalation in Asia, where Beijing finds itself involved in a number of regional flashpoints including in the Taiwan Strait and the East and South China seas.
He stressed the importance of mutual confidence-building between the two countries and said the "modern challenge" demands that the U.S. both engage and compete with China at the same time.
"We fully believe that even in competition, there are arenas of cooperation," Campbell added, referencing global policy issues such as climate change and nuclear nonproliferation.
The veteran Asia policy guru revealed the White House was still pushing for a historic in-person summit involving the leaders of the Quadrilateral Security Dialogue—the U.S., Japan, India and Australia.
Campbell said the Quad's focus was on deepening relations and increasing familiarity between the four "foundational members." But the group is "not a closed architecture," he added, saying "We want others to participate with us."