Xi and Putin, Two of World's Most Powerful Men, to Meet in China, US Absent
Two of the most powerful men in the world are gathering for face-to-face talks in one of the wealthiest and most influential nations on Earth. The United States, for decades the undisputed global hegemon, is not involved.
Amid the pomp and circumstance of the Winter Olympic Games launch in Beijing, Russian President Vladimir Putin has traveled to the Chinese capital as the first head of state to sit down in person with Chinese President Xi Jinping since the beginning of the COVID-19 pandemic.
It's their 38th round of bilateral talks since Xi rose to power in 2013 and, by all indications, the pair intend to further intensify the already unprecedented levels of their "comprehensive strategic partnership."
A Kremlin readout previewing the talks said "a wide range of issues related to practical cooperation in the areas of trade, the economy, energy, finance, investment, science and culture will be discussed."
Global affairs were also on the agenda, and the two men were expected to broadcast a common vision for the international order following their dialogue.
"The two leaders will also review topical international and regional matters," the Kremlin said. "Following the visit, they are expected to adopt a joint statement that sets out Russia and China's shared approaches to addressing key global issues."
This message will likely resound from a larger platform than ever as Washington's world dominance is viewed by some as in decline.
"The U.S. has already ceded global hegemony, while its worldwide influence continues to wane," Alexander Cooley, a political science professor at Colombia University's Barnard College in New York, told Newsweek.
"In certain parts of the world, such as Central Asia, Russia and China are now playing critical roles in providing regional economic leadership and security," said Cooley, who co-authored the book "Exit from Hegemony: The Unraveling of the American Global Order."
"They are also helping to set new shared illiberal understandings about the legitimacy of autocracies vs democracies, the drivers of economic development, and the purposes of external peacekeeping and intervention," he added.
He argued there is little evidence of this trend reversing anytime soon.
"Moscow and Beijing will continue their campaign to discredit the U.S.-led liberal international order — that is, the set of institutions, principles and values that the U.S. has publicly espoused in its positions of global leadership and governance," Cooley said.
He said the Kremlin's preview "makes clear that Russia and China are no longer content with just pointing to the failures of U.S. leadership, such as its interventions in Afghanistan and Iraq. or its hypocrisy or 'double-standards.'"
"Russia and China now offer alternative sources of governance — including development assistance, standards for political legitimacy, and new regional fora — across different regions," he added, "which will make it increasingly difficult for U.S. officials to retain its previous leadership and authority in global affairs."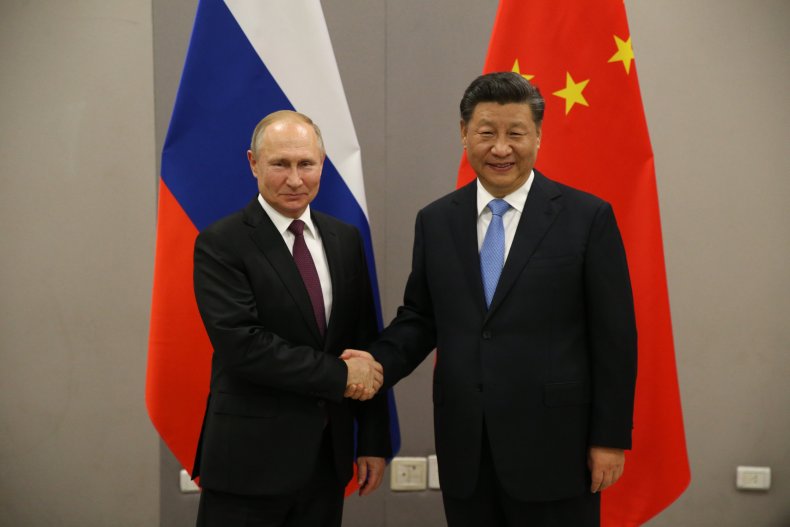 Cooley was not alone in believing that the inflection point has passed when it comes to Washington's reign.
"The U.S. has already started facing challenges to its superpower status from China," Ashok Swain, a professor at the Department of Peace and Conflict Research of Sweden's Uppsala University, told Newsweek. "That and the growing alliance between China and Russia has added further force to it."
He said the domestic situation in the U.S. is also a factor.
"The political and economic crises at home are not working in the U.S.' favor," he added.
While Swain, who served as the first UNESCO chair for International Water Cooperation, said that "the U.S. has and will have advantages over China and Russia combined in political, moral, and cultural powers," he pointed out that such leads were "not safe over the economy and military capabilities" of its rivals.
China and Russia have so far shunned the idea of a military alliance, dismissing this as an outdated Cold War-era concept in today's relative peace among major powers. But as both Beijing and Moscow face strained ties with Washington, Swain said the upcoming summit "is significant because it will give them the possibility to display their unity and alliance to their client states worldwide, and to the U.S. that they will join hands if one is targeted."
"While the U.S. tried to embarrass China by diplomatically boycotting the Winter Olympics in Beijing, Putin was one of the first leaders to confirm he would attend the event," Swain said. "In return, Xi has also declared open support for Russia against the U.S.' threats of sanctions over the Ukraine crisis. Xi calls Putin his best friend, and since 2013, both have met physically or digitally nearly 40 times."
"Xi and Putin have an excellent personal rapport," Swain added, "and both are also driven by the mission of dislodging the U.S. from the global leadership role."
Though Biden touted last year that at one point he had "spent more time with Xi Jinping as a world leader than anyone else has," the two men have shown little in the way of chemistry. The U.S. leader's administration has made certain its priority of taking on Beijing's global rise on the basis of cooperation, competition and confrontation — with little evidence thus far of the first.
As for Putin, Biden has been even more explicit in his distaste, calling him "a killer" months after taking office, a remark that sparked a row between the two nations early on in the administration. U.S.-Russia tensions have since resurfaced amid a burgeoning crisis in Ukraine, and the accompanying diplomacy intended to resolve diverging views of Europe's security order has yet to yield promising results.
Coming into office, Biden had more bad blood with Putin than with any other world leader, given his experience as vice president under President Barack Obama. The Kremlin was first accused of violating Ukraine's sovereignty in 2014, and then of interfering in the U.S. election in 2016.
Yet the Russian leader was among the first heads of state that Biden called after taking office just over a year ago. They've since spoken on several occasions, including in two summits, one virtual and the other in person.
"Biden was hoping to focus his foreign policy on confronting China while trying to push Russia to the back burner," Lucian Kim, a resident fellow at the Wilson Center in Washington who has covered Putin's rule in Russia as a journalist since 2003, told Newsweek.
But the economic restrictions imposed by the Obama administration in response to Russia's internationally disputed annexation of the Crimean Peninsula had resounding effects, and both powers now see more benefit to working together than ever before.
"Western sanctions starting with Putin's annexation of Crimea pushed Russia to rely more on China for trade, technology and political backing," Kim said. "Joint military exercises have been intended to remind the U.S. that it faces formidable adversaries."
"Both Beijing and Moscow view a closer partnership as an opportunity to divert U.S. attention to two fronts," Kim added, "Europe, which recent U.S. administrations have been trying to leave to the Europeans, and Asia."
Kim also noted that despite years of analysis focusing on the likelihood of a rift emerging between Beijing and Moscow given their own historic rivalries, their two leaders seem to genuinely enjoy one another's company.
"What is particularly striking is the personal affinity between Xi and Putin, who both style themselves as strong leaders who can make their countries great again," he added.
This dynamic has so far overruled any overt schism between the two major powers. In fact, their cooperation continues to defy boundaries, with not only an increasing number of joint military exercises but also economic projects, more of which were expected to be announced at their upcoming summit.
And when they release their joint statement, Kim predicted that "the gist will be that U.S. global hegemony, achieved after the collapse of the Soviet Union 30 years ago, is over."
"The language will likely be couched in references to the U.N. Charter," he added, "but the message will be very clear: Russia and China support each other in countering NATO in Europe and AUKUS in Asia. The world's two most powerful autocracies will no longer be pushed around by democracies led by the United States."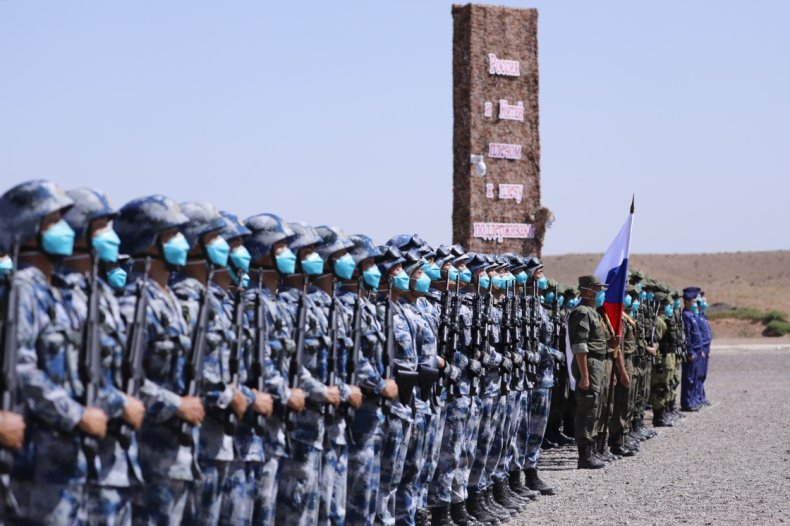 If China and Russia don't seek an alliance, however, how can their "new era" relations be described?
Some, including such Carnegie Moscow Center director Dmitri Trenin, have used the term "entente." Velina Tchakarova, director of the Austrian Institute for European and Security Policy, coined a new term in 2015: "Dragonbear."
"The future of the global order will be decisively shaped by the U.S.-China-Russia security constellation," Tchakarova told Newsweek. "Russia needs a powerful ally because of its isolation by the West, while China needs a reliable international partner with regional power projection to bolster its global influence and global geopolitical clout."
"The extent to which this relationship will deepen depends on China's continued geopolitical rise in global politics," she added.
Tchakarova argued that a symbiotic relationship has emerged between Beijing and Moscow through which the latter utilizes its military experience to instill stability in countries like Syria, Belarus and Kazakhstan, and the former offers financial incentives based on the stability such interventions may provide.
"The Dragonbear may have just discovered a successful formula of task sharing (Russia is the security provider, China is the financial provider) that can become a pattern in other parts of the world," she said.
Stability is a core value shared by Beijing and Moscow. Both increasingly see Washington as an agitator in world events and an agent of instability.
The primacy of stability is especially true of China. Though Beijing is involved in a number of territorial disputes that have the potential to turn violent, as seen in the deadly 2020 clashes along its western boundary with India, the People's Republic has avoided involvement in a sustained war for more than half a century since opening its markets to the world in 1979, shortly after the death of revolutionary leader Mao Zedong.
Xi is seen as China's most influential leader since, surpassing even economic pioneer Deng Xiaoping while doing away with term limits and codifying his "Xi Jinping Thought" brand of "socialism with Chinese characteristics" into the nation's constitution. While this ideology does not necessarily seek a hostile stance toward the West, and in fact seeks to do more business worldwide, it is incompatible with how he views U.S. actions abroad.
"Mr. Xi sees the United States as 'the biggest source of chaos in the present-day world,'" said Tong Zhao, a senior fellow at the Carnegie Endowment for International Peace's Tsinghua Center for Global Policy in Beijing.
"To him, a closer strategic cooperation between China and Russia is increasingly necessary and important to check the destabilizing U.S. global influence and to help create a more just and less West-centric international order," Zhao told Newsweek.
"The Russian and Chinese capabilities and strengths are mutually complementing," he added. "Their cooperation will generate greater leverage in reshaping the international norms and order than the sum of their parts."
Washington initially welcomed Beijing's rise, and even helped contribute to it as a Cold War-era counter to the Soviet Union and a boon for U.S. companies looking to tap into the world's largest workforce.
But as China's economy developed at unprecedented rates in the decades since and the country began to present a greater geopolitical challenge, the U.S. has begun to turn up the heat on its top rival.
"Mr. Xi seems confident about his capability to help China outcompete the United States in the long run, but may worry about near- to mid-term challenges Washington may create for China by revitalizing itself and mobilizing Western allies in a collective pushback against Beijing's ambition," Zhao said.
"China's own growth is still dependent on its continuous access to Western technologies and markets," he added. "That gives Mr. Xi a strong incentive to stabilize China's overall relationship with the United States and avoid an explicit and full-blown alliance with Russia."
Putin also has frequently expressed his hope to improve soured relations with the U.S. and its allies. After all, Russia has a far longer modern history of ties with the West than the East. But in the two decades since the onset of the 21st century when the Russian leader first assumed power, he's sought to reassert Moscow's role in global affairs in ways that have been largely rejected by the rival U.S.-led NATO alliance.
For years it was the common assumption in Washington's foreign policy circles that the two countries would ultimately drift apart or even turn on one another.
"The occurrences of closer coordination are only increasing, and U.S. strategists seem to have overestimated the likelihood of a Russia-China split and underestimated the possibility of alignment of their interests," Igor Denisov, senior researcher at MGIMO University's Institute for International Studies in Moscow, told Newsweek. "After all, the main focus of the parties is not on overthrowing the United States but on ensuring their own internal development, their own security, and gaining the respect they deserve on the international stage."
"As two great powers, Russia and China may have differences of opinion," he added. "Still, when they are challenged at the global level simultaneously, of course, it smooths out any possible frictions, including those related to the asymmetry of their economic potentials."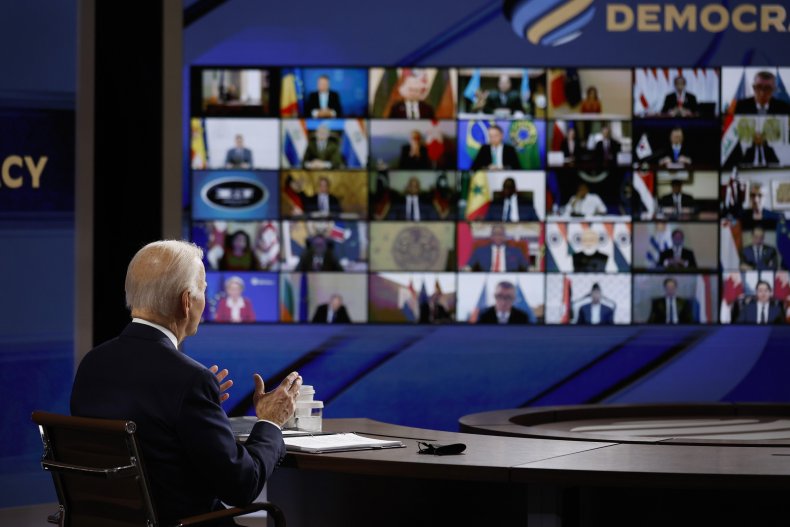 But even with their combined strength, another asymmetry persists. Beijing and Moscow's rapidly developing ties may still be no match for a robust network of U.S. alliances and military bases spanning across the globe.
Hal Brands, a global affairs professor at the Johns Hopkins School of Advanced International Studies and senior fellow at the American Enterprise Institute in Washington, D.C., told Newsweek that given the advantage of the U.S. global alliance infrastructure, "the key factor isn't how much China and Russia cooperate, it's how much unity we can rally in meeting their challenges."
"That will be all the more important given that Moscow and Beijing aren't simply trying to carve out spheres of influence," he added. "They are also trying to rewrite the rules of global governance on issues from Internet norms to human rights to conceptions of sovereignty."
Brands, who authored the book "The Twilight Struggle" on great-power competition, acknowledged that "it will be quite difficult to run parallel containment projects vis-à-vis Moscow and Beijing." But he argued that "we really don't have a lot of choice, given their parallel challenges to our interests and the broader world order."
However, unity among the West has been in short supply. Deep bipartisan divisions within the U.S. continue to demand substantial attention, effort and resources that would otherwise be available to mount a sustained pushback against the convergence of China and Russia.
As the Biden administration seeks to approach this dual challenge, one man who presided on the front lines of the Cold War that defined yesterday's most serious geopolitical contest said that U.S. interests would be better served by finding ways to work with its two top rivals.
Jack F. Matlock, Jr. served on former President Ronald Reagan's National Security Council and later as the penultimate U.S. ambassador to the Soviet Union until 1991, the same year that the USSR collapsed, leaving Washington as the world's sole superpower. While the Cold War is widely seen in the U.S. today as an undisputed success, it also produced some of the most dangerous episodes the world has ever seen, and Matlock sees no need to return to that dynamic.
"The most serious threats to us today are global: pandemic, weapons of mass destruction, global warming and environmental degradation, failed states and the resultant migrations," Matlock told Newsweek. "They can be dealt with successfully only by international cooperation, especially by the largest and most populous countries. Jockeying for control of territory led to two disastrous world wars in the twentieth century. It should have no place in U.S. foreign policy today."
The veteran diplomat and scholar, who recently participated in a press call hosted by the activist group Coalition to Prevent War with Russia, called on Washington to "use its influence to reduce conflict and encourage joint action to deal with common dangers," and avoid "trying to 'punish' Russia and China for actions that do not threaten the United States."
"It also diminishes the ability of the United States to give effective support to human rights," Matlock added. "To do so with nuclear-armed powers with significant capacity for cyber warfare is reckless."
He suggested a fundamental change to U.S. foreign policy, one to match the times in which Washington would no longer have the final say on the future of the international order.
"It is time we stayed out of other countries' disputes with neighbors," Matlock said, "and concentrated on dialogue and diplomacy to prevent confrontations and create an atmosphere for cooperation on the more important issues that threaten us all."