Donald Trump Accused of 'Compromising' Efforts to End China's Abuses in Xinjiang
President Donald Trump has "compromised" efforts by his own administration to punish and end human rights abuses in the Chinese region of Xinjiang by ignoring the issue, a former State Department official has testified.
"My concern is their [Secretary of State Mike Pompeo's and Deputy John Sullivan's] words are compromised by the inability, or failure, of the president to echo a similar line," Michael Posner, who served under President Barack Obama as the assistant secretary of state for democracy, human rights and labor, said at a hearing on Thursday.
The hearing, held by the Congressional-Executive Commission on China, focused on forced labor, mass internment and social control in northwest Xinjiang, where more than 1 million, and possibly up to 3 million, Uighurs and other majority Muslim ethnic groups have been held in political detention camps.
Here, residents are forced to abandon their religious and cultural practices and made to sing songs about President Xi Jinping and the Chinese Communist Party. They cannot leave. There are reports of torture, sexual assaults, claims of possible sterilizations and deaths. Police then use fear of relatives being sent to the camps to control foreign citizens, including Americans.
Outside the camps, ethnic minority residents have had passports confiscated and cannot travel internationally or even domestically. Mosques and graveyards have been razed. Face and voice recognition software record Uighurs' every move and word, surveillance apps track who you speak with, Communist Party officials have forcibly lived in their homes and authorities have collected blood and DNA samples without permission. Some fear genocide could occur.
But those testifying also pointed out the large gap between the public positions of President Donald Trump and his administration.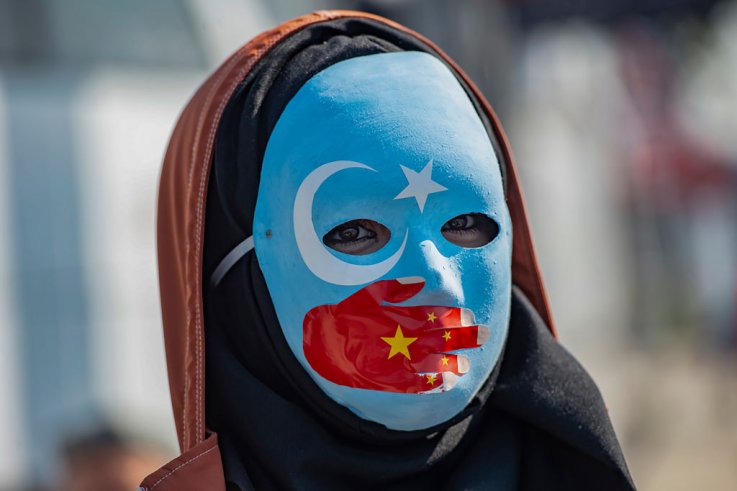 Earlier this month, Secretary of State Mike Pompeo, who has described the situation as "China's attempt to erase its own citizens," led a visa ban on local authorities who are involved in the detention or abuse of Muslim minorities in Xinjiang. The Commerce Department also blacklisted 28 companies for being implicated in human rights violations and U.S. Customs and Border Protection blocked a baby clothing shipment after the manufacturer was accused of using Xinjiang detainees as forced labor to sew items.
But Trump hasn't explicitly mentioned the issue, only ever referencing vague desires to protect "religious freedom."
So when Republican Senator Steve Daines asked the panel how the rest of the world is following America's "lead" after Pompeo requested countries not repatriate Uighurs to China, the question was turned right around.
"The world looks at the totality and the commander in chief is the primary spokesperson for the United States, and if he's not echoing or even leading in the same direction as Secretary Pompeo it sends, at best, a mixed message and it allows somebody like Xi Jinping to say I'll listen to the guy I'm talking to, the president, and I can ignore the rest," Posner, who is now an ethics professor at New York University, said.
He added: "I commend Secretary Pompeo and the challenge now is to get a whole of government approach and it needs to start at the top."
But the president's strongest statement may not end up being what he says, but what he signs.
Last month, the Senate Foreign Relations Committee passed the bipartisan Uyghur Human Rights Policy Act, which would require State Department reports China's crackdown and an assessment of whether abuses should levy Magnitsky sanctions. The bill, which has yet to pass the House, also says President Donald Trump should condemn the abuses.
China has said, if enacted, the bill will damage relations between the two countries. "This bill smeared and criticized the human rights situation in Xinjiang and the Chinese government's Xinjiang policies," Chinese Foreign Ministry spokesperson Hua Chunying said at the time it passed the Senate.
Donald Trump Accused of 'Compromising' Efforts to End China's Abuses in Xinjiang | Politics