A Row Erupts During a Meeting of Ukraine's Cabinet of Ministers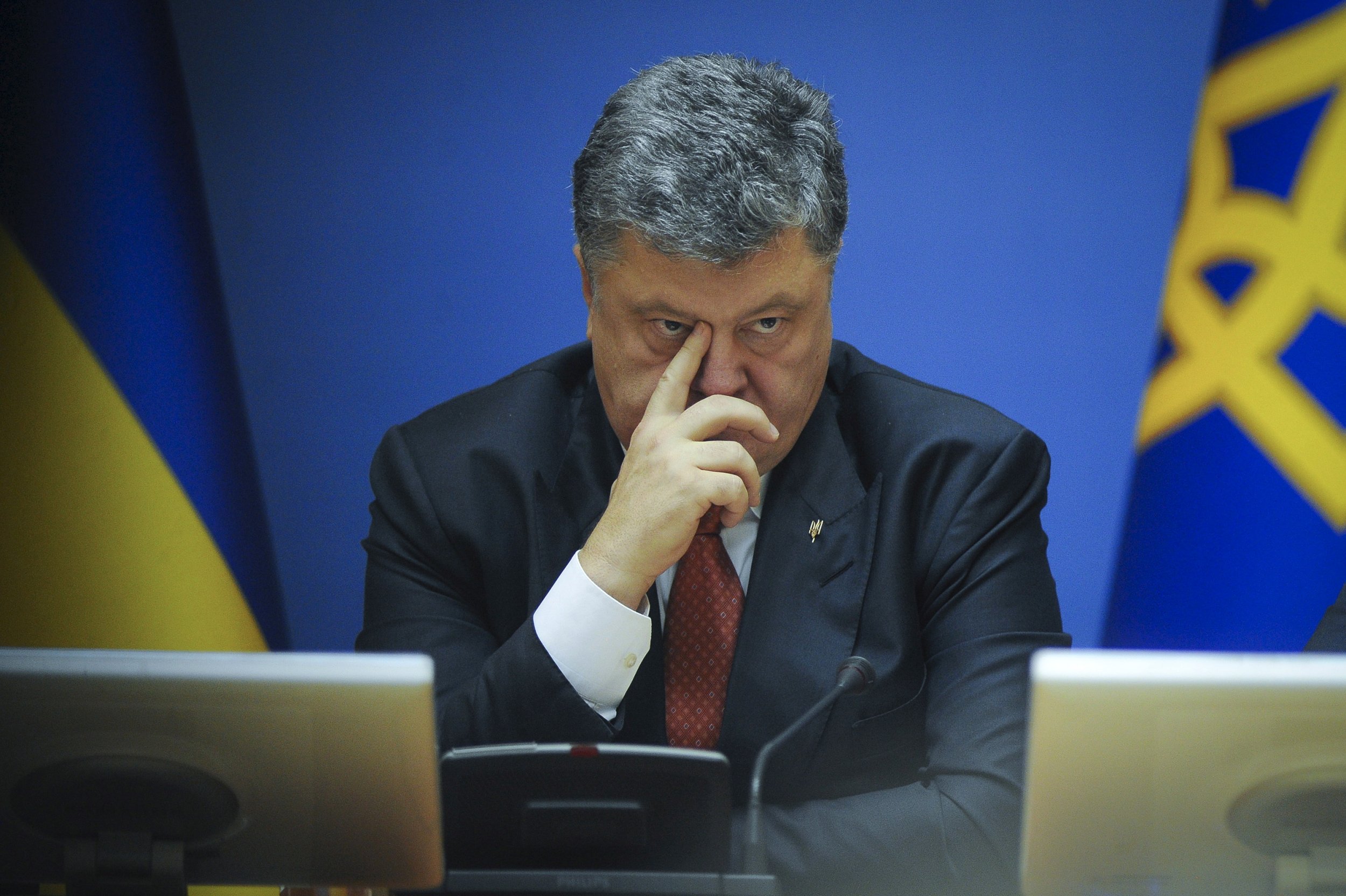 A meeting of Ukraine's cabinet of ministers and other officials on Thursday ended with President Petro Poroshenko holding his face in his hands, as the interior inister, Arsen Avakov, hurled water and insults at Mikheil Saakashvili, the governor of Odessa. Video of the altercation has circulated online.
It all began when Avakov brought up corruption allegations apparently made by Saakashvili—the former president of Georgia—at a public forum in Kiev. Sitting only seven seats away, Saakashvili interrupted him, vowing to prove his accusations. "It can be proven," Saakashvili declared. "I will more than prove it. I am not afraid of you."
Dismayed by Saakashvili's outburst, Avakov started mumbling and making fun of Saakashvili's speech. This set the Odessa governor off. He started banging on the table, saying: "Nobody speaks to me that way."
"That is how I will be speaking to you," Avakov shot back.
Poroshenko then tried to break things up. The conversation appeared to remain heated, though someone switched off Avakov's and Saakashvili's microphones.
Eventually, the president seemed to calm the men down. Someone turned their microphones back on and the discussion returned to normal as Avakov began speaking about privatization before offering Saakashvili the chance to ask a question.
"I will not be discussing anything with you after your statements," Saakashvili declared before his microphone was once again turned off. "I will prove that you personally are a thief. I will prove that the cabinet is governed by corruption. I do not have money unlike you, but I have my conscience and my reputation."
Suddenly, Avakov grabbed a jug of water and hurled it at Saakashvili.
"Bastard. Scumbag," Avakov yelled, standing up as Poroshenko called the meeting to a close. "You betrayed your country. Now you take a shot at my country," Avakov said, referring to Saakashvili being stripped of his Georgian citizenship earlier in December.
But Saakashvili, now a Ukrainian citizen, quickly shot back: "Your country? I am Ukrainian."
"I too am Ukrainian," Aarkov replied. "You are a joke and an actor."
Then Prime Minister Arseniy Yatsenyuk joined in and sided with the interior minister. "It is you who is the joke," he told Saakashvili.
"Circus actor," Avakov added. "You bastard."
"Gastroller," Yatsenyuk said to Saakashvili, using a derogatory word meaning a traveling manual worker. "We invited you here to do work, not to stir up political intrigue."
At this point, Poroshenko, with his head in his hands, yelled at them to stop and the footage cut out.