Xylazine Fears Grow as 'Zombie' Drug Spreads Across U.S.
Xylazine has gained notoriety as a "zombie" drug due to its effects on those who use it.
It has spread rapidly across America and is now present in 36 states and Washington D.C.
It is seen as an inexpensive cutting agent for other drugs, primarily fentanyl, and does not respond to overdose treatment naloxone.
The FDA announced a crackdown on it entering the U.S. for illicit purposes, mainly from Chinese suppliers, in February.
Clinics are struggling to treat the wounds it produces, which are not always obvious before they become an emergency.
Xylazine has been around since the early noughties as a veterinary tranquiliser, but is spreading across America at a rapid pace as a highly damaging and potent drug.
It has earned its moniker as a "zombie" drug for its effects on those who use it: sedate behavior and, for those who consume enough of it, flesh that eats itself from inside out. According to the Drug Enforcement Administration (DEA), it can be purchased for as little as $6 a kilogram online.
Now found in 36 states and Washington D.C., according to one expert, its spread has been attributed to its cheapness and ability to enhance the high of other drugs it is cut with. But emergency responders are struggling to treat the wounds it produces.
Xylazine's rise in the U.S. mirrors that of fentanyl—which has significantly outpaced other drugs as a cause for overdose deaths—which may be in part due to its use to cut drugs such as fentanyl. However, unlike fentanyl, it poses a new health risk as it does not respond to common overdose treatments.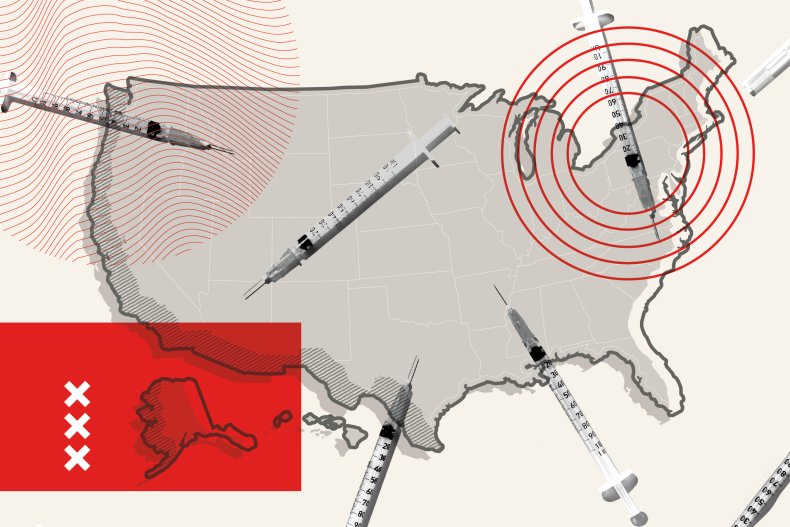 "We are experiencing the worst drug overdose crisis in U.S. history, currently being driven primarily by the proliferation of fentanyl in the illicit drug market," Dr Nora Volkow, director of the National Institute on Drug Abuse, told Newsweek. "Xylazine is one component of this tragic epidemic."
Rise in Prevalence Across the U.S.
According to an intelligence report by the DEA in October 2022, identifications of xylazine have risen sharply across the U.S. in recent years, with all regions seeing some rise. The South saw the largest increase in the drug being observed, of 193 percent between 2020 and 2021, while the region has also seen the biggest rise in xylazine-related overdose deaths—an increase of 1,127 percent.
Xylazine is believed to have gained a foothold in the Northeast—which has the highest total of detections in the same period, of 902—before spreading across the U.S.
According to a 2022 study, xylazine was present in nearly 26 percent of overdose deaths in Philadelphia, more than 19 percent of deaths in Maryland and 10 percent in Connecticut. But cases have also been observed in San Francisco and Los Angeles, various outlets have reported.
"It's been found in 36 states, in [Washington] D.C., and over the last two years or so it has really jumped up significantly," Dr Lisa Kugler, a senior vice president of Shatterproof, an addiction charity, told Newsweek. "In 2020, it was included in about 6.7 percent of the overdose deaths that we experienced."
Why Is It Spreading?
Part of the reason for its rapid proliferation is its relative inexpensiveness. Xylazine is widely available online for veterinary use, but the DEA says it is being sold illicitly, mainly by Chinese suppliers. Newsweek has seen a kilogram being sold by a Chinese vendor for between $10 and £60.
"The United States has experienced a massive change in its illicit drug supply over the past several years, most notably through the rapid expansion of illicit fentanyl," Volkow said. "As fentanyl began replacing heroin in the drug supply, xylazine also increased as an additive to drugs."
But another reason it has come to prominence in recent years is the apparent ease with which it can enter the country. According to the DEA, it was first observed being used for human consumption in Puerto Rico in the early 2000s, but its availability through the internet without vetting has pushed its trafficking.
"It was initially being used for veterinary purposes, so it was not being as scrutinised as, say, fentanyl and some of the other drugs [by the] FDA," Kugler said. "It was easy to bring into country, so that's part of what's making it emerge so quickly."
It is understood that it is not under the DEA's purview to police xylazine as it is not a controlled substance, but rather under the purview of the Food and Drug Administration (FDA). The FDA announced on February 28 that it was launching a crackdown on the drug entering the U.S. for illicit purposes. Robert Califf, FDA commissioner, stated the agency "remains concerned" about the increased prevalence.
Kugler said xylazine "wasn't something that was so much on their radar" until "very, very recently," but was now "definitely getting much more of a crackdown."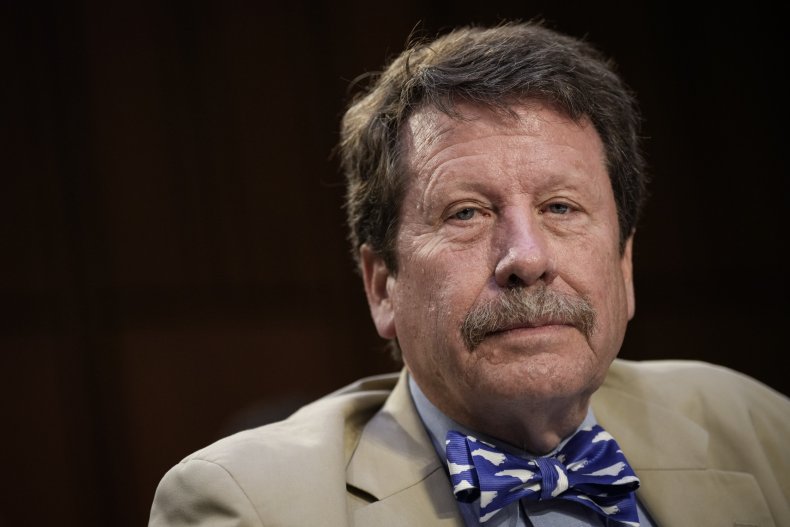 An FDA spokesperson said there may be "illicit supplies of xylazine making its way into illicit drugs," but told Newsweek that it had taken steps to ensure that xylazine entering the country for legitimate purposes was correctly labelled.
"We will continue to use all tools and resources available to us and work with other federal, state and local agencies as appropriate," they added.
Xylazine's prevalence in part comes from its use as an inexpensive cutting agent for other drugs—notably, one which extends or boosts the short-lived highs of substances such as fentanyl. Kugler said it had been commonly detected as being mixed with heroin and fentanyl, but was also starting to appear in cocaine samples.
However, its mixing with other drugs provides a greater risk to the user—and many are unaware they are ingesting it.
"The harms of xylazine and risk of fatal overdose are increased when it is used in combination with other central nervous system depressants like alcohol, benzodiazepines, and opioids like fentanyl or heroin," Volkow said.
She added that the combination of fentanyl and xylazine—known as "tranq dope"—can be "extremely dangerous and can stop someone's breathing even at very low doses."
"People might not necessarily know that they might be utilising xylazine, and it has a more significant withdrawal profile," Kugler said. "It can lead to seizures; it can lead to chest pains—so it's actually more significant than some of the withdrawal patterns some may see otherwise."
She added that xylazine was "adulterating a lot of the drug supply right now."
How Is It Turning People Into 'Zombies'?
Xylazine can cause dangerously slow breathing and heart rate, but its flesh-eating quality is believed to arise from the constriction of blood vessels and reduced oxygenation of the skin that repeated use precipitates.
These cause abscesses under the skin, which then slowly rise to the surface. Kugler said one of the "extremely scary" aspects of the drug was the potential for "very painful, significant wounds, that some of the street medicine clinics are not used to seeing."
Clinics are struggling to treat some of the wounds, Kugler suggested, because of their nature of starting internally and working their way outward. And "since [xylazine] is emerging so quickly, a lot of places are not testing for it yet," she added.
In particular, some individuals may not seek healthcare "until it is really late," Kugler said, because the abscesses it causes won't clearly present themselves.
"Previously, people knew if there was an abscess starting, it was generally at the injection site, and they may get treatment," she said. "This could go on for a much longer period of time because they may experience some of the abscesses starting internally."
Users may also refrain from seeking help because of the stigma around drug misuse. Shatterproof's policy is that addiction is "a medical condition very similar to asthma, diabetes, etc. and we really encourage anyone who's struggling to seek help, to talk about the pain that they're going through and really be open to receiving some of the supports that are out there," Kugler, a psychologist who oversees the charity's ATLAS assessment locator platform, said.
For those who knowingly take Xylazine, the appeal arises not only from its analgesic properties—providing pain relief—but also its muscle relaxant and euphoric qualities, Kugler said. "Its nickname is zombie, so gives sort of that feeling of being in a cloud," she added.
The Risk of Overdose
Xylazine presents a further problem for healthcare workers treating drug users, as it does not respond to overdose treatment naloxone, or its branded equivalent Narcan, which have gained widespread use in the U.S. to combat opioid deaths. According to statistical analysis by the Centers for Disease Control and Prevention, between 2012 and 2016, the rate of naloxone administrations increased 75.1 percent.
Kugler said that xylazine does not respond to naloxone because it does not bind to opiate receptors in the human nervous system, instead following "different pathways" through the body.
"Although xylazine is not an opioid, naloxone should still be administered in the event of an overdose because xylazine is most often combined with opioids like fentanyl," Volkow remarked.
While xylazine's sharp rise in use in the U.S. has been tracked in the past few years, why it is doing so now when it has been available for more than two decades remains an open question.
Though Kugler could not be sure why it had seen such a rise recently, she said: "The pendulum often times shifts and [drug dealers are] looking for something that is often times easier to get or easier to get into the country—and for whatever reason, it seems now is the time for xylazine."
Update 03/09/23 11:46 a.m. ET: This article was updated to change the word straight to street in a quote.