Yahya Abdul-Mateen II Reveals True Meaning Behind Sinister Candyman Mirror Moment
Candyman was originally played by Tony Todd in the 1992 movie. In the 2021 film, also called Candyman is a direct sequel. Yahya Abdul-Mateen II plays artist Anthony McCoy who becomes enraptured by the legend.
As time goes on, his hunger for knowledge of this terrifying being turns more horrific, as legend slowly becomes reality.
The first moment where this realization comes to Anthony himself is in a mirror scene, which has every potential of becoming iconic.
Ahead are some spoilers for Candyman.
How Candyman Came Alive In Mirror Scene
In this scene, Anthony has been invited to the house of an art critic, to discuss his works which she previously had little time for.
When he arrives, he is not in the best state of mind, especially as a wasp sting has caused a major reaction in his skin.
After disturbing his wound while his host is in the bathroom, he tries to find some kind of gauze or a napkin to wrap around it.
On his quest for a paper towel, he comes across a mirror, and finds someone he does not recognize staring back at him - Candyman.
The Candyman of this moment is not the original, Daniel Robitaille (played by Tony Todd) but instead the most recent incarnation of the legend, Sherman Fields (Michael Hargrove.)
Sherman was a man with a hook hand who gave out sweets to children and became a prime suspect after children in Cabrini-Green found razor blades in their Halloween candy.
After a young William Burke found him in the laundry room, he screamed, accidentally alerting authorities to his whereabouts.
The police ran down and brutally killed him, only for more razor blades to be discussed weeks later.
In the mirror moment, Anthony stares at who he is becoming as the Candyman, and the pair are indistinguishable.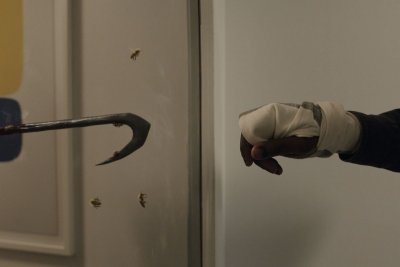 Speaking to Newsweek about how this was performed, Abdul-Mateen revealed it was not the CGI trickery many would expect, despite how in sync the movements were, but "choreographed movement" which meant the two men became one in their reflections.
He said: "That was the experience of finding out that you may not be who you believe that you are, you know, and yet he still wants to hold on to the idea that, 'No, I am myself, I'm still me,' in at least testing it."
While many may see a frightening reflection and run away, or turn around, Abdul-Mateen explained how the curiosity in his character meant he wanted to see more, but feared the moment becoming "too real."
He continued: "There's also something that's going on where, as an artist, as this curious person as Anthony is, there's this hunger for information, for inspiration. He's also intrigued by what he sees as well, in that moment. So he's attracted to it.
"But he doesn't want it to be him. He doesn't want to become it. So it's interesting, you know, even Anthony, he's willing to have proximity to it. And he wants to know what this thing is.
"But he does not want to be it. And when he finds out that it's so close to him that he can't tell the difference, then I believe that's when it's, that's when it becomes too real."
The moment is the first to mark Anthony's realization that Candyman is more than just a story to him, and forces him to seek out his mother for answers on where he truly came from.
Candyman is in movie theaters now