'Yakuza 6' Menu Combination Guide: How to Get Bonus EXP in Every Restaurant in Kamurocho and Onomichi
Wondering which food items you need to order from each restaurant in Yakuza 6 in order to get bonus EXP on top of the perks you're already getting from eating? We've put together a full list of all 30 menu combinations in the game, for restaurants in Kamurocho and Onomichi.
You'll be doing a lot of eating in Yakuza 6, whether it's to restore lost health, fill up an empty stomach gauge, or figure out the best meal choice after a session at the RIZAP gym. Each restaurant provides a slight experience bonus, on top of the points you'll already receive for each individual morsel, for ordering a specific combination of menu items. Whether you're a completionist out for that platinum or just looking to maximize your playthrough, it's worth keeping these combos in mind whenever you need to eat. It's basically free bonus experience for something you'll already be doing all the time.
If you're already full, you won't be able to get the EXP bonuses for Menu Combinations, so if you need to burn off some calories, head out to the streets and beat up some thugs.
Under the Other Skills submenu of Kiryu's stats, you'll be able to unlock skills that increase your stomach gauge (from the base of 100 all the way up to 200), your rate of digestion and how much EXP you get from food. There are five upgrades for each of these three traits, and they're worth investing in early.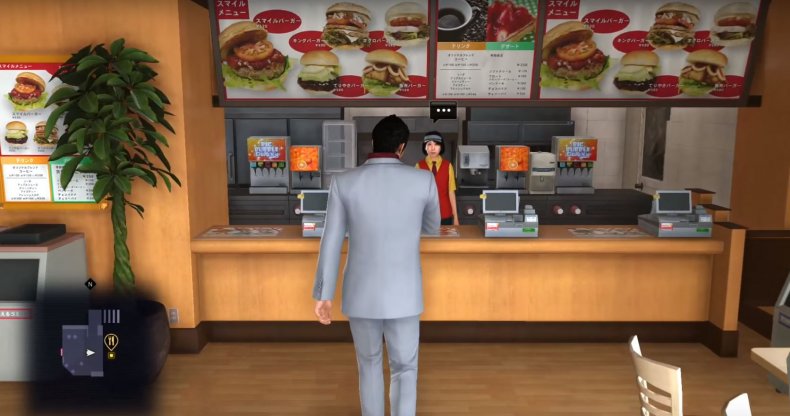 Yakuza 6: Kamurocho Menu Combinations
Gindaco Highball Tavern
This is Ginadaco Highball!: Absolutely Tasty Takoyaki, The Kaku Highball
Yoronotaki
I'll Have This To Start: Edamame, Draft Beer (Medium)
I've Gotta Order That!: Sashimi Platter 3 pcs., Skewer Platter, Kotchori Salad
Ringer Hut
Veggie Lover: Vegetable Champon, Vegetable Saraudon, Veggie-filled Soup
Fuji Soba
Harmony of Rice and Noodles: Chilled Soba, Katsudon
Rice Lover: Curry & Rice, Katsudon
Akaushimaru
Blissfully Drinking Alone: Beef Plate, Draft Beer
Ikinari Steak
Eating Wild: Wild Steak 300g, Wild Hamburg Steak 300g
A Solid Lineup: Tenderloin Steak 200g, Salad, Soup
Sushi Gin
The Ultimate Sushi Gin: Kiwami Set, Kiwami Chirashi, Kiwami Seafood Rice Bowl
Cafe Alps
An Elegant Time At Alps: Special Shortcake, Sandwich Set
Kanrai
A Yakiniku Staple: Salted Tongue, Kalbi, Sirloin (all standard grade)
No Grilled Meat at Yakiniku?!: Kimchi Combo, Stone-cooked Bibimbap, Spicy Beef Soup
Smile Burger (any location)
Standard Smile Set: Smile Burger, Smile Fries, Smile Shake
Healthy Smile: Tuna Burger, Smile Salad
Bantam
Depth of 30 Years: The Mccallan 30 Years Old, Hibiki 30 Years Old, Ballantine's 30 Years Old
Kyushu No. 1 Star
The Holy Trinity: Kyushu Tonkotsu Ramen, Fried Rice, Gyoza
M Side Cafe
Bread Over Rice: Croissant, Toast, Original Bread
Osaka King
Spicy Combination: Sichuan Dandan Noodles, Shrimp in Chili Sauce, Mapo Tofu
Griddle Trio: Original Fried Gyoza, Mixed Fried Rice, Ramen
Quadra Garden
Full of Cake: Chocolate Cake, Cheesecake
Sushi Zanmai
Tunalicious: Special Bluefin Tuna Bowl, Tuna Zanmai
Wette Kitchen
Delicious Side Dishes: Onion Ring, Tomato Onion Soup
Wild Jackson (any location)
Wild Combo: Wild Burger, Wild Fried Chicken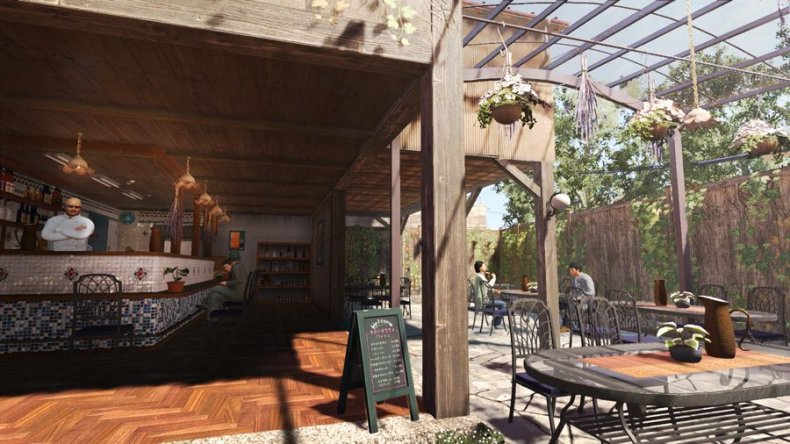 Yakuza 6: Onomichi Menu Combinations
Jumangoku Chinese Soba
A Cut Above: Large Onomichi Ramen, Large Chashu Onomichi Ramen
Oyster Shack
Testing Your Luck: Fisherman Soup, Salt Grilled Rockfish, Octopus Sashimi
La Pente
Aspiring Sommelier!?: Red Wine, White Wine
Original Course Menu: Specialty Green Salad, Oven-baked Chicken Thigh, Special Strawberry Shortcake
Yonetoku
The Yonetoku Standard!: Sochu Highball, Meat Nabe, Stew
Snack Bar Gaudi
Quick & Easy: Pickles, Edamame
Yakuza 6 Menu Combination Achievements
Menu combinations in Yakuza 6 are tied to three achievements. Here are the rewards you'll get for unlocking each one; they're pretty modest on their own, but easy enough to do while you're focusing on other sidequests.
Discover three types of menu combos: 20 points of each kind of EXP
Discover 10 types of menu combos: 25 points of each kind of EXP
Discover all types of menu combos: 30 points of each kind of EXP
Note: a couple of the combos aren't at restaurants, but at bars. For instance, one of them is at Snack Bar Gaudi in Onomichi, the site of another minigame unto itself, which can be easy to miss.
Which restaurant in Yakuza 6 would you most like to eat in? Which foods do you think give the best experience bonuses? Let us know your thoughts in the comments.