'Yakuza 6' RIZAP Challenge Meal Plan Guide: What Food to Eat After a Workout?
Feeling the burn from Yakuza 6's RIZAP Challenge? Not sure what restaurant to go to or what foods to eat to complete Makuta's Meal Plan? We've got you covered, with a full list of every clue and the corresponding food you'll need to eat to help Kiryu make some big gains.
There's loads of glorious food to slobber over as you make your way through the story and sidequests of Yakuza 6, but just like in real life, sometimes you've got to be practical and put health before cravings. One of the game's many minigames allows Kiryu to hit the gym with a personal trainer in order to earn EXP. In order to maximize your gains from the RIZAP Challenge, you'll need to get good scores in the weightlifting challenges and choose appropriate meals based on Makuta's clues.
Yakuza 6 RIZAP Challenge Basics and Tips
Once you're free to roam around Kamurocho, head to Theater Alley (west from Theater Square), where you'll find the RIZAP gym. Makuta will ask you to pick two workouts. You can't do a single type of workout twice per session, though you can pick the same two activities every time if you wish; there's no need to mix up your routine unless you want to. We found straightforward button-mashers like the Bench Press and Deadlifts easiest for getting consistent S-Rank scores.
After you complete the workouts, Makuta will tell you his recommended meal plan. He'll also send a copy to your email for reference. Your Stomach Gauge will be completely empty after any visit to the gym, but make sure your first meal after a workout is only the item for your meal plan. Kiryu will send a photo to Makuta, then you can immediately eat more to fill up your Stomach Gauge. Head back to Theater Alley for your EXP gain results and some sexy posing from Kiryu when you're ready.
You'll only need to do the RIZAP challenge 12 times in each playthrough to complete the achievement, but the prompts you'll see will be drawn randomly from a pool of 24 possible questions. We've numbered the entries below purely for convenience, each playthrough is different.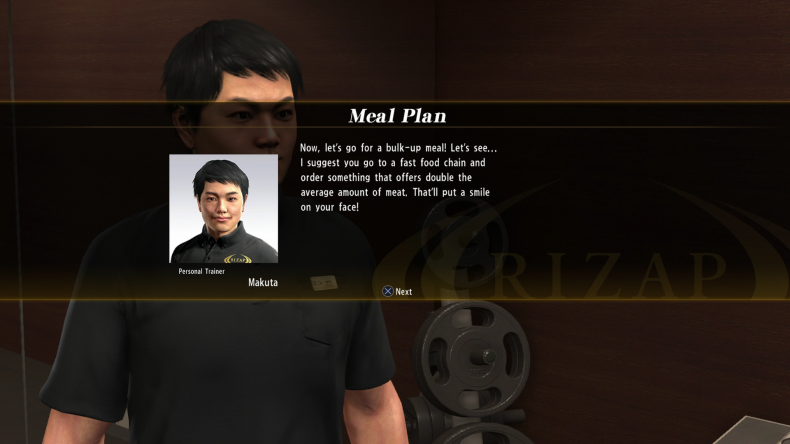 Yakuza 6 RIZAP Challenge - Full List of Food to Match Makuta's Clues
1. This time, we'll aim for a dish that will bulk you up, but is also easy to eat! A standard light meal that includes eggs, meat, and vegetables would be good! A meal like that is usually offered in the morning.
Cafe Alps -- Sandwich Pack
2. This time, let's go for a well-balanced meal. Okay... I suggest a quick meal that has carbs, eggs and veggies! It's at a place you'd stop by when you just need a light meal! Their homemade soup has a great flavor!
Fuji Soba -- Egg Tempura Soba
3. Now, we'll focus heavily on protein! Let's see... You should eat an entire, delicious chicken thigh! They're great to eat after training, but keep it mild!
Wild Jackson -- Wild Fried Chicken
4. Now, let's go for a bulk-up menu! Let's see... I suggest you go to a fast food chain and order something that offers double the average amount of meat. That'll put a smile on your face!
Smile Burger -- King Smile Burger
5. This time, let's go meat only! Meat is the best for building muscle! I'm suggesting something that's relatively low in fat! It's best when cooked on a grill!
Ikinari Steak -- Sirloin 200g -- OR Kanrai -- Sirloin (standard grade OK)
6. Let's focus on nutrition! How about a dish that contains a lot of scallions? You'll be tempted to drink alcohol, but please try your best to resist it.
Yoronotaki -- Kotchori Salad
7. This time, let's avoid carbs. You should go for that one dish consisting of just beef. Oh, you're free to eat pickled red ginger with it too!
Akaushimaru -- Beef Plate
8. You should eat some fish once in a awhile! Let's have that one fish Japanese people just love! How about a dish that allows you to enjoy various parts of it?
Sushi Zanmai -- Tuna Zanmai
9. This time, we'll go with a dish that consists of meat and vegetables. Let's see… How about one where you can enjoy five different types of it? It all comes served on a skewer!
Yoronotaki -- Skewer Platter
10. This time, you should consume carbs and vegetables. Make sure it's heavy on the vegetables. This meal is famous as a Nagasaki specialty!
Ringer Hut -- Vegetable Champon
11. This time, protein will be our main focus! I suggest a meal that offers a lot of vegetable protein! It might be good for the appetite if it's on the spicier side.
12. This time, let's try something out of the ordinary. Let's see... How about a round food that comes with cheese on top? It's apparently most popular with women. You can eat it at a counter!
Gindaco Highball Tavern -- Cheese and Spicy Fish Roe
13. Now, let's go for a bulk-up meal. Hmm... I suggest a rice dish topped with lots of thin pork slices! These pork slices are often used in some noodle dishes too!
Kyushu No. 1 Star -- Chashu Rice Bowl
14. This time, let's go for a bulk-up meal. Let's see... I suggest a dish where you can consume rice, pork, and egg all together!
15. This time, let's go with a bulk-up menu that'll have you consume plenty of carbs! It's the national dish that everyone loves! Please get the one with beef!
Cafe Alps -- Original Beef Curry
16. You can't go wrong with meat after a workout! Just this one time, I'll let you have some popular yakiniku!
Kanrai -- Harami (standard grade OK)
17. Let's try an unusual dish this time! I suggest some bite-sized grilled fish. It's chock-full of calcium and protein! The flavorful roe will have you hooked!
Yoronotaki -- Smelt Fish with Roe
18. This time, let's go for a dish low in sugar and high in protein. Oh yeah... I suggest a nutritious dish that's packed with lobster!
Sushi Gin -- Lobster Miso Soup
19. This time, let's maintain a good balance of vitamins and protein! I suggest going for vegetables and chicken! Steamed chicken breasts would be ideal!
Osaka King -- Banbanji Chicken Salad
20. Now, let's go with a dish that contains both pork and veggies! Make sure it's something that'll fill you up! Cabbage would be good for the vegetable!
Osaka King -- Twice-Cooked Pork
21. This time, we'll focus on veggies! Did you know ginger also has tons of digestive health benefits? I want you to combine a ton of veggies with ginger! There's a popular chain that's been in town for years that serves up some great veggie dishes.
Ringer Hut -- Veggie-Filled Soup
22. You should eat some junk food once in a while to bulk up! Let's see... How about a fast food place where you can eat a good, old-fashioned, sunny-side up egg?
Wette Kitchen -- Wette Egg Burger
23. This time, let's cut calories and focus on nutrient intake! Let's see... You should go to a fast food chain and only have vegetables. It's one of their standard dishes.
Smile Burger -- Smile Salad
24. This time, let's go for a dish that's a big hit with the kids. Let's see... Maybe something that's packed with juicy meat and cooked on a hot iron plate! I suggest you eat 300 grams of it!
Ikinari Steak -- Wild Hamburg Steak 300g
After completing 12 rounds of the RIZAP Challenge, you'll be looking so jacked, all your anikis will be like:
Any other prompts we may have missed? Were there certain clues where alternative items worked for you? Let us know in the comments.