Yakuza Kiwami 2 improves upon virtually everything that was already fun about the Yakuza series, while leaving some fiddly aspects of gameplay in the rearview. While the tale of Kiryu's battle against the Dragon of Kansai doesn't quite hit the heights of Yakuza 0, it's a stellar jaunt through Japan's weird, wild criminal underworld nevertheless.
The events of Kiwami 2 begin a year after the first game. Kiryu's still dealing with the repercussions of the Tojo Clan's stolen ten billion yen, while also trying to whip some sense into young Daigo Dojima, next in line to the leadership. While you don't need to have played Kiwami to enjoy this game, there's a lot of connective tissue between the two. Early on, you'll have the option to view a handy refresher of the key events of Kiwami, and there's plenty of flashbacks and references dotted throughout the game.
If you played the demo, which takes place in the game's second chapter, you'll find yourself in familiar territory rather quickly. Kiryu hightails it to Osaka, where rogue douchebag Ryuji Goda seeks to spark a war between the Omi Alliance and the Tojo Clan so he can be the top dog in Japan. Kiryu forms an uneasy alliance with Detective Sayama Kaoru, known as the "Yakuza Huntress" from Osaka's organized crime division, and his old frenemy Goro Majima, who's currently spearheading the Kamurocho Hills redevelopment project. Getting to see these two face off and work together, however briefly, is one of the games biggest treats. (There's more to sate Mad Dog fans with the game's self-contained Majima Saga chapters, but more on that later.)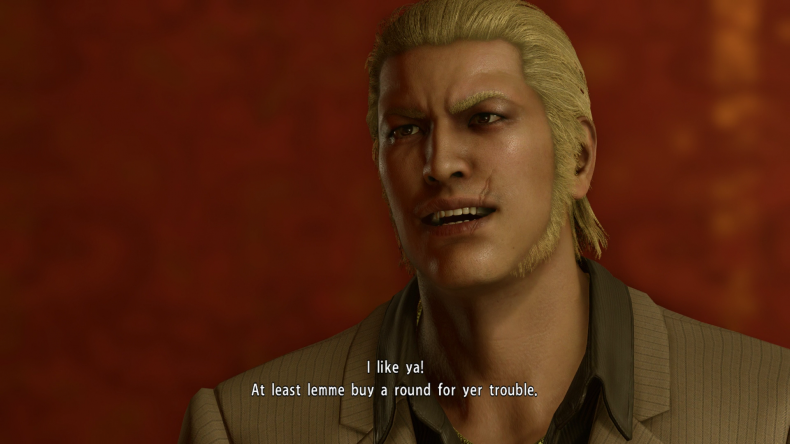 Like previous Yakuza games, the story is full of twists, betrayals and secret identities. It's one hell of a fun, if convoluted, ride. There's a greater focus on police involvement this time around, and the connection between Kaoru and Kiryu adds a bit of charm and romantic intrigue to the whole affair. Kiwami 2 also features some of the most memorable battle sequences in the series, including one set in a majestic historical landmark that had me yelling with surprised delight at the television. Expect about 25 hours for a story-focused playthrough, and easily double that time (or more) if you love digging into all the optional content.
Kiwami 2 runs on the Dragon Engine, an enhanced version of the one introduced for Yakuza 6. Even playing on a standard PS4, the glittering signs and dingy puddles of Kamurocho look more vivid and realistic than ever, with impeccably detailed lighting and textures. The newer engine also opens up new environments to explore, like rooftops, alleys and basements, and it's easier to run and jump over objects while sprinting through town.
More importantly, once I beefed up Kiryu's skills a bit, the revamped Dragon Engine combat felt more nimble and seamless than it had when I played the demos. Unless you need to restore health, there's little to interrupt the action, and Kiryu's Dragon style in Kiwami 2 eventually integrates many of the moves from his three distinct combat styles. You can unlock basic skills that feel very much in keeping with the older Brawler and Rush styles, while Ultimate Heat Mode is, for all intents and purposes, the couch-heaving Beast style.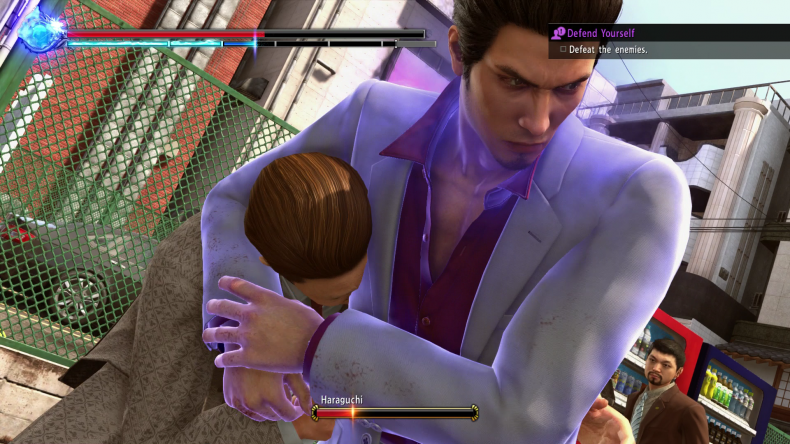 Weapon pickup is a welcome improvement to the combat system. Items can be set to one of three slots on the D-pad, or sent to Kiryu's inventory (provided there's space, but you'll run out quickly with all those katanas laying around). You can also recruit NPC allies, then unlock special Heat Actions that bring those pals into the fray to club thugs with a guitar El Kabong-style or lob a simmering hotpot into some dude's face.
Sega's Ryu Ga Gotoku Studio put loads of care and consideration into this ground-up remake, so Kiwami 2's gameplay tweaks aren't limited to combat. For instance, you don't actually have to chase NPCs in substories anymore; you'll just skip straight to the next scene. There are more taxi drop-off points than in previous games, including one right in front of Serena, Kiryu's main base of operations in Kamurocho. As was the case in Yakuza 6, you can also save from the menu at any time without finding a phone booth, and drop pins on the map, handy for taking on the game's many sidequests.
Kiwami 2 delivers the franchise's usual assortment of goofy-ass minigames (sadly, Mach Bowl is no more), but two in particular really stand out. While it may be creepy of me to admit, the Gravure Studio game is a hoot, requiring you to string together encouraging sentences to your foxy subjects while they pose for your racy photography. It's in the same vein as Yakuza 0's Telephone Club, where you can accidentally say something completely oafish and off-the-wall.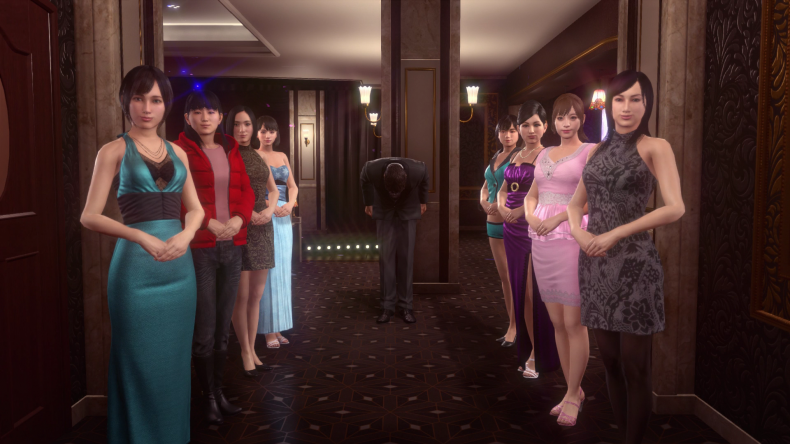 But even with these fun new additions elsewhere, Cabaret Club remains the crown jewel of the Yakuza minigame roster. Teaming up with Majima's former best girl Yuki, now the owner of Sotenbori's Four Shine, it's Kiryu's turn to wade into Osaka's nightlife scene. There's an extensive side story linked to the game, and the meat of each three-minute round is mostly unchanged, though there's a couple new features and streamlined mechanics returning players will notice. For one, you can skip the cutscene when you send one of your Platinum Hostesses to a table, and it only plays once per round. Styling your best girls is now done on a letter-grading system, rather than symbols. Finding partner businesses around town has been simplified, with the Cabaret Club logo popping up prominently when you're near a prospect. But don't expect to be raking in the billions; this time around, Kiryu only gets a fraction of the club's income. (We're not in the high-rolling 80s anymore, sadly.)
As you progress through the main story, you'll unlock three chapters of the Majima Saga, a standalone plot set between Kiwami and Kiwami 2, which chronicles the Mad Dog of Shimano's rise in the real estate game. Majima's fighting style translates nicely to the Dragon Engine, still markedly more flowing and rapid than Kiryu's, and there's clear hints of Breaker and Slugger moves in there. While the chapters are pretty short and the mechanics of the base game are pared down—you can't gain experience to enhance Majima's skills or equip a weapon other than his dagger—it's still a nice addition to the overall experience.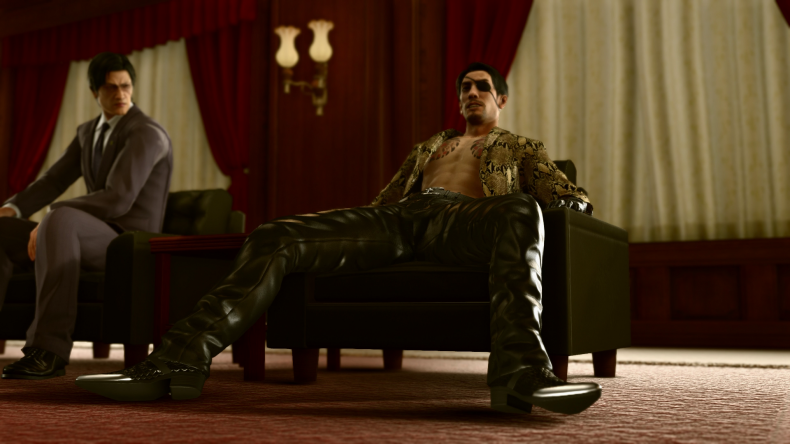 Honestly, I'm hard pressed to find things I didn't like about Kiwami 2. Again, the story is not quite up to snuff with that of Yakuza 0. In my ideal world there'd be more of Majima; although he does run the Clan Creator minigame and makes some memorable appearances in the central story. Also, there are so many things on the in-game map, particularly in Kamurocho, that it can be difficult to sort out where you need to go. The characters in cutscenes walk really unnaturally, which can sometimes sap the weight from a dramatic moment. (See? Really not a lot of meaty bones to pick here.)
If you've enjoyed previous Yakuza games, don't hesitate to pick this one up. Dozens of hours of fun await. If you're a series newbie, you won't regret jumping in.
Yakuza Kiwami 2 comes to PS4 on Aug. 28.