Yale Basketball Star Expelled for Sexual Misconduct; Vows to Sue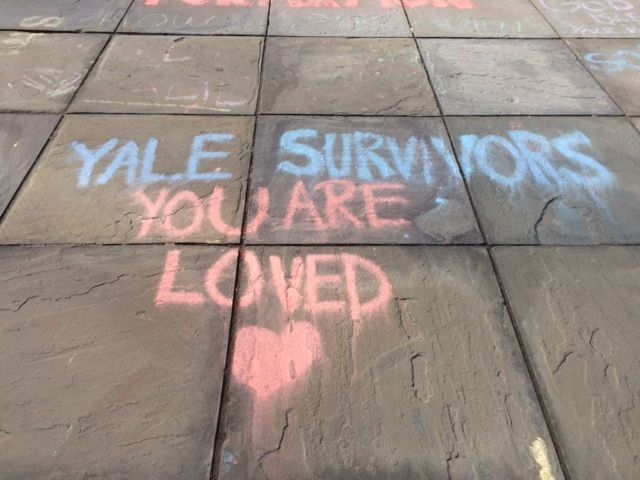 Updated | A light rain had fallen on Thursday in New Haven, Connecticut, so by Friday afternoon most of the messages scrawled during Wednesday's "chalk-in" on the campus of Yale University had washed away. A few were still legible, though.
"Imagine if Yale Men cared as much about ending rape culture as they care about sports," read one. "Men of Yale, do better," read another, the last word underlined. "Respect belongs to every woman." "Yale Survivors You Are Loved." "Dismantle men's athletic privilege."
As a professor held class on the lawn of Cross Campus just yards away on a sunny but eerily warm mid-March afternoon, Blake Thomson, a senior from Franklin, Tennessee guided a visitor through the signage on the courtyard outside Sterling Memorial Library. Thomson had been one of the 450 or so students who attended Wednesday's chalk-in, which had been organized by a pair of student groups, Unite Against Sexual Assault Yale and the Yale Black Women's Coalition, with funding help from the Yale Women's Center. Thomson had come not to scrawl a message, however; he had come to bear witness.
"Of course I don't support rape or rape culture," says Thomson, who played on the Yale football team as a freshman and sophomore. "No athletes or any other students do. But where is the respect for due process? Where is the consideration for how this is going to affect Jack for the rest of his life?"
"Jack" is Jack Montague, who up until six weeks ago was the captain of the Bulldogs' men's basketball team. Last Saturday, Yale defeated Columbia, 71-55, to secure the Ivy League championship and clinch its first berth in the NCAA tournament since 1962. Montague was not present, however. He was no longer a Yalie.
On February 6, Montague had scored a team-high 16 points in the Bulldogs' 83-52 takedown of Cornell, at the time Yale's 10th straight victory. He then vanished without explanation, never to don the navy blue and white colors of the Elis again.
Yale provided no specific statement on Montague's status other than to say, conspicuously using the passive tense, that the senior from Brentwood, Tennessee, "is withdrawn." On March 4, however, his father, Jim Montague, confirmed to the New Haven Register that his son had been expelled due to sexual misconduct. "It's ridiculous, why he's expelled," said the elder Montague. "It's probably going to set some sort of precedent."
And on Monday, Jack Montague's lawyer, Max Stern, issued a statement, saying Montague planned to sue the university for allowing fellow students to slander him by labeling him a rapist. The statement acknowledges that Montague and the woman who filed the complaint, now a junior at Yale, had developed a relationship and had had sex on four occasions. It says, "On the fourth occasion, she joined him in bed, voluntarily removed all of her clothes, and they had sexual intercourse. Then they got up, left the room and went separate ways. Later that same night, she reached out to him to meet up, then returned to his room voluntarily, and spent the rest of the night in his bed with him.
"The sole dispute is as to the sexual intercourse in the fourth episode. She stated that she did not consent to it. He said that she did.
"A year later she reported the incident to a Title IX coordinator. A Title IX official – not her – filed a formal complaint with the University-Wide Committee."
There were no witnesses to this fourth encounter between the two students, and the incident in question took place 15 months ago, in October 2014.
The lawyer's statement continues: "Last week, the media widely reported on statements made by Yale students and posters put up on campus which condemned Jack Montague directly as the named culprit and as a rapist, thus slandering him. He was never accused of rape and Yale took no steps to correct these actions…. The expulsion not only deprives Jack of the degree which he was only three months short of earning, but has simultaneously destroyed both his educational and basketball careers.
"We cannot help but think it not coincidental that the decision by Yale officials to seek expulsion of the captain of its basketball team followed by little more than a month the report of the Association of American Universities (AAU) which was highly critical of the incidence of sexual assault on the Yale campus, and the Yale President's promise, in response, to 'redouble our efforts.'
The statement argues that Montague "has been pilloried as a 'whipping boy' for a campus problem that has galvanized national attention."
Yale officials were not available for comment.
"Dude, where are you?"
Jack Montague is Thomson's oldest and closest friend at Yale, a fellow Nashville-area native who was a basketball teammate dating back to when both boys were 7 years old. On the evening of February 12, Thomson and some of his housemates tuned in to watch Yale play at Harvard. Thomson noticed early on that Montague, a starter, was not on the court. He scanned the bench and did not see his friend in the familiar No. 4 jersey.
"I sent him a text," recalled Thomson. "'Dude, where are you?'"
That is how Thomson discovered his friend had been expelled two days earlier, on February 10. An appeal would come one week later, but Montague would lose that as well. As part of the investigation by Yale's University-Wide Committee on Sexual Misconduct (UWC), Montague was obligated to adhere to a strict code of confidentiality as the procedure was ongoing, including his appeal.
"It is really hard to get expelled from this school," Thomson said while sitting in the courtyard of Trumbull College, a residence hall where as sophomores he and Montague lived across the hallway from one another. "They like their 99% graduation rate. But this is the atmosphere that pervades campus now. One-hundred percent, I think that Yale completely let Jack down."
The politics of sexual encounters on campus have never been more perilous. In a Newsweek cover story published last December ( "The Other Side of the College Sexual Assault Crisis" ), Max Kutner chronicled the exponential rise in sexual violence complaints on U.S. campuses—400%—since 2011. That growth rate coincides with a "Dear Colleague" letter the U.S. Department of Education's Office of Civil Rights sent to academic institutions.
"It clarified that sexual violence is a subset of sexual harassment, which in an education setting falls under Title IX of the Education Amendments," Kutner wrote. "The OCR threatened to investigate schools thought to be insufficiently zealous with sexual assault cases, and if it found a school had violated Title IX, the OCR might rescind federal funding."
Yale is the birthplace of the Title IX movement. On March 3, 1976, 19 members of Yale's women's crew team marched into the office of Joni Barnett, the school's Director of Physical Education. They disrobed, many of them having scrawled "Title IX" or "IX" on their backs, and with a photographer and a reporter from the Yale Daily News present, read a list of grievances regarding separate and unequal treatment of the university's male and female rowing teams (a principal grievance: the absence of hot showers for the latter).
Although Title IX had been signed into law four years earlier, the revolt by Yale's women's crew is what fomented it's practical implementation. "It felt like a mission - it was definitely a mission,'' former Yale rower Christine Ernst told the Boston Globe in 2012. "It wasn't a long walk [from the boathouse to the P.E. office], but it was a very quiet walk. Quite solemn. Very serious.''
Ernst and her fellow oarswomen were the vanguard of a very real and necessary paradigm shift in intercollegiate athletics. Simply put, male and female students must have equal access to athletic opportunities, which for college athletic departments translates to equal funding for athletic programs. NCAA institutions are provided Title IX funding from the federal government. When the Department of Education issues a "Dear Colleague" letter informing schools that a failure to more assiduously monitor sexual violence on campus may lead to that funding being rescinded, is it not also sounding a clarion call for increased vigilance?
"There was for a long time a perception that colleges were not responsive at all to claims of sexual misconduct," Samantha Harris, director of policy research at the Foundation for Individual Rights in Education, told Kutner. "A growing number of people are starting to be concerned that the pendulum has swung too far in the other direction."
Before their February 26 home game against Harvard, Montague's former teammates took to the court for pre-game warmups clad in gray T-shirts that bore both his number and his nickname, "Gucci." Three days later, posters began sprouting up on campus warning the men's basketball team to "Stop Supporting Rapists" and to "Stop Rape Culture." (The team later issued an apology for having worn the shirts.)
The Yale Women's Center (YWC) issued a Facebook post that read, in part, "It appears that Yale has expelled a high-profile member of a sports team in the midst of a pivotal moment in the season on the basis of sexual violence. While we can only speculate about these occurrences, we can comfortably say that, should all of this be true, this is progress."
Newsweek contacted the YWC to inquire if it had any specific information or evidence regarding this situation. "We have no direct knowledge about the accuracy or inaccuracy of campus speculation," said Vicki Belzer, a YWC spokesperson. "We seek only to move conversations that are already happening on campus in a more productive direction."
As is now the case at most institutions of higher education, incoming Yale freshmen are required to attend workshops concerning sexual consent and sexual pressure. In addition, a separate such workshop is presented to Yale varsity athletes. The education is continuing during the undergraduate experience. In 2013, sophomores (Montague's class that year) were broken into small groups for discussions in which sexual encounter scenarios were presented and participants were made aware of what types of behaviors might lead to what types of consequences.
"We don't talk about individual cases," says Yale Vice President of Communications Eileen O'Connor, "but since this process [the UWC] began in 2011, Yale has made great effort to have extensive training for students. In addition we have sought to have an investigative process that is thoroughly fair and clear to all parties."
Since July 2011, when the UWC was instituted, Yale's panel has heard 64 cases of sexual misconduct. In terms of decisions, the numbers break down as follows: no finding (20%), reprimand (19%), probation (19%), suspension (31%) and expulsion (11%). Seven students, the latest being Montague, have been expelled for sexual misconduct over the last nine-plus semesters.
Exact numbers for how many of those cases also involved criminal complaints is unavailable, but based on the decisions the overwhelming majority are not. Moreover, a case may be brought before Yale's UWC panel even if the complainant is not the original party to bring it to the panel's attention.
Because Yale's UWC operates only under the jurisdiction of Yale University, due process does not apply. In Montague's case, as with all formal complaints made to the UWC, "within seven days of receiving the complaint, the UWC Chair will appoint an impartial fact-finder to assist in the investigation of the allegations," according to the Yale Code of Conduct. The fact-finder is not a Yale employee but is an attorney with an extensive background in criminal investigations (the school retains more than one fact-finder).
Within three weeks, the fact-finder, having interviewed the complainant (victim) and respondent (accused) and having gathered any pertinent documents and interviewed any relevant witnesses, submits a report to a five-person panel composed of university administrators and faculty. No sooner than five days after both the claimant and respondent have been given copies of the report, a hearing takes place. The five members vote on the respondent's fate by secret ballot, with a majority vote deciding the issue.
Unlike in a criminal trial, Montague, who was given 10 minutes to present his defense, had no right to cross-examine his accuser. He had no right to discovery of exculpatory evidence. Nor is there a statute of limitations on an allegation of sexual misconduct. Theoretically, an incident that occurred during freshman orientation weekend could be brought before the panel senior year.
Study after study finds that sexual assault is underreported on college campuses. At Yale, sexual consent is defined as "a positive, unambiguous, and voluntary agreement to engage in specific sexual activity throughout a sexual encounter. Consent cannot be inferred from the absence of a "no"; a clear "yes," verbal or otherwise, is necessary."
"Really disappointed"
Jack Montague was in New Haven last weekend. He was hanging out with his friends and former teammates as they prepare for their opening round NCAA tournament game. Elsewhere on campus students were making a hasty exodus, as a two-week spring break is about to commence. Thomson, a biomedical engineering major, was tinkering with a device he has invented that purports to make bone marrow biopsies relatively pain-free. The patent is pending and he is partnering with a local physician in hopes of launching a company to manufacture the device after he graduates in May.
"I'm really disappointed that nobody stood up for Jack," says Thomson, alluding to the faculty and administration at Yale. "He was the captain of the basketball team for a reason: He's a leader. We all understand the gravity of rape. The culture of this campus lately, though, it's gone off the deep end."
Thomson is reminded of last semester's Halloween incident, in which a professor defended the rights of students to wear costumes that might be offensive to some. "I wonder, and I am not trying to be provocative," wrote Erika Christakis, an expert in early-childhood education. "Is there no room anymore for a child or young person to be a little bit obnoxious?"
Christakis's letter sparked racial protests on campus. She later resigned her teaching position, and now is solely an associate master at one of Yale's residential colleges. Thomson, seated on the grass inside Trumbull College with his longboard by his side, shakes his head in wonder at what activism has come to mean at Yale. "Inside the walls of this residence hall," says Thomson, "we have our own dining hall, our own library, our own gym. A zombie apocalypse could strike and we'd never have to leave. Maybe we're a little too sheltered here."
Asked if he feels the pendulum has swung too far in the direction of the victimized, Thomson smiles. "I'm a white male," he says. "So if I speak up about that I'm either a racist or a rapist."
Ernst, the pioneering Yale oarswoman, and her teammates were instrumental in turning Title IX into a tool that has enhanced women's rights on college campuses for four decades now. "I adore the people I rowed with," Ernst told ESPN the Magazine in 2012. "That's the gift I got from Yale. Otherwise, I don't have many warm feelings for the place, and I coached there for a few years after I graduated. Even now, I still feel a real anger. The men called us terrible names. Would they use that language to describe the mothers who gave birth to them? Or the women they married?"
The sun shone brightly on the courtyard outside Sterling Memorial Library on Friday. The chalked messages were almost all faded as the rain, wind and sunlight did their work. When Yale students return from spring break, they will all have disappeared. Many students will have moved on to contemplating finals, graduation, and summer internships. The stigma that is attached to Jack Montague will last far longer.
"I'm disappointed in the adults at this institution," says Thomson, sounding not unlike another former Yale athlete. "I'm not going to be graduating with my head held high."
Correction: This story originally stated that Erica Christakis resigned. It has been updated to state taht she in fact is now solely an associate master at one of Yale's residential colleges.