Meet Grace Hopper, Whose Name Is Replacing John Calhoun's at Yale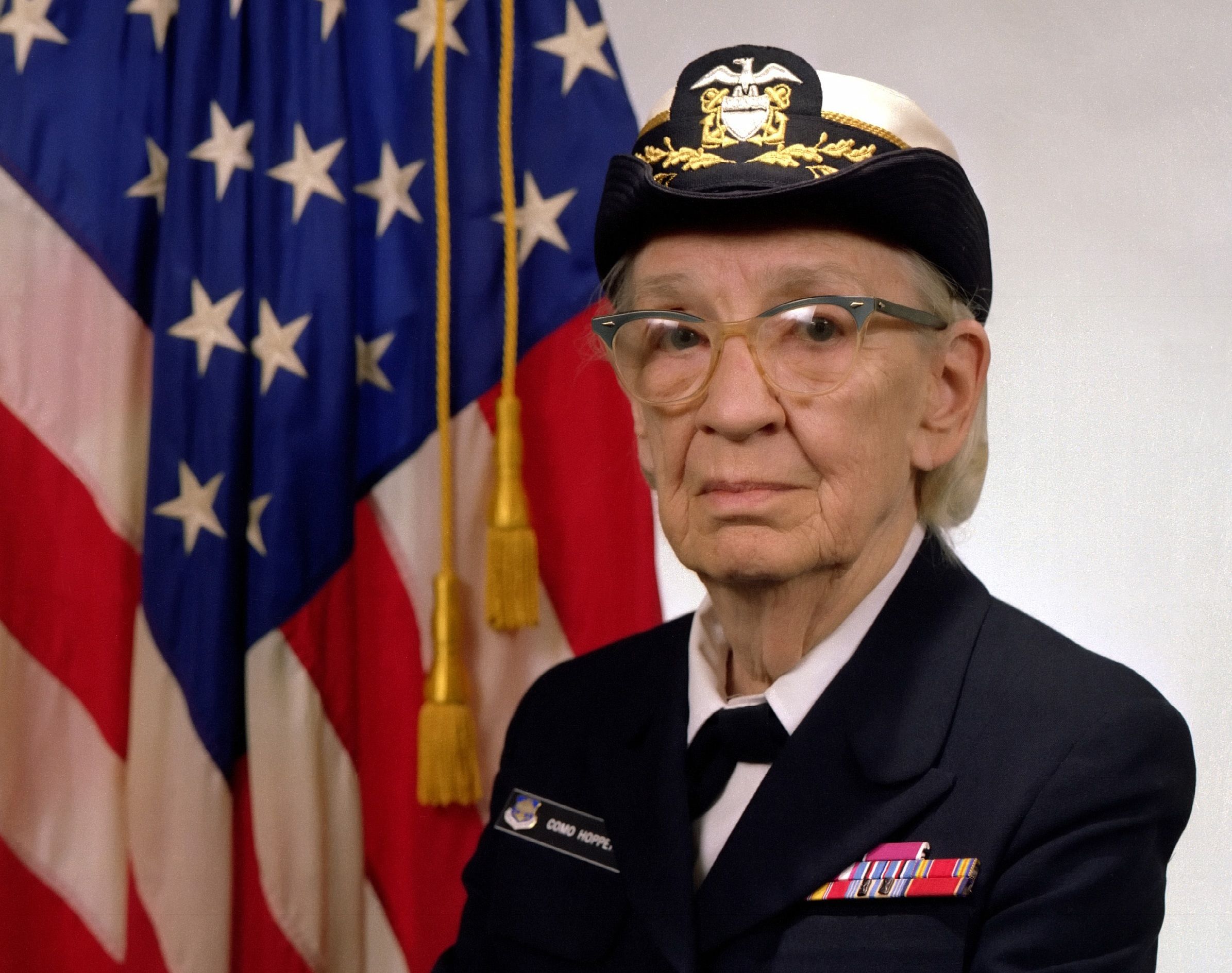 Grace Murray Hopper, the late computer pioneer and naval officer, will be the new namesake of Calhoun College at Yale, the university announced on Saturday. The Ivy League school called her "a trailblazing computer scientist, brilliant mathematician and teacher."
Hopper was born in 1906 and died in 1992 at age 85. She attended Vassar for her undergraduate degree and Yale for her master's and doctorate degrees. She later became one of the first computer programmers, helping develop early programming language. She has been called the "queen of code" and the "mother of computing." She is widely said to have coined the technical term "bug" after discovering a moth inside a computer circuit. The early computers she worked on had 750,000 parts and stood 8 feet tall.
Related: Yale dropping college name honoring 'white supremacist'
"It's just terrific," Vassar President-elect Elizabeth Bradley, who is currently a Yale professor, says of the news. "She is a real inspiration. It's hard to think of a better person to honor in this way."
Hopper also served in the Navy and earned the rank of rear admiral in 1985, four years before retiring. At the time, she was the oldest officer on active duty in the armed forces. "She paved the way so that all of us who followed could succeed," Vice Admiral Jan Tighe has said.
"Amazing Grace is an inspiration to everyone who learns about her, regardless of gender or profession," Joan Feigenbaum, the Grace Murray Hopper professor of computer science at Yale, says by email. "Almost every aspect of our daily lives in the 21st century is shaped by computers and networks. Hopper was one of the world's first computer scientists, and she invented some of the foundational elements of computing on which everything that we have today rests."
Feigenbaum, who is also the Computer Science Department chairwoman and an adjunct professor of law, says she is generally opposed to renaming buildings because of things their namesakes did or believed "long ago that are considered unacceptable today." But she adds, "As renamings go, this is as good as it gets."
Students and community members had called for Yale to remove John Calhoun's name from the residential college. Calhoun, who was a U.S. vice president and a Yale alumnus, had supported slavery. Last April, the university said it would not change the name, which led to more protests and a reopening of the issue. Earlier this year, a task force recommended that the school change the name, leading to Saturday's announcement.
"Calhoun's legacy as a white supremacist and a national leader who passionately promoted slavery as a 'positive good' fundamentally conflicts with Yale's mission and values," Yale President Peter Salovey said in a statement. The official name change will happen July 1.
The Yale announcement was the latest celebration of Hopper and her legacy. President Barack Obama awarded her a posthumous Presidential Medal of Freedom, the country's highest civilian honor, last November. "If Wright is flight and Edison is light, then Hopper is code," Obama said during the ceremony.
Hopper is also the namesake of an Association for Computing Machinery annual award for young computer professionals and an annual conference for women in technology that the Anita Borg Institute hosts. The Navy named a destroyer and a Naval Academy hall after her. A software engineering course at the Fullstack Academy, a computer coding boot camp, is named for her too.
Students who had pushed for the Yale name change praised the announcement. "This is for the New Haven residents that have fought endlessly," the Black Student Alliance at Yale wrote on Facebook. "This is for the generations of student activists that stayed up many nights pushing the University."
Not everyone was so enthusiastic. Broadcast journalist Geraldo Rivera announced he had resigned as an associate fellow of Calhoun College following the name change. "Been an honor but intolerant insistence on political correctness is lame," he tweeted. He added in another tweet: "To judge a 200 yr old early 19th century historic figure by standards of the 21st century as #Yale is doing is more Orwellian than inspired."
The change comes as students and community members call on multiple colleges to grapple with their racial legacies. Among them is Georgetown, which announced last September it would give preferential admission to the descendants of slaves it once sold, and Princeton, which last April declined to remove Woodrow Wilson's name from the campus, despite calls to do so from those who said he was a racist.
"It's a very complicated issue, and it brings up lots of disagreements," says Vassar's Bradley, "so being thoughtful about it and principle-based, which is really what I think Yale ultimately did, is important."
Shanna Gregory, dean of the Grace Hopper Program at Fullstack Academy, points out that Yale's decision to rename its college after Hopper is fitting, given that the computer pioneer famously said, "Humans are allergic to change. They love to say, 'We've always done it this way.' I try to fight that."