Yale Earns First NCAA Tourney Berth in More Than 50 Years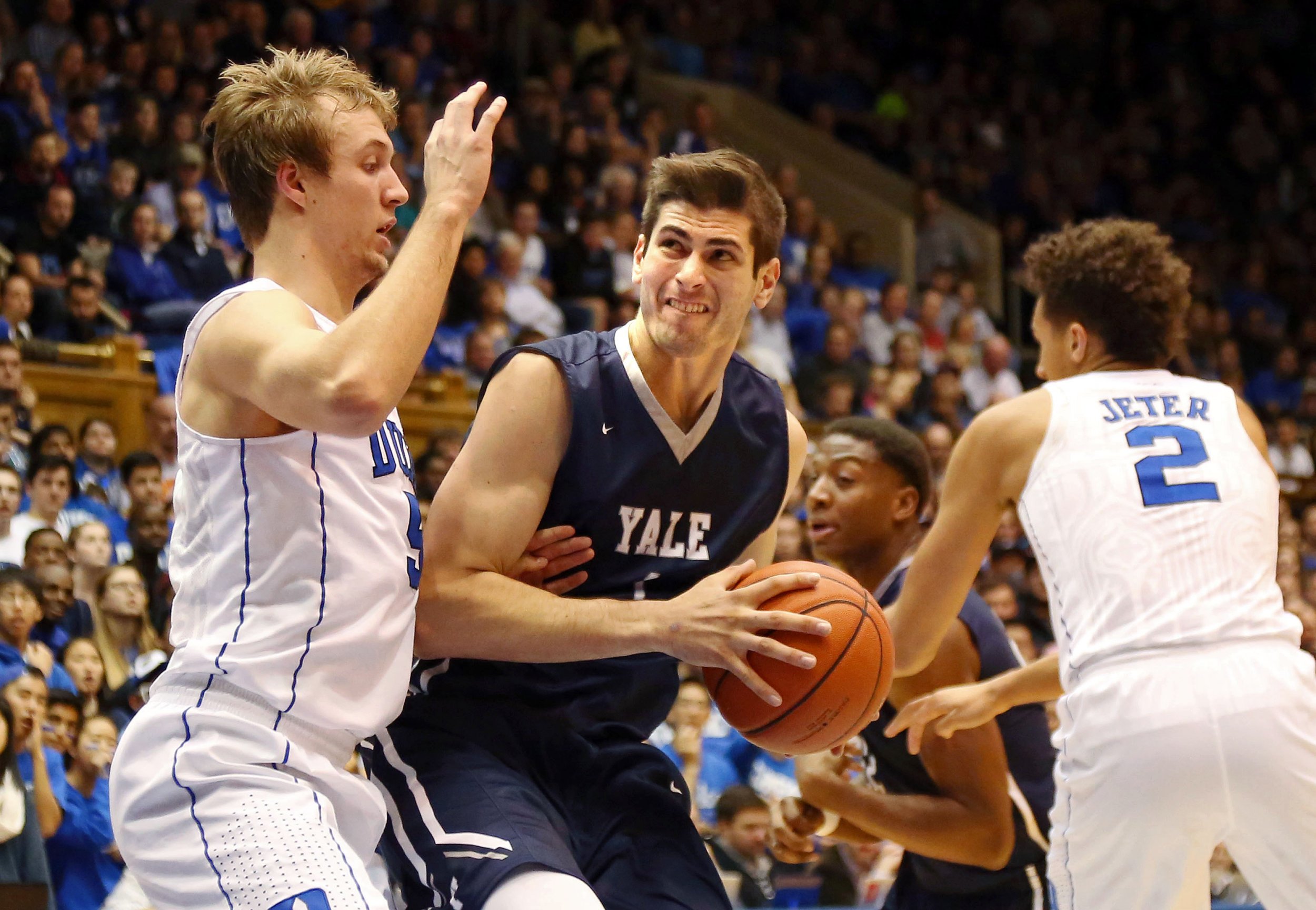 The hottest show on Broadway Saturday night featured a male cast whose association was based on an institution that sprang up in the 18th century. For once this winter, the production was not Hamilton.
The Yale men's basketball team, appearing before a standing-room only audience for one night only at Columbia University's Levien Gym (at 120th and Broadway), were as polished a troupe as any on a hardwood stage in Manhattan this weekend. The Bulldogs raced out to a 17-3 lead on their hosts, the Lions, and never trailed as they secured the school's first outright Ivy League championship since 1962 with a 71-55 victory. "It's certainly a relief and a joyous time for our program," said Yale coach James Jones, who is in his 17th season in New Haven and is the longest-tenured coach in the Ivy League, a consortium of eight schools where tenure truly is esteemed.
By finishing 13-1 in the Ivy League and winning the conference outright, Yale (22-6) earned its first berth in the NCAA Tournament since 1962. To appreciate how long ago that was in March Madness eras, John Wooden of UCLA had yet to cut down the nets at a Final Four and the '62 championship game between Cincinnati and Ohio State included a benchwarmer, for the latter and losing side, by the name of Bob Knight.
When Yale forward Brandon Sherrod was asked if he had been contacted by any members of that '62 Bulldog squad, he smiled and replied, "I don't know if any of those guys would know how to," and then mimicked a texting demonstration with his hands.
"It's a great time for our school and it's a great time for our program," said Sherrod, a 6'6" senior who scored 13 points on just seven shots on Saturday evening. That may be true, but it is also a strange and surreal atmosphere that envelops the Yale hoops program. Just a few hours before the game, team captain Jack Montague, who was expelled on February 10—no reason has been given—was talking with team members via FaceTime as they prepared to play the most important game of their lives.
"He's our leader, he's our captain," said 6'8" senior Justin Sears, the Bulldogs' leading rebounder. "We are always talking, always texting. He's not here, but he is always with us."
Montague, 6-foot senior guard from Brentwood, Tennessee, played his final game for the Bulldogs on February 6. He scored a team-high 16 points in an 83-52 rout of Cornell. Eleven days later, Yale's athletic director, Tom Beckett, sent out an email message stating that Montague "is not with the team at this time." Contacted by the Yale Daily News , Montague said, "I'm taking a personal leave and I'm trying to get back as soon as possible."
Seven days later, Yale officially listed Montague, who is known to his teammates as "Gucci," as having "withdrawn" from Yale on February 10. No details were provided by Yale, nor will they be due to the Family Educational Rights and Privacy Act (FERPA). Last Thursday, Jim Montague, his father, confirmed to the New Haven Register that his son had been expelled. "It's ridiculous, why he's expelled," the elder Montague fumed.
Meanwhile on the campus of Yale, which was established in 1701, many students have supported the university's decision to expel Montague, even though there is no criminal complaint against him. "It appears that Yale has expelled a high-profile member of a sports team in the midst of a pivotal moment in the season on the basis of sexual violence," said a Facebook post by the Yale Women's Center last week. "While we can only speculate about these occurrences, we can comfortably say that, should all of this be true, this is progress."
When Sears was asked if he knew what Montague had done to earn an expulsion from one of the nation's oldest and most prestigious academic institutions, he said, "No comment." However, Sears credited Montague for being the person who "convinced me" to come to Yale.
"It was between Princeton, Stanford and Yale," recalled Sears as he leaned against a wall in the lobby of Levien Gym. "Jack and I were on our recruiting trip and we teamed up with a freshman to play pickup ball, three-on-three, against a few upperclassmen on the team. We beat them game after game—I think we only lost once—and they were pretty mad at us. Jack and I bonded on the court and off it immediately."
On March 13, Selection Sunday, the Bulldogs will learn where they will be headed and against whom they will play in their first NCAA tournament game in 54 years. They will do so without a team captain, as Jones has not named a successor to Montague. "Mr. Beckett told me when I got the job that I can change almost anything," said Jones, "but I can't change the number of captains on our team [one] each year. That number is sacred here."
Wherever Yale is headed to play in the third week of March, they will sprint onto the court without Montague. But they will take the court backed by a sea of proud alumni and fans yelling "Boola boola!" and clad in navy blue and white. And one of those fans, says Sears, will be Jack Montague. "Definitely," said Sears. "He'll be there."