Yale President 'Outraged' After Police Report Racist, Anti-Semitic Graffiti in Building
Yale President Peter Salovey said that he was "outraged" after the university's police department reported two incidents of racist and anti-Semitic graffiti inside a building.
"As described in Chief Ronnell Higgins' message, two incidents involving racist and anti-Semitic graffiti have occurred inside the Kline Biology Tower, which has been under construction and closed to the Yale community," Salovey wrote in a statement on Tuesday.
The statement continued, "I am outraged by these despicable and cowardly acts of hate, and I am deeply saddened that the crew working on the site, members of our police department, and others within our community who have responded to these incidents had to see such vile messages."
As Salovey noted in his statement, on Tuesday, Yale Police Chief Ronnell Higgins sent a message to university community members, reporting two different vandalism incidents that took place over the past few weeks.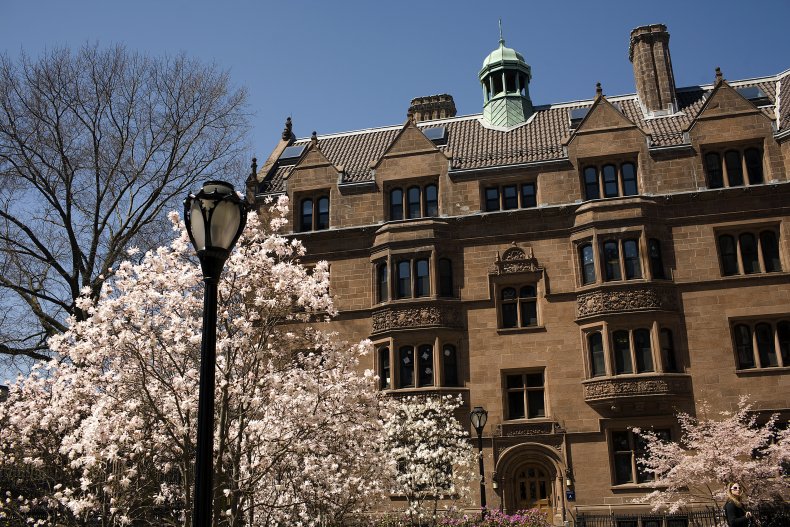 According to the Yale Police Department, the first incident occurred on September 20, when members of a construction crew working inside the construction site for Kline Biology Tower "noticed that anti-Semitic and racist graffiti was spray-painted inside the building." Police said that the construction site inside the biology tower has "been closed and inaccessible to the Yale community."
One construction worker's "project materials" were also vandalized, police said.
A day later, police launched a criminal investigation into the vandalism and installed additional security cameras at the construction site.
After police increased security measures at the construction site following the first incident, "security cameras recorded several young adults who had scaled the perimeter fencing and broken into the Kline construction site," on October 2 at around 11:30 p.m. local time.
Police said that the individuals vandalized areas inside the building and again, spray painted "anti-Semitic and racist language on interior surfaces."
Yale Police also released several images of the individuals seen on camera inside the construction site on October 2. They asked the public to come forward with any information on the identity of the individuals as police continue their investigation.
"I am disgusted and angered that these individuals have spread messages of hate and intolerance at this worksite," Higgins wrote in the message. "This is our community, and we will work tirelessly to protect it."
Salovey said in his statement that in response to the incidents, he has asked the Yale Police Department to increase patrols across campus.
Newsweek reached out to Yale University for further comment but did not receive a response in time for publication.