Yale Students Camp Out for Full Financial Aid, Say Current Funding Model Divides Students by Race and Class
Yale University extends need-based scholarships to qualified students to ease the financial burden of tuition costs. But some students argued that the financial aid often doesn't go far enough, and they've camped out on campus grounds for several days to draw attention to this dilemma.
Students Unite Now, a student-led organization, set up an encampment on Friday inside Sheffield-Sterling-Strathcona Hall, where Yale president Peter Salovey has an office. The encampment later moved outside after the group was allegedly told the participants would be arrested for trespassing if they didn't leave the building by midnight on Friday.
"We did the camp because it was the only way we could make Yale listen," Julia Salseda-Angeles, a senior, told Newsweek. "We want to show the administration how much students care about our campus and each other, and that we are determined to keep fighting to eliminate the SIC [Student Income Contribution], because we know that a Yale without the SIC is a better Yale for everyone."
While it ultimately disbanded on Sunday evening, the group has no plans to end its campaign to pressure the university to eliminate the Student Effort, dubbed the Student Income Contribution (SIC).
"Yale has a history of following its students' lead on financial aid policy," Hannah Schmitt told Newsweek. "We believe that, if we keep fighting, Yale will ultimately choose to do the right thing and eliminate the SIC."
Being admitted to Yale isn't contingent on a student's ability to pay, Tom Conroy, director of the university's office of public affairs and communications, told Newsweek. Financial aid awards range based on a student's determined need, and packages include the Student Effort, an option for the student's family to meet their estimated Net Cost, all expenses that aren't covered by gift aid.
"In choosing to attend Yale, students choose to invest in their own education and future," the university said. "Yale offers admission to students carefully and with purpose, and then invests in those students with financial aid. Yale asks that students and families invest in this education as well."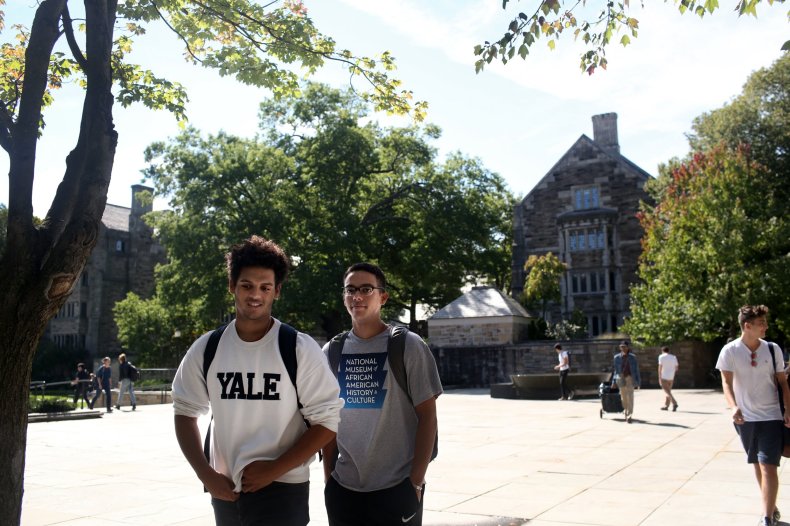 Predominately, the Student Effort funds unbilled expenses, such as course books and laundry, although a portion can be used for billed expenses such as tuition, and room and board. It can be paid in a variety of ways, as outlined on Yale's website, including through on-campus jobs, outside scholarships, loans and money earned by students over the summer.
The standard Student Effort for the 2018-2019 school year for first-year students was $4,450 and $5,950 for upper-level students. Upper-level students who have particularly high financial need had a lower Student Effort, which was $4,950. Those from high-need families also receive a $2,000 "start-up fund" their first year and $600 each subsequent year.
"The Student Income Contribution divides Yale along lines of race and class," Schmitt told Newsweek. "We believe that a Yale without the student income contribution is a Yale where low-income students of color have the time and resources we need to participate fully in campus life."
Shaheer Malik, an international student and organizer of the campaign, said the Student Effort meant he often had to stay at school during summer to work instead of visiting his family in Pakistan. He called the Student Effort "pocket change" to the university, but said it cost him important moments with his family.
For Hannah Lee, a junior who is also one of the campaign's organizers, the Student Effort forced her to take "paid grunt work" positions at research labs instead of being able to move forward with her own research projects like her peers.
"By upholding the SIC, Yale tells me I don't deserve the same academic opportunities as my wealthy, white peers," Lee said. "I can't afford to wait for full financial aid. My career depends on it."
Supporters of eliminating the Student Effort argue that since the school has the financial means to provide full financial aid to students who qualify for assistance, it should.
"Yale is one of the wealthiest universities in the world. The SIC is a matter of priorities, not finances," Schmitt told Newsweek. "We firmly believe that Yale can afford to cover the SIC without reducing the number of financial aid scholarships."
However, the school said that getting rid of the Student Effort within the existing budget would require the reduction of faculty by about 100, and the limiting of financial aid to about 360 students. Another option would require increasing tuition for all students not on financial aid by $6,000.
Salseda-Angeles, a senior, has been organizing to eliminate the Student Effort since she was a freshman at the university and told Newsweek there were a number of actions taken to push for change. Last year, she said 27 students participated in a peaceful sit-in and in February, more than 200 students attended a financial aid town hall.