Swastika, 'Trump' Found Spray-Painted on Yale Law School Steps Days Before Yom Kippur
Days before Yom Kippur, the most significant holiday of the Jewish faith, anti-Semitic graffiti was discovered on the steps of Yale's law school.
On Sunday, the graffiti, which contained the word "Trump," and an image of a swastika, was found spray-painted on the steps of the side entrance to the New Haven, Connecticut university, according to NBC Connecticut affiliate WVIT. It was removed by Monday evening and an investigation was launched to identify the perpetrators.
"We are saddened by this act of hate against our community at any time but understand that this is particularly difficult occurring between the High Holy Days," Ellen Cosgrove, associate dean of students at Yale Law School, told the Yale Daily News, the student newspaper. "Diversity and inclusion are core values of our institution [and] attacks against individual students or communities of students will not be tolerated."
The discovery of the graffiti came during the Ten Days of Repentance, which is the period of time between Rosh Hashanah, the Jewish New Year, and Yom Kippur, the Day of Atonement. It also coincided with family weekend for Yale College, the undergraduate liberal arts college of the university. From Friday until Sunday, families and friends were on campus to attend events.
Yale had previously been the target of anti-Semitic messages. In 2014, three swastikas were found written in chalk outside a freshman residence hall. And about a month earlier, others were drawn on a white board in Vanderbilt Hall.
Newsweek reached out to Yale Law School but did not receive a response in time for publication.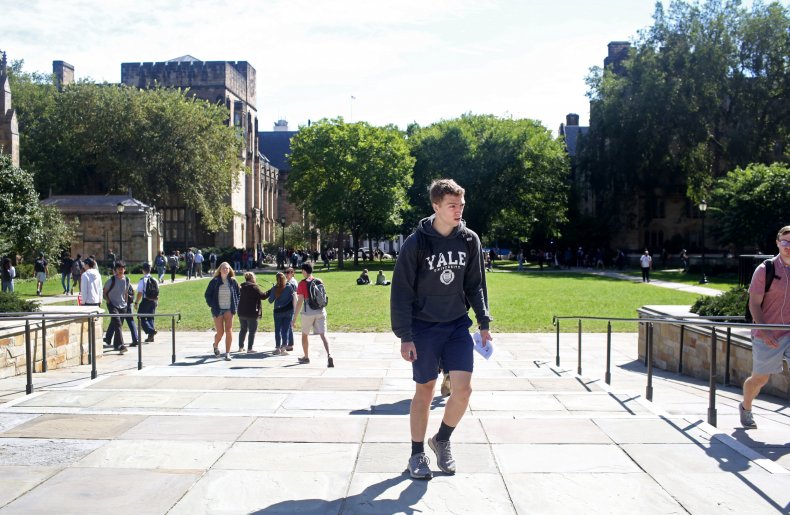 Yale isn't the only higher education institution to have to deal with hate-filled messages. In 2018, the Anti-Defamation League identified 201 incidents of anti-Semitism on college campuses. Some legislators at both the state and federal levels have also expressed concerns about the rise in hateful incidents targeting Jewish people.
Yale Friends of Israel, an undergraduate organization supporting Israel, strongly condemned the graffiti in a statement on Facebook. The organization wrote that any effort to dehumanize groups of people, including anti-Semitism, was "morally wrong and contrary to the values at the center of our communities."
Instead of focusing on the incident, the student organization invited people to take part in the "ongoing discussion" about anti-Semitism and hate in the community.
Yale Law School Dean Heather Gerken wrote in an email to the community that there wasn't evidence that someone within the Yale community was responsible, according to the Yale Daily News. The behavior, she wrote, was "utterly antithetical" to the values of the school.
"Yale Law School has zero tolerance for discrimination or harassment of any kind, and symbols of hate have no place on our campus or in our society," Gerken said in the email.
Anyone with information about the incident was encouraged to reach out to Gerken's office or to Yale Public Safety.