In a profile published in The Atlantic, New York City mayoral candidate Andrew Yang reportedly said he would be open to backing New York Gov. Andrew Cuomo for reelection.
Yang told The Atlantic's Edward-Isaac Dovere he would consider such a move if the two had a good working relationship and if endorsing Cuomo would be best for the city.
Cuomo is considered a divisive political figure, especially after recent allegations of sexual misconduct and claims that his administration attempted to hide the full scope of nursing home deaths from COVID-19 in the state.
Yang is a successful and popular businessman, who tried to highlight his business acumen while making an unsuccessful run in the 2020 Democratic presidential primaries. Yang spent most of his youth in New York's Westchester County, but has lived in the city since graduating from Columbia University a little more than 20 years ago.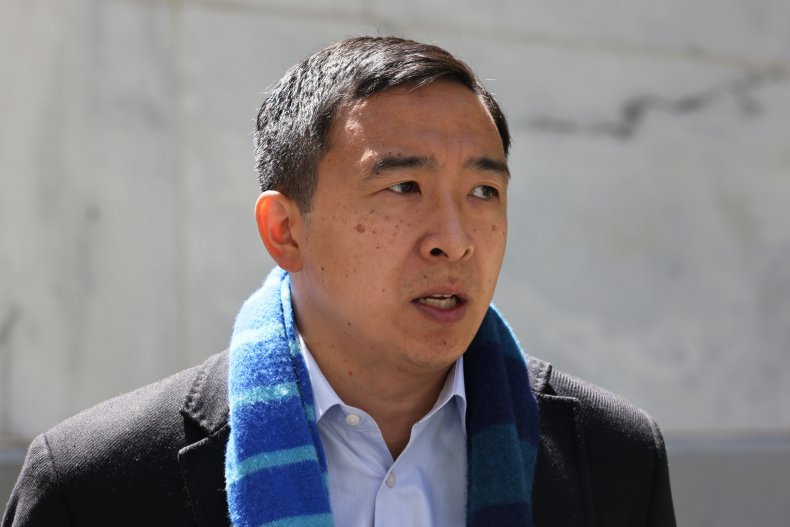 However, Yang's political rivals have tried to paint him as an outsider to the city, pointing to how he spent most of the pandemic at his house in the Hudson Valley. He was later ridiculed for a video in which he refers to a full-sized grocery store as a "bodega," and many social media users mocked him for saying Times Square was his favorite subway station. He was also recently roasted by some critics for struggling to name only two Jay-Z songs during an interview on Ziwe, despite calling himself a big fan of the rapper.
Perhaps Yang's biggest competitor in the mayoral race to replace current Mayor Bill de Blasio is Eric Adams, the current Brooklyn borough president. In The Atlantic story, Adams accused Yang of adopting a strategy from Donald Trump, of avoiding the press in favor of spreading his message via social media. (The story also recounted reporters from The New York Times confronting Yang at a campaign stop and asking why he refused interviews with the paper.)
Other prominent names in the race for the Democratic mayoral nomination are City Comptroller Scott Stringer, civil rights activist Maya Wiley, former Sanitation Commissioner Kathryn Garcia and former social services non-profit CEO Dianne Morales.
Pollsters are reportedly having a hard time conducting independent surveys into the upcoming primary in June due to the city's new system of ranked-choice voting. For the first time, voters will be able to rank up to five candidates in order of preference. If no candidate receives more than 50 percent of first-choice votes, all votes for the lowest-performing candidate will be eliminated, and those voters' second-choice picks will be counted instead.
One recent survey from Fontas/Core Decision Analytics, however, found 18 percent of likely Democratic voters said they favored Adams, followed by 13 percent for Yang, and 11 percent for Garcia.
Meanwhile, even though Andrew Cuomo's poll numbers have dropped drastically since the highs he experienced during his leadership amid the early stages of the pandemic, 42 percent of registered voters still approve of the job he's doing, as opposed to 55 percent who disapprove, according to a Siena College poll. The same poll found 41 percent said they believe he should resign from office.
The Atlantic describes Yang's strategy as focusing on jobs to win the Democratic nomination, which is one that could guarantee election for a candidate in the heavily-Democratic city.
Yang told Dovere, "I've had conversations with multiple business leaders here in New York City where they said, 'If you win and you call me, we are prepared to invest tens, even hundreds, of millions of dollars to solve problems that New Yorkers can all see around us.'"
Newsweek contacted Andrew Yang for comment, but has not heard back as of press time.