Yang Says 72% of Americans Think it's the 'Worst Time We've Ever Experienced'
Former presidential candidate Andrew Yang said that Former Vice President Joe Biden could dig a Americans out of "the worst time we have ever experienced" during the last night of the 2020 Democratic National Convention on Thursday.
Yang began his short speech by referencing his "Make America Think Harder," or "MATH," campaign slogan, while noting the difficulties the country is facing due to the COVID-19 pandemic.
"You might know me as the guy who ran for president talking about math and the future," Yang said. "Unfortunately for all of us, that future is now. The pandemic has accelerated everything. If you're like me and my wife, Evelyn, you don't know if your child's school is reopening this fall."
"72 percent of Americans believe that this is the worst time we have ever experienced," he added. "And 42 percent of the jobs that are now lost—millions of jobs—will never return. We are in a deep, dark hole, and we need leaders who will help dig us out."
The former candidate appealed to 2016 Trump voters along with those who did not vote and may not be inclined to do so this year, saying that he understood people who had "gotten tired of our leaders seeming far removed from our everyday lives."
"We despair that our government will ever rise to the challenges of our time," said Yang. "But we must give this country a chance to recover—and recovery is only possible with a change of leadership and new ideas."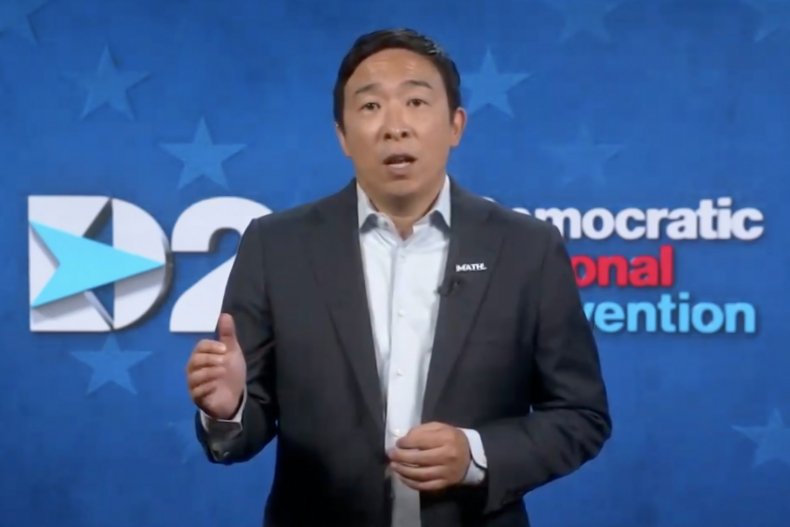 Yang praised Biden and his running mate Senator Kamala Harris as "patriots who want the best for our country" while having the ability to "lead us forward to a future we will actually be proud to leave to our children."
"I have gotten to know both Joe and Kamala on the trail over the past year—the way you really get to know a person when the cameras are off, the crowds are gone, and it's just you and them," he said. "I ask you tonight to join me to help Joe and Kamala fight for the promise of America."
The speech ended with Yang introducing actress Julia Louis-Dreyfus, before launching into a short comedy sketch poking fun at Vice President Mike Pence for having a "weird foreign name" that is "not very American sounding."
Yang had been completely unknown in politics prior to joining a crowded field of Democratic presidential hopefuls in 2019. His campaign was one the most notable of the election cycle, gaining enthusiastic supporters known as the "Yang Gang" and bringing signature issues like Universal Basic Income to the national spotlight.
The DNC added Yang as a speaker last week, not long after he expressed disappointment at being left off the schedule on Twitter. On August 11 he expressed surprise while saying he had "expected to speak" and wondering if he had "endorsed against one too many incumbents." Two days later, he thanked his supporters after being added to the lineup.