#YangBeatsTrump Trends After Poll Shows Trump Trailing Yang by 8 Points in New Hampshire
The hashtag #YangBeatsTrump began trending on Twitter on Tuesday afternoon after a new poll showed President Donald Trump trailing 2020 Democratic presidential hopeful Andrew Yang by eight points in New Hampshire.
The latest Emerson College poll of New Hampshire, released Tuesday, showed every 2020 Democratic presidential candidate, with the exception of Senator Elizabeth Warren, beating Trump in a theoretical match up in the state. In a hypothetical 2020 head-to-head, Trump trailed Yang — currently sixth among Democrats with an overall average of roughly 2.7 percent — by eight points in New Hampshire with 46 percent, while the former tech executive garnered 54 percent of votes.
Biden was the only other candidate who fared better against Trump than Yang. The former vice president, currently leading the Democratic field in most polls, garnered 55 percent in a head to head against Trump, who came out 10 points behind with 45 percent in New Hampshire.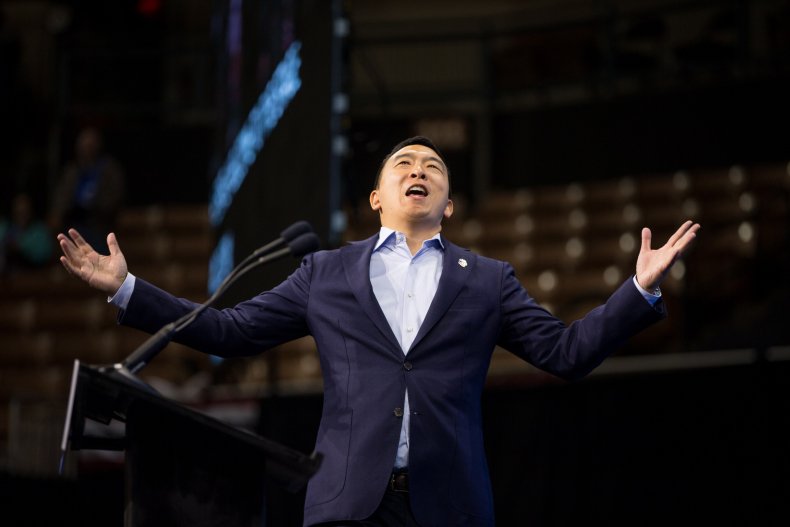 In response, Yang's supporters, known as the "Yang Gang," and some of the president's critics made the hashtag #YangBeatsTrump break into the top five trending topics in the U.S. on Tuesday afternoon, with tens of thousands of Americans praising the candidate, whose signature policy is a universal basic income (UBI) of $1,000 per month for every citizen.
"I don't think Biden will even make it to the finish line. My money is on #Yang2020 to take the whole thing. #YangBeatsTrump #YangGang," Twitter user @TyrenePamstein tweeted.
"Only @AndrewYang can stop the Skynet Deep State while giving us all 1k. #YangBeatsTrump," Twitter user @AngeloJohnGage wrote.
"Honest. Not racist. Not a misogynist. Didn't cheat on wives. Didn't pay a porn star. Never filed bankruptcy. Never accused of rape. Never obstructed Justice. Doesn't grab em by the [cat emoji]. Actually cares about the planet #YangBeatsTrump @AndrewYang," journalist David Leavitt tweeted.
"I think the evidence is starting to stack up: #YangBeatsTrump. Maybe that's why #TrumpFearsYang? Does #PABPOTUS know better than to say Yang's name?" Twitter user @grazantuono wrote.
"#YangBeatsTrump which is why Donald is afraid to tweet about him. 'The only thing I worry about is that some total unknown that nobody's ever heard of comes along' Donald Trump at a rally. Let's get the hashtag to the top of trends #YangGang!" Twitter user @AndrewYangFanP1 wrote.
"Best part is: This is only the beginning #YangBeatsTrump," Twitter user @Daphnsun wrote.
"Another reason #YangBeatsTrump: Andrew Yang supports #RankedChoiceVoting which allows voters across the political spectrum to be better represented. #DemocraticDebates #2020Election," Twitter user @excitedelectron wrote.
"Andrew Yang will beat Trump in a landslide #YangBeatsTrump," Twitter user @J10284731 predicted.
"#YangBeatsTrump because Yang is the smartest person running for president. Even #Trump knows it," Twitter user @YangMe2024 wrote.
"If the #1 goal for Democrats is to get Trump out of office, the focus should be to elevate the candidates that can beat him. @AndrewYang is the best option to beat Trump. Hopefully the MSM will realize this before its too late. #YangBeatsTrump," Twitter user @TallHumanMan wrote.