#YangSurge Trends After Latest Emerson Poll Ranks Andrew Yang 4th Nationally Among 2020 Candidates
Data released by Emerson Polling Thursday showed a gain for entrepreneur Andrew Yang, placing him in fourth place with 8 percent nationally. This increase led to the hashtag #YangSurge becoming a number one trend on Twitter.
Yang, who was not on stage for the last Democratic debate in January, has been pursuing a grassroots campaign that has proven to be popular mostly with a younger demographic. His followers on the internet, collectively known as the #YangGang, took to Twitter Thursday to celebrate the news of Yang's rise in the polls.
"Yang is pulling votes away from [Senator Bernie] Sanders with younger voters and this is a very interesting age dynamic," said Director of Emerson College Polling Spencer Kimball.
"America's really nice and loyal friend from college Andrew Yang is up to 8% in Emerson polling, putting him into fourth place," tweeted activist Cameron Kasky. "The #YangSurge is showing our party that the country wants an earnest, authentic candidate and is starting to realize Yang is the man!"
Immanuel Wilson tweeted, "Yang got 9% of the black vote (with 8% of the overall vote). This shows that the black community is listening, and liking what they're hearing. As more of the black community starts hearing about him, they'll realize that he's their guy. #YangSurge #BlacksForYang"
"Andrew Yang at 8% nationally," tweeted Ross Varner. "Ahead of Buttigieg, double Klobuchar. The #YangSurge is real. The #YangGang is much larger than anyone knows."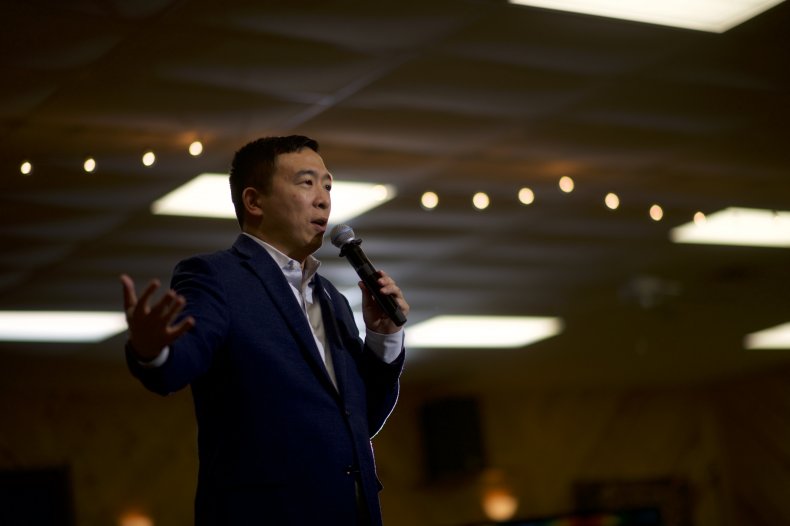 ".@AndrewYang is surging in the polls," wrote the Students for Andrew Yang Twitter account. Many others peaked in the polling too early. (Kamala, Pete, Warren) We are peaking at the right time! The early state voting is only a few weeks away and we will be have our best results yet. Let's take this to the White House! #YangSurge"
Twitter user Brandon Lee tweeted a photo of Yang speaking in front of a group of people. "When they say @AndrewYang cant win Iowa," he tweeted. "Show them this."
Yang is currently campaigning in Iowa, the site of the first political caucus in the country this coming February.
"Interesting," tweeted Fox News contributor Byron York. "@pdoocy reports on Fox that there is only one Democrat (Andrew Yang) in Iowa now, 11 days out from caucuses."
Yang's campaign has garnered endorsements from such high-profile celebrities as Dave Chappelle, Nicolas Cage and former Democratic presidential candidate Marianne Williamson.
One of the cornerstones of Yang's political policies has been his plan to provide a Universal Basic Income, which Yang refers to as the Freedom Dividend. Under the Freedom Dividend plan, Americans over the age of 18 would receive $1,000 per month regardless of their employment status.
"A Universal Basic Income at this level would permanently grow the economy by 12.56 to 13.10 percent—or about $2.5 trillion by 2025—and it would increase the labor force by 4.5 to 4.7 million people," says Yang's campaign website.
Newsweek reached out to Yang's campaign for comment but did not receive a response in time for publication.