#YangWillWin Trends As Andrew Yang Supporters Share Why the Presidential Candidate Could Win 2020
The hashtag #YangWillWin began trending on Twitter across the United States on Thursday afternoon as supporters of Andrew Yang shared why they think the former entrepreneur has a shot at securing the 2020 Democratic presidential nomination.
Yang's supporters, also known as the Yang Gang, have been working overtime to elevate the candidate's profile on social media as he continues his bus tour through Iowa in the days leading up to the state's caucuses.
Since launching his presidential campaign in November 2017, the former entrepreneur, 45, has transformed himself from completely anonymous to a rising competitor. Yang, who's running on the idea that automation is displacing American jobs and the answer lies in a $1,000 universal basic income for every adult citizen, is now solidly in the second tier of candidates.
A recent ABC News national poll, released January 26, placed him in fifth place with support from 7 percent of voters. Although that's still behind the top three Democratic hopefuls, Senators Bernie Sanders, Elizabeth Warren and former Vice President Joe Biden, Yang appears to now be ahead of former South Bend Mayor Pete Buttigieg and Senator Amy Klobuchar.
"We're proud of the surge our campaign has seen heading into our final weekend of campaigning which has included a 17-day bus tour where Andrew's met with voters in every part of Iowa," Erick Sanchez, Yang's travelling press secretary, told Newsweek on Thursday. "Our enthusiasm in Iowa is peaking at the right time with record crowds and pledges of support to caucus for Andrew. No other candidate has held more campaign stops in the state."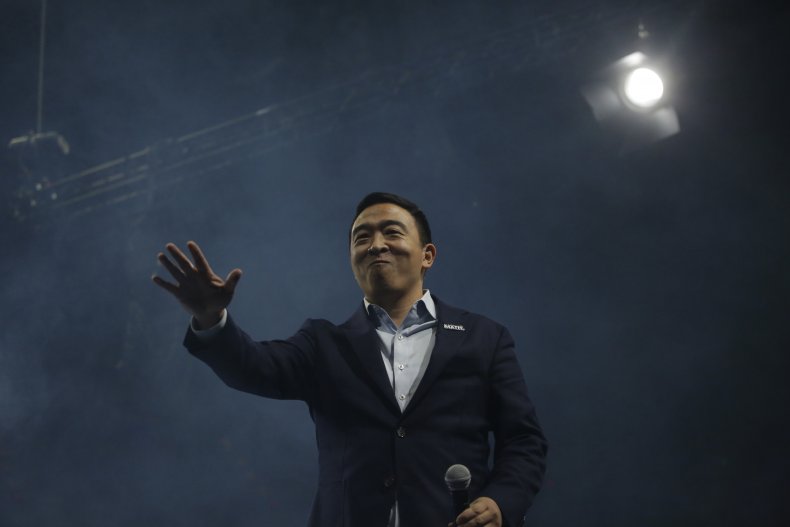 Tens of thousands of Yang supporters took to Twitter to explain why they believe the candidate has a shot at the White House, while others shared why they want him to win the Democratic nomination. As of Thursday afternoon, #YangWillWin rose to the second most-trending topic on the social media platform in the United States. At the time of publication, the hashtag had garnered more than 32,000 tweets.
Yang's campaign also appears to be fairly confident in their candidate's chances in the upcoming Iowa caucuses. "On Monday, we intend to shock the political world thanks to the real solutions Andrew offers to prepare Americans for the problems of the 21st century," Sanchez said. "Our Iowa staff has been working diligently to make sure that our message hits every phone and door statewide, and we're eternally grateful for the Yang Gang."
"Tell me a candidate that is better equipped to lead us in the 21st century besides @AndrewYang. Will @BernieSanders or @JoeBiden or @ewarren be even decent with technology, AI or cyber security? We need Yang #YangWillWin #Yang2020," 2020 congressional candidate James Ellars tweeted.
"#YangWillWin because my liberal, moderate, libertarian, conservative, and even Trump-voting friends/acquaintances all like him. Name one other candidate with that much crossover appeal. I'll wait," user @LWBbythesea wrote.
"#YangWillWin because America will eventually wake up to the fact that he's the only one capable of beating Trump," user @gang4610 wrote.
"The Iowa Youth Poll voted for @BarackObama in 2012, the same poll votes for @AndrewYang in 2020 by 2%. #YangWILLWin," user @khoantum wrote.
"Twitter isn't real. #YangWillWin because we have boots on the ground and People are learning that Yang is proposing a new way forward," user @LibertySmurf wrote. "No more business as usual."
"I trust @AndrewYang because he has an insane amount of patience and understanding. I would not be able to answer 'how will you pay for UBI?' hundreds of times as he has. #YangWillWin," user @LILGODSAVAGE wrote.
"With a Yang win. He restores not only the party but the humanity of America. Democrats really need to understand that you can't turn your back on a guy that will make you into a political powerhouse for years to come. Hes been loyal to you, be loyal to him #YangWillWin," user @DHotwheelz wrote.
"#YangWillWin because the #SororityOfYang has knocked on 1k+ Iowan doors, gotten in 7 news outlets (local & national), organized 4 Iowan mobilize events, gave a voice to women online, and housed 60 volunteers," user @Kinsey_ka wrote.