Yankees-Braves Matchup Set to do Something That Hasn't Happened in 120 Years
Something will have to give when the New York Yankees and Atlanta Braves square off Monday.
The Yankees and Braves are the first MLB teams in 120 years to face off with active nine-game winning streaks, according to STATS and YES Network researcher James Smyth.
The Pittsburgh Pirates and Philadelphia Phillies were the last teams with active win streaks of nine or more to meet when they did so on September 7, 1901. The Phillies snapped Pittsburgh's 10-game win streak by winning their 10th in a row 4-1 behind Al Orth's complete game. Pittsburgh got the last laugh, winning the National League pennant that season.
The Braves and Yankees were both playoff teams the past three seasons but were struggling to reach preseason expectations this year. Both teams were in third place in their respective divisions on August 1 but both have exploded during the so-called dog days of the schedule.
The Yankees started 5-10 and were just 41-41 after a 10-5 loss to the crosstown-rival Mets on July 4. But New York has taken off since, winning 31 of its last 42 and 21 of 26 since July 25.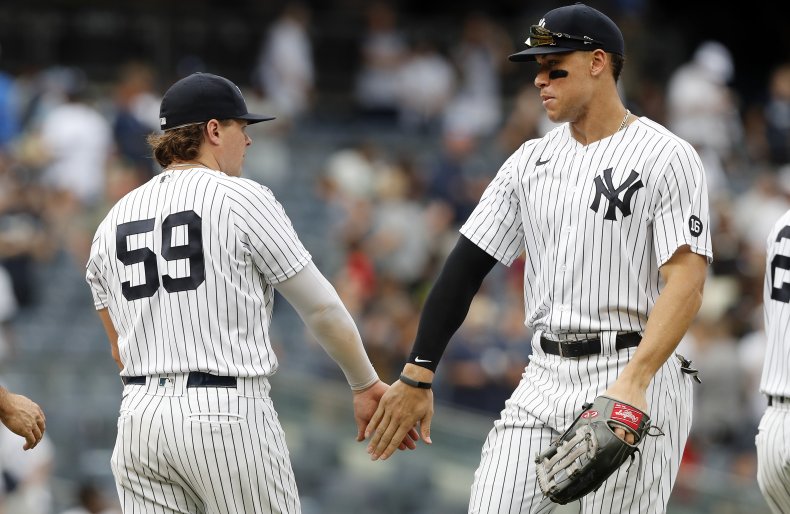 "It's certainly been a good stretch," Yankees ace starter Gerrit Cole told MLB.com on Saturday after their 7-1 win over the Minnesota Twins. "It's catapulted us into the second half. Even in our darkest moments, we thought we were better than what our record was."
But nothing has come easy for the Yankees, even during this hot streak. They've endured four self-described "gut-punch losses," according to manager Aaron Boone, in that seven-week span, including two during a road series against the Boston Red Sox last month.
The Yankees have only outscored their opponents 212-144 in those 42 games ⁠— an average score of 5-3. They have also been decimated by injuries and COVID-19.
Cole, who missed two weeks with COVID, dubbed the team's outbreak "the Yankees variant." Since the All-Star break, starters Cole and Jordan Montgomery, relievers Jonathan Loaisiga and Wandy Peralta, right fielder Aaron Judge, catchers Gary Sanchez and Kyle Higashioka, third baseman Gio Urshela and first baseman Anthony Rizzo all tested positive for COVID-19 despite the fact most of the team was vaccinated in the spring.
The Braves started August two games under .500 and also have been rolling in spite of injuries to star players. All-Star outfielder Ronald Acuna Jr. hasn't played since July 10 and will miss the remainder of the season with a torn ACL. Defending National League home run champion Marcell Ozuna hasn't played since May 25, when he broke two fingers, and is currently under investigation by Major League Baseball for a pending domestic assault charge against his wife.
But the Braves are 16-3 in August, mostly due to its exceptional pitching and power-driven offense. Atlanta has hit the third-most homers in baseball, led by reigning NL most valuable player and current MVP candidate Freddie Freeman's 27. Atlanta has allowed only 67 runs in 19 August games (3.5 per game) and outscored its opposition 58-25 over its nine-game win streak.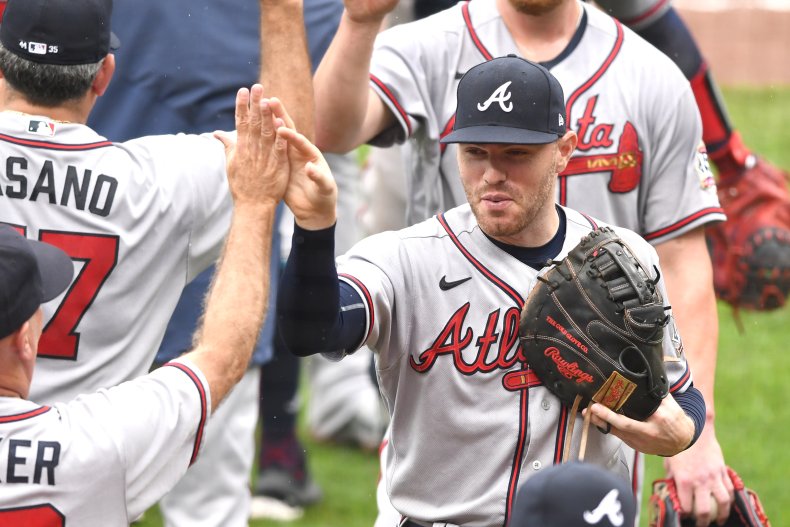 Atlanta also added outfielders Jorge Soler, from Kansas City, and Adam Duvall, from the Miami Marlins, at the trade deadline, and each has contributed by swatting five home runs since coming to the Braves.
"Those deadline players have really helped," Braves manager Brian Snitker told MLB.com. "Those guys have all made a big impact in what we've done. They've made our club better, deeper. With all the injury losses and everything -- big guys that we've had go down -- getting those guys has made a huge difference in our team."
Their recent hot streaks have made the Braves and Yankees likely postseason participants for the fourth straight season. Atlanta, which has won the NL East in each of the past three seasons, leads the second-place Philadelphia Phillies by five games entering play Monday.
The Yankees are sitting in the first American League wild-card spot, two-and-a-half games ahead of the Red Sox and Oakland Athletics. New York trails the first-place Tampa Bay Rays by four-and-a-half games.