Yankees, Mets Discussing Noah Syndergaard Trade: Report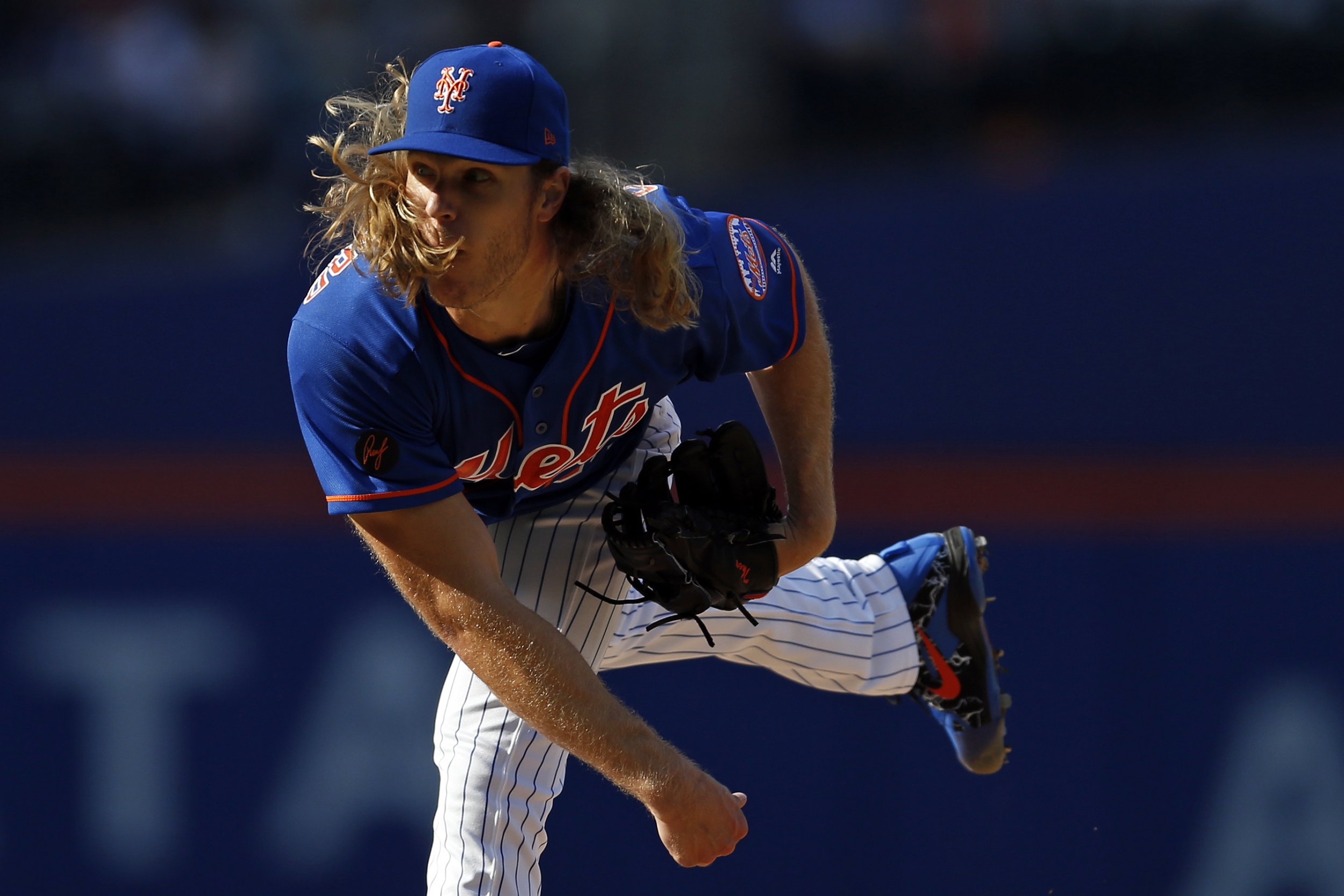 The New York Yankees have reportedly discussed a potential blockbuster trade with the crosstown rival New York Mets involving starting pitcher Noah Syndergaard during the MLB Winter Meetings.
According to FOX Sports' Ken Rosenthal, the Mets have discussed a three-team trade in which they would land Miami Marlins catcher J.T. Realmuto. A possible scenario would involve the Yankees, although his initial report said that it wasn't confirmed whether Syndergaard would be involved.
According to Rosenthal, the Mets aren't willing to deal the former all-star unless they're getting more than just Realmuto, who has two years remaining on his current deal.
The Mets have reportedly been in steady talks with the Yankees since hiring new general manager Brodie Van Wagenen, sources confirmed to Rosenthal. The two New York franchises haven't made a trade since the Yankees acquired Mike Stanton from the Mets in exchange for Felix Heredia in December 2004.
The Mets have reportedly received several offers from teams looking to broker a Realmuto trade and the Yankees' initial pitch isn't the strongest, according to MLB Network's Joel Sherman.
"Told that Van Wagenen has multiple scenarios working to try to land Realmuto from #Marlins and the 1 involving #Yankees is not among the strongest," Sherman tweeted.
Sherman also noted that the Yankees reached out to the Marlins about a Realmuto deal, despite general manager insisting that Gary Sanchez would remain the team's primary catcher in 2019, so it was likely in a broker role to acquire Syndergaard, which he referred to as a "long shot."
"Cashman has insisted Sanchez will be #Yankees catcher in '19. Yet, outside execs said they were engaged with #Marlins. This would explain it since NYY wouldn't be getting Realmuto in this scenario, but rather Syndergaard, though again involved people called this a long shot," Sherman tweeted.
MLB Network's Jon Heyman was the first to report that the Yankees were among the trading partners with the Mets and Marlins in hopes of acquiring Syndergaard.
"There has indeed at least been talk of 3-way where Realmuto goes to Mets, Syndergaard to Yanks. Not sure how likely this is. Seems like quite a gamble for mets — though there are more star rotation options out there than star catching options," Heyman tweeted.
Syndergaard, 26, is one of the best young pitchers in baseball, coming off a season in which he recorded a 3.03 ERA (2.80 FIP) during 154.1 innings. The Yankees are reported to be interest in adding one more starting pitcher to their rotation, which already includes Luis Severino, Masahiro Tanaka, CC Sabathia and James Paxton, who was recently acquired via trade with the Seattle Mariners.
Realmuto, 27, had a breakout season for the Marlins in 2018, which included hitting .277/.340/.484 and 21 home runs. He also recorded a 126 wRC+, which was the highest among catchers with a minimum of 100 plate appearances.