​​Yankees-Red Sox Game Postponed After Several Positive COVID Tests
Thursday night in New York City mirrors what happened at the beginning of sports shutting down in 2020 because of COVID. One person in the New York Yankees organization tested positive for the lurking coronavirus, then another and another. Suddenly, Thursday night's game against the hated Boston Red Sox was postponed.
Yankees general manager Brian Cashman said three players—all pitchers—on his team have tested positive while another three are pending. The three Yankees identified as testing positive are Jonathan Loaisiga, Nestor Cortes Jr. and Wandy Peralta, who have all been vaccinated. The Yankees suspect the other three "pending" players will test positive as well.
Thursday is the first night that games in Major League Baseball resume after the All-Star break. The All-Star Game was Tuesday night before a packed Coors Field in Denver. The Home Run Derby on Monday also had a full ballpark of mostly maskless fans.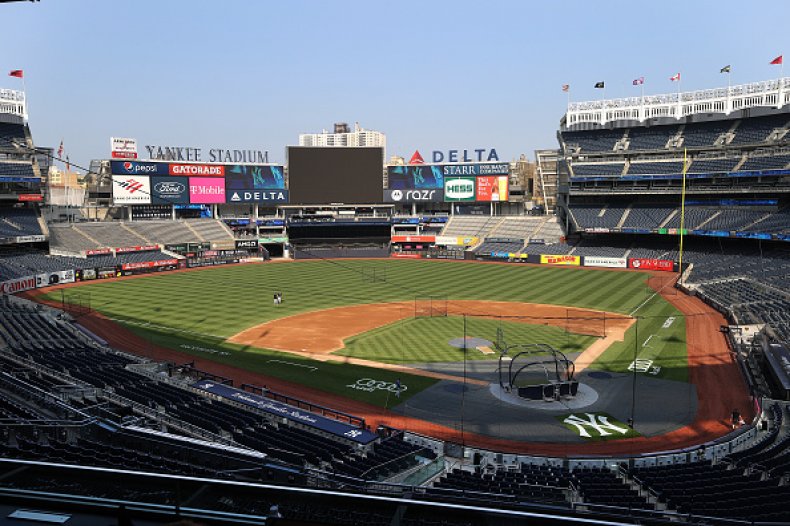 Reports first surfaced Thursday afternoon that the Yankees were absent from taking batting practice at Yankee Stadium. As more reports emerged, it was evident the club was having COVID issues.
Although vaccines have been available since late 2020, and millions of Americans already taken one of them, a new Delta variant of the virus has brought a new surge of cases, especially among those not vaccinated.
Once the virus began spreading in America during 2020, New York City became the hottest hot spot in the country and around the world. Hospitals filled up so quickly that former President Donald Trump sent the USNS Comfort hospital ship to the city, along with constructing tent hospitals, to help treat patients.
According to Johns Hopkins University, there have been about 189 million confirmed cases worldwide, including 4,062,000 global deaths as of Thursday evening. The United States leads the world in both confirmed cases (almost 34 million) and deaths (608,345).
The sports shutdown in 2020 led to massive shutdowns in America, including lockdowns, shutdowns, social distancing and mask requirements.
On March 11, 2020, Utah Jazz player Rudy Gobert tested positive for the virus. The next day, the NBA postponed its season and playoffs until further notice. The NHL and Major League baseball followed the same pattern, and the NCAA cancelled its remaining 2019-20 calendar of sports, including the lucrative men's basketball tournament known as March Madness.
This is a developing story.