Yates Contradicts Trump Administration on Warnings About Flynn's Contacts With Russian Ambassador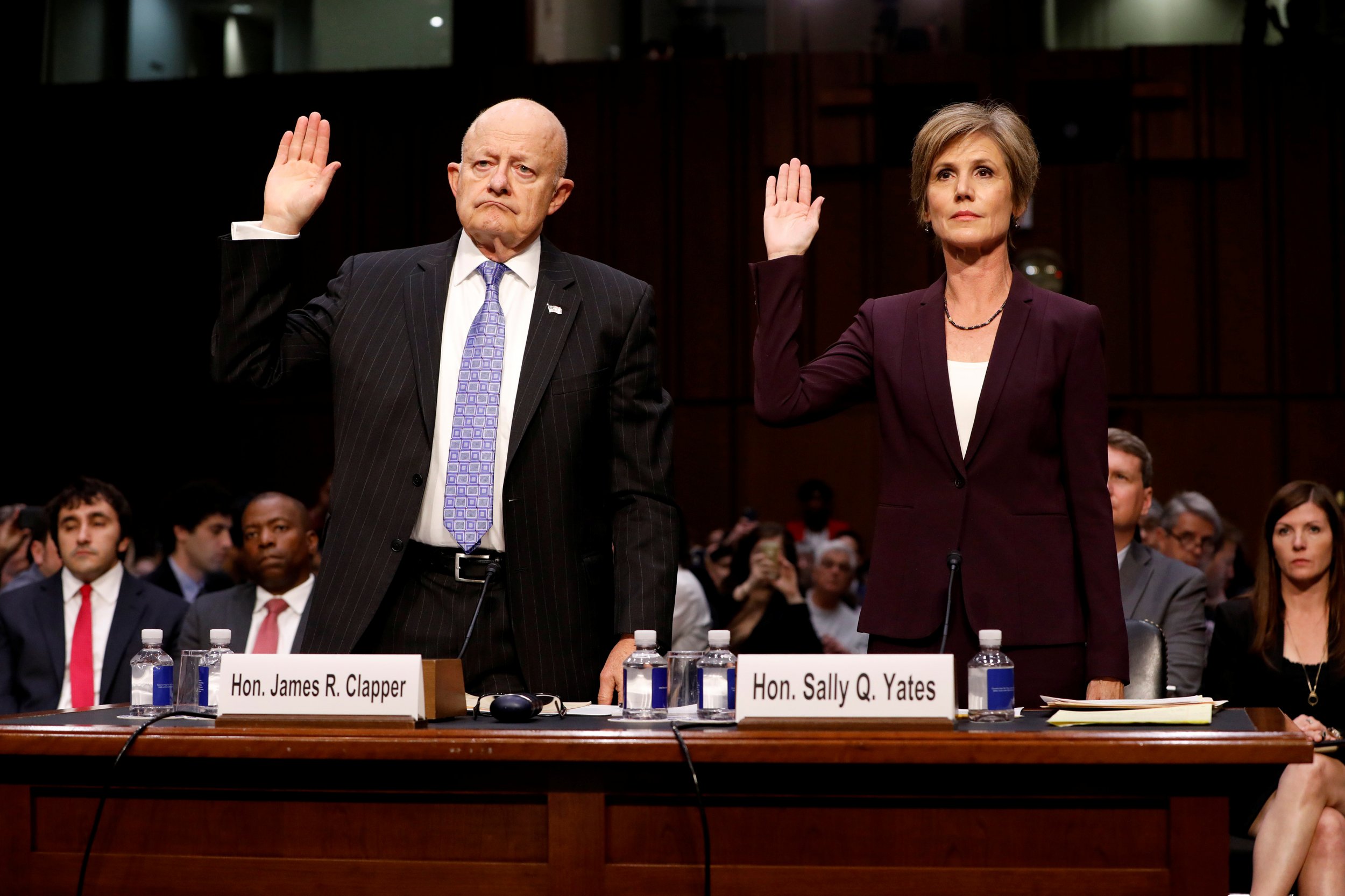 Updated | It was a dramatic recounting of events—and one that pitted the Trump administration against a high-profile official from the Obama White House.
In her Senate subcommittee testimony on Monday, Sally Yates, the former acting U.S. attorney general, contradicted the Trump administration's claims about former national security adviser Michael Flynn—and what she told White House officials about his contacts with the Russian ambassador to the U.S.
In February, both White House press secretary Sean Spicer and Chief of Staff Reince Priebus said Yates gave the Trump administration a "heads up" about problematic statements Flynn made about his contacts with Sergey Kislyak—and that the administration determined there wasn't a legal issue.
But in her testimony on Monday, Yates insisted her communications with the White House were much more extensive—and far less benign. She said she warned Trump administration officials that Moscow could blackmail Flynn due to his false statements about his talks with the Russian ambassador. Though Yates wouldn't discuss the classified details of Flynn's conversations with Kislyak, the two reportedly spoke about easing U.S. sanctions against Moscow.
Related: National security adviser Michael Flynn is a security risk
Speaking to the committee, Yates said she had two meetings and one phone call with White House counsel Don McGahn about the Flynn affair, including one meeting in a "sensitive compartmented information facility," a secured room or building where classified information can be discussed safely.
"[Those false statements] created a compromise situation, a situation where the national security adviser essentially could be blackmailed by the Russians," Yates testified. "Finally, we told [McGahn] that we were giving them all of this information so that they could take action."
The former acting attorney general said she and McGahn discussed whether criminal statutes applied to Flynn's conduct and whether the Department of Justice (DOJ) would pursue a criminal case. "McGahn asked, 'Why does it matter if one White House official lies to another White House official?'" she said. "To state the obvious, you don't want your national security adviser compromised with the Russians."
President Donald Trump fired Flynn about two weeks after Yates met with McGahn, but not until The Washington Post broke the story about the meeting, which contradicted the administration's public statements on whether Flynn discussed sanctions with Russia. (White House officials said Flynn misled Vice President Mike Pence about his talks with Kislyak.)
President Barack Obama appointed Yates to be the deputy attorney general under Loretta Lynch, and she served as acting attorney general in the early days of the Trump administration. The president dismissed her shortly after his inauguration because she refused to instruct DOJ lawyers to defend his executive order that temporarily halted travel from several predominantly Muslim countries and suspended the admission of Syrian refugees.
Her dismissal came shortly after she told McGahn about the DOJ's concerns over Flynn, a retired Army lieutenant general and the former head of the Defense Intelligence Agency (DIA).
The pre-inauguration conversation between Flynn and Kislyak sparked a debate among Obama administration officials and intelligence agencies over whether Flynn violated a law against unauthorized citizens interfering in U.S. disputes with foreign governments, The Washington Post reported in February.
Former Director of National Intelligence James Clapper testified alongside Yates on Monday, calling the Russian interference in the 2016 U.S. election "a clarion call" for vigilance and action against similar attacks on the American political system.
Clapper said he had previously not known that the FBI is investigating whether Trump campaign staff and Russia coordinated their activities in the lead-up to the election.
He also confirmed that in late 2015, British intelligence first became aware of suspicious interactions between Trump advisers and Russian intelligence and passed the information on to U.S. intel agencies.
Monday's hearing was a highly anticipated event, as many of the president's critics hoped it would add pressure on Trump, who has been dogged by allegations that his campaign colluded with Moscow during the election. The White House has denied these claims.
Before the hearing began, President Trump took aim at Yates and Obama in a series of tweets. "Ask Sally Yates, under oath, if she knows how classified information got into the newspapers soon after she explained it to W.H. Counsel," he tweeted Monday morning.
"General Flynn was given the highest security clearance by the Obama Administration—but the Fake News seldom likes talking about that," the president also tweeted.
Not long after Trump published his tweets, NBC reported that Obama had warned Trump against hiring Flynn when the two sat down together in the Oval Office less than 48 hours after the 2016 election.
The warning came before Flynn's conversation with the Russian ambassador and reportedly pertained to the way Flynn ran the DIA.
Trump ignored the warning and hired Flynn, who had been advising him throughout his campaign.
This story has been updated to include new details of the hearing.