Aug. 3 marks the eight-year anniversary of the Yazidi genocide. The genocide, perpetrated by ISIS and formally recognized by the United Nations, United States, European Parliament, and other bodies, included mass executions, a codified system of enslavement, mass rape, and nearly every crime imaginable against the Yazidi people, an ethno-religious group Indigenous to northern Iraq.
Shockingly, Yazidis are worse off now than last year. In Sinjar, the ancestral Yazidi homeland, external and local forces have contributed to increased instability. Militias and their allies hold divergent agendas for control of Sinjar, which bridges geopolitically important areas, including northeast Syria, federal Iraq, the Kurdistan Region of Iraq, and mountains where Turkey and the Kurdistan Workers' Party (PKK) have been fighting for decades. Provincial, regional, and national decision-makers in Iraq have demonstrated an inability to address governance and security issues, which the stalled Sinjar Agreement tried and failed to address. This has left Yazidis in limbo, losing hope of recovery, rebuilding, or returns for internally displaced persons (IDP).
Turkey
Turkey has played a highly destabilizing role in Syria and Iraq and continues to do so. In Afrin, Syria, Turkish-backed militias continue ethnic cleansing against Yazidis and others. Afrin is now a hotbed for extremist terror groups. Turkey also threatens a military operation in northeast Syria, the U.S.-led coalition's allies in northeast Syria, which could result in the resurgence of ISIS and prison breaks. ISIS leaders Al-Baghdadi and Al-Qurayshi were both discovered and targeted hiding right on the Turkish border, where they apparently felt most comfortable.
In Iraq, Turkey has established over 100 military outposts and five major bases throughout the north, including one meters away from the Yazidi-majority town of Bashiqa. Turkey's air force regularly bombs Yazidi genocide survivors in Sinjar, ostensibly to fight against its PKK foes. Last month Turkey bombed the Kurdish-majority town of Zakho, killing and wounding many civilians. This time Iraqi authorities reacted forcefully. As Yazidis, it is difficult to understand why the deaths of scores of Yazidis in Sinjar, including the murder of an 8-year-old child in June, never elicited an equal response—another example of unequal treatment of Yazidis in Iraq.
Iraq
Iraq and the Kurdistan Regional Government (KRG) concluded the Sinjar Agreement, designed to resolve tensions in Sinjar. One might argue it has achieved the opposite effect. And with Iraqi domestic politics currently in disarray in Baghdad, with other issues in focus, a solution is not soon forthcoming. Meanwhile, on the ground in Sinjar, militias compete for control, including those backed by Iran. It is a complex situation.
Thousands of Yazidis fought against ISIS in Sinjar to defend their homeland, forming a variety of groups, including the Sinjar Resistance Units (YBS). The Sinjar Agreement makes the logical argument that militias should not remain in Sinjar. However, it appeared this was designed to target the YBS without any disarmament, demobilization, and reintegration plan or consideration of Yazidis after surviving genocide. No just solution can include assassination of Yazidi genocide survivors who are Sinjar's native inhabitants. Yazidis who carried arms in 2014, including YBS, should be fully integrated into Iraq's security architecture and form a non-political force capable of defending the area. And many Yazidis have made clear that the PKK should not choose Sinjar as the location for its activities—the residents of Sinjar deserve peace and stability, not conflict.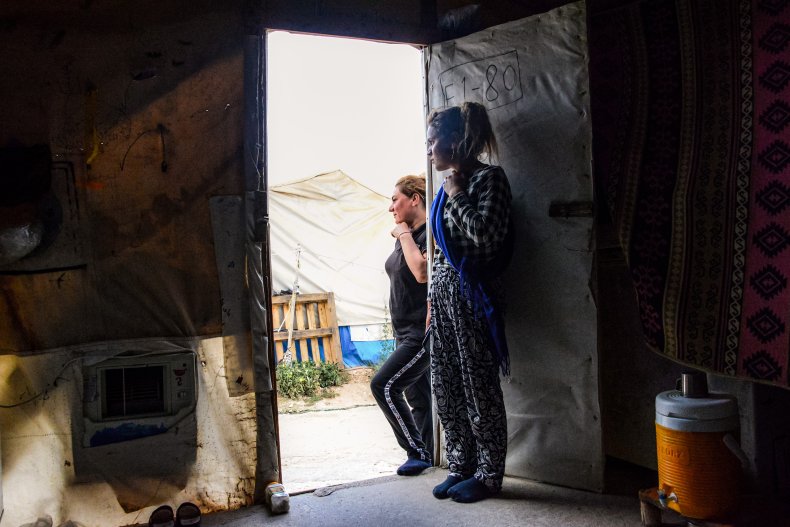 Justice
Eight years after a widely publicized genocide, one might assume there have been hundreds of indictments and stiff sentences. Not so. While we commend the work of the U.N.'s investigative body, UNITAD, and war crimes prosecution offices, accountability is moving too slowly. If Turkey invades northeast Syria again, ISIS prison breaks are more likely, further reducing prospects of justice.
Foreign states have largely eschewed pursuit of meaningful accountability for their citizens held by the Syrian Democratic Forces (SDF). ISIS perpetrators in Europe rarely face accountability for human rights violations—more often receiving slap-on-the-wrist sentences for joining a proscribed terror organization. The crime of genocide cannot go unpunished in the 21st century. The entire international community has failed in this regard. If a European joins ISIS, purchases a child on the slave market, rapes her, serves as a foreign fighter, and returns home to the West, terrorism is not his only crime. Charges for crimes against Yazidis must be brought in all appropriate jurisdictions.
Moving Forward
Crises in Ukraine and Afghanistan have rightly demanded the world's attention, resources, and support. But we must not forget other areas of concern. We ask the international community to support accountability and help Yazidis safely return to their homes, or if that is not possible, to accept them as refugees.
For Yazidis, the United States is the most important international actor. The U.S. was first to come to our rescue in 2014, and our community is forever grateful. American strategic, diplomatic and security leadership is essential and irreplaceable. Iraq and Syria remain fragile and vulnerable to backsliding, which could lead to a long and costly engagement. We urge our American and European friends to be pro-active, continue the fight against ISIS, and ensure minority protection remains a top pillar of foreign policy.
Yazidis used to live in great numbers in Turkey, Syria, and Iraq. We call our land Ezidkhan—the land of Yazidis. Our community was decimated in Turkey years ago. Yazidis are in their last days of existence in Syria. The future does not look promising in Iraq. The ISIS campaign to eradicate Yazidis should not be allowed to succeed. To prevent that from happening, Iraq, including the Kurdistan Region, and the international community, should pay serious attention to the plight of our people.
Pari Ibrahim is the founder and executive director of the Free Yezidi Foundation.
Murad Ismael is the president and co-founder of Sinjar Academy and co-founder of Yazda.
The views expressed in this article are the writers' own.
To attend this year's virtual Yazidi genocide commemoration event on Aug. 3, click here.