Escapees From ISIS Recall Rape, Slavery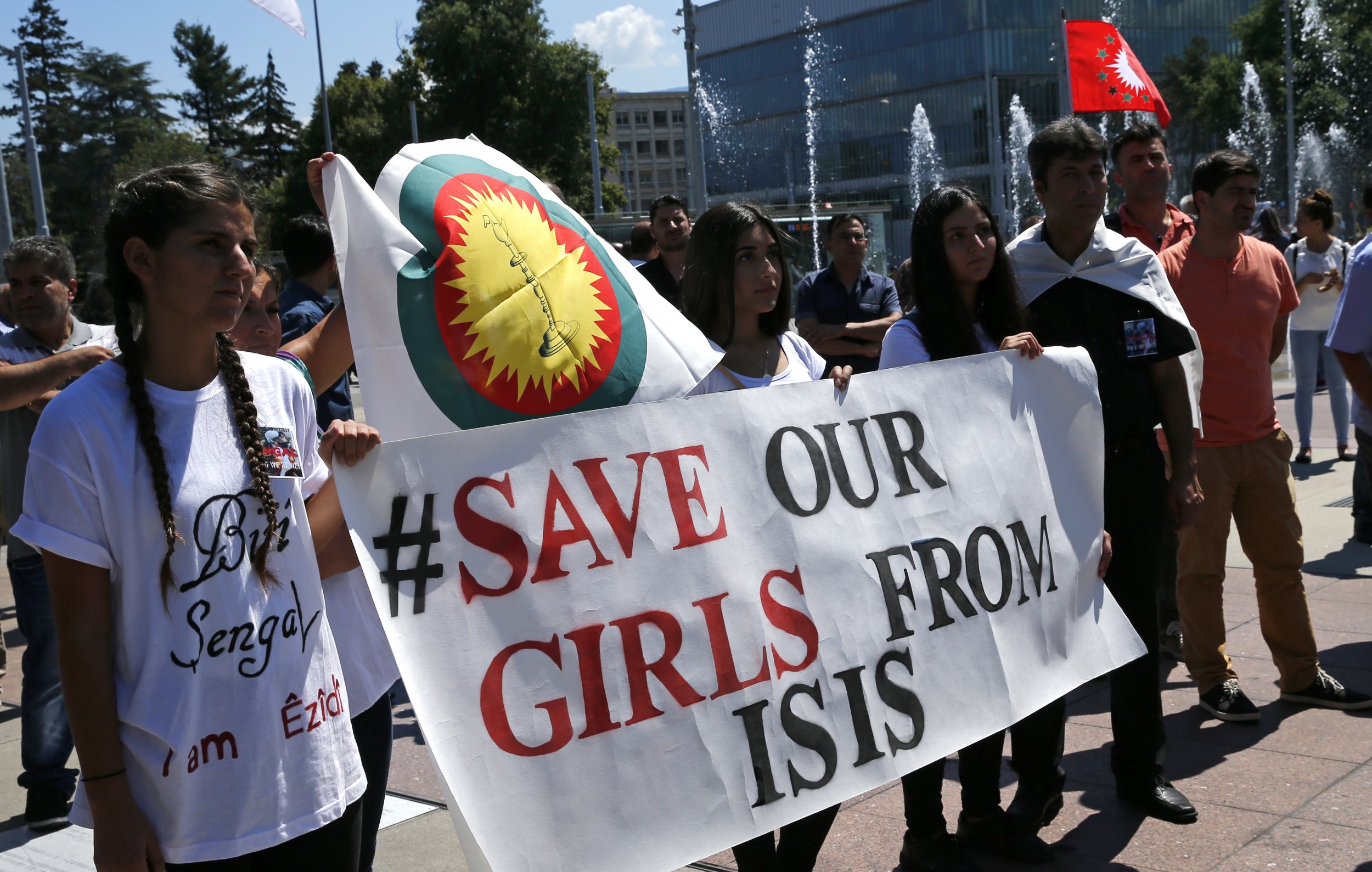 In a packed conference room at the United Nations this week, a young Iraqi woman named "Bazi" told a harrowing tale. Bazi, a pseudonym, is a Yazidi, one of Iraq's non-Muslim minorities. She was 19 in August 2014 when ISIS fighters stormed her village of 1,700, killing the men and kidnapping women and children. Eventually, the fighters sold her at a slave market for the equivalent of $40 to a man with the nom de guerre "Emir Abu Abdullah Amriki," which roughly translates as Prince From America.
Bazi spoke along with other Yazidi activists at a meeting convened by U.N. Women for Peace to publicize the plight of women and children held as slaves by ISIS. The Yazidi people practice an ancient Mesopotamian religion that predates Islam but is one of the earliest monotheistic creeds. Their god is responsible for both good and bad, and experienced a temporary fall from grace, which has led other creeds to link him to Satan and call the Yazidis devil worshippers.
Because the Yazidi are not "people of the book," Christian or Jewish, ISIS fighters have been taught that they are religiously justified in enslaving the women and killing the men. Aid groups claim ISIS killed at least 5,000 and kidnapped another 6,000 in August 2014. Although Kurdish fighters eventually retook the Yazidi communities from ISIS, Yazidis are still living in camps, and at least 3,000 women and children are still held captive.
Khider Domle, a Yazidi journalist and activist, also spoke at the meeting. Domle has been rescuing girls using just a cellphone, and those willing to help, in the areas where they are being held.
"There are no words we can use to describe what has happened. Especially to girls under the age of 13," he said.
He said some of the attackers included neighbors of the Yazidis, Iraqi Muslims with whom they had associated for years. "You have a neighbor who you have known for 20 years. You have eaten with them. And on the 3rd of August, he comes in and takes your women and children."
Domle says the attack and kidnapping of the Yazidis was part of a "big plan," carried out methodically. "They planned it step by step," he said. "First, they separated the women and children from the men. Then they started giving the beautiful girls to the foreign fighters. Then they took the others to a slave market. The cheapest were sold for $10. They took the older women into the houses and to work in the fields. One man had three wives already and bought a 16-year-old, who he took into his family."
Although ISIS urged the captives to convert to Islam, professing faith in Muhammad and Allah didn't save them. "They still said, 'Give us your women and children.'"
About 2,000 Yazidi women and children have managed to escape, Domle said, but many are returning to a community where parents have been killed and whole families disappeared. Nongovernmental organizations are feeding and sheltering them, but they need other kinds of assistance because of the trauma of repeated rape. "They don't just need food. They need a long program of psychosocial assistance, and the U.N. needs to take evidence from them." Domle said the high priest of the Yazidi religion has announced that those returning from slavery will be treated "like angels or holy people" and welcomed back into the community.
Speaking Kurdish in a low, steady voice, Bazi said there were about 1,700 people in her village near Mount Sinjar in northern Iraq when the fighters came. First they separated the 600 men and presumably killed them all. The women and children, who could hear the shooting of their men and older boys in the distance, were then separated into three groups: older women, younger women and children.
Bazi says she believes some of the older women were shot. Young women like her were taken to what she called a doctor, who performed a virginity test. She added that some other girls and small children were first taken to a house in Tal Afar, in northern Iraq, where ISIS fighters "put bits of glass in our rice, and dirty diapers from the children in our drinking water. We believed there were drugs in the food, because we're dizzy all the time after we ate."
That abuse was only a prelude. The prettier young girls were soon taken away and given to foreign fighters. Bazi avoided that fate by pretending her 3-year-old nephew was her son and saying she was married. They left her alone for a month, and then they came for her. "They said that they had finished with the girls and it was time to take the young married women."
Eventually, she was put on sale with about 20 young women. They were held in a house with very young girls, aged 12 and 13, who were routinely "taken up to the second floor" and raped, so that the girls below could hear their screams.
Bazi was not sold immediately, which she credited to the fact that she and other girls had deliberately not bathed for a month in order to be as unappealing as possible. "The men came up to us and said, 'You're dirty,'" passing them over.
Eventually, she was among nine or 10 girls ISIS transferred to Raqqa, an ISIS stronghold in Syria. They were delivered to a farm where, Bazi said, "I could see hundreds of other girls, from my village and from other villages."
She was put up for sale again, and after a few days the American bought her and nine other girls, taking them all to his house. He then sold off seven of the girls and kept Bazi and one other girl. She said that he took drugs and sometimes "acted crazy."
Although he began beating and raping her, Bazi says she managed to talk to him and gain his trust. He showed her pictures of his kids on his computer. "I asked him why he was doing what he was doing. He said that because I was an infidel, 'if I don't do this, you won't be converted.'"
The Free Yezidi Foundation has documented hundreds of such incidents and filed papers at the International Criminal Court. The organization is trying to persuade the court to charge ISIS with war crimes and crimes against humanity for specifically targeting the Yezidi people for genocide.
The document, which refers to ISIS as ISIL, lays out a chillingly methodical scenario. "ISIL members numbered them [girls] or recorded their names on lists, and inspected them to evaluate their beauty. Each of those groups was transferred to different locations in ISIL-controlled territory, some being transferred to more than 10 different locations during a four-month period.... While some were given as 'gifts,' others were sold to local or foreign ISIL fighters. Some victims were privy to price negotiations between 'vendors' and 'buyers.'... Girls would then be prepared for 'marriage' (rape), involving, in some cases, full body searches.... Then they were forced to smile while ISIL fighters took photographs."
Bazi escaped from the house while her owner was out fighting in Kobane, a Syrian city and the site of repeated battles between ISIS and Kurdish forces. She managed to return to her community. She found that only one male member of her immediate family, a 17-year-old brother, had survived.
"I thank God that I was able to run away, but although I've been free for months...I don't feel free," she said. "I know many other girls are still captive, and I know what's happening to them. I am here to tell the world what happened. These girls were being sold for $40."
A spokesman for U.N. Women for Peace said the FBI is investigating Bazi's claims about being held by an American. Bazi is in the United States with the support of an organization called Hardwired, which arranged for her to testify to Congress. She is also one of the subjects in a documentary to be released in 2016, called Extreme Good: Finding a Way Out, about efforts to rescue kidnapped girls from ISIS.