The High and Low of Sports in 2015 (Part 2)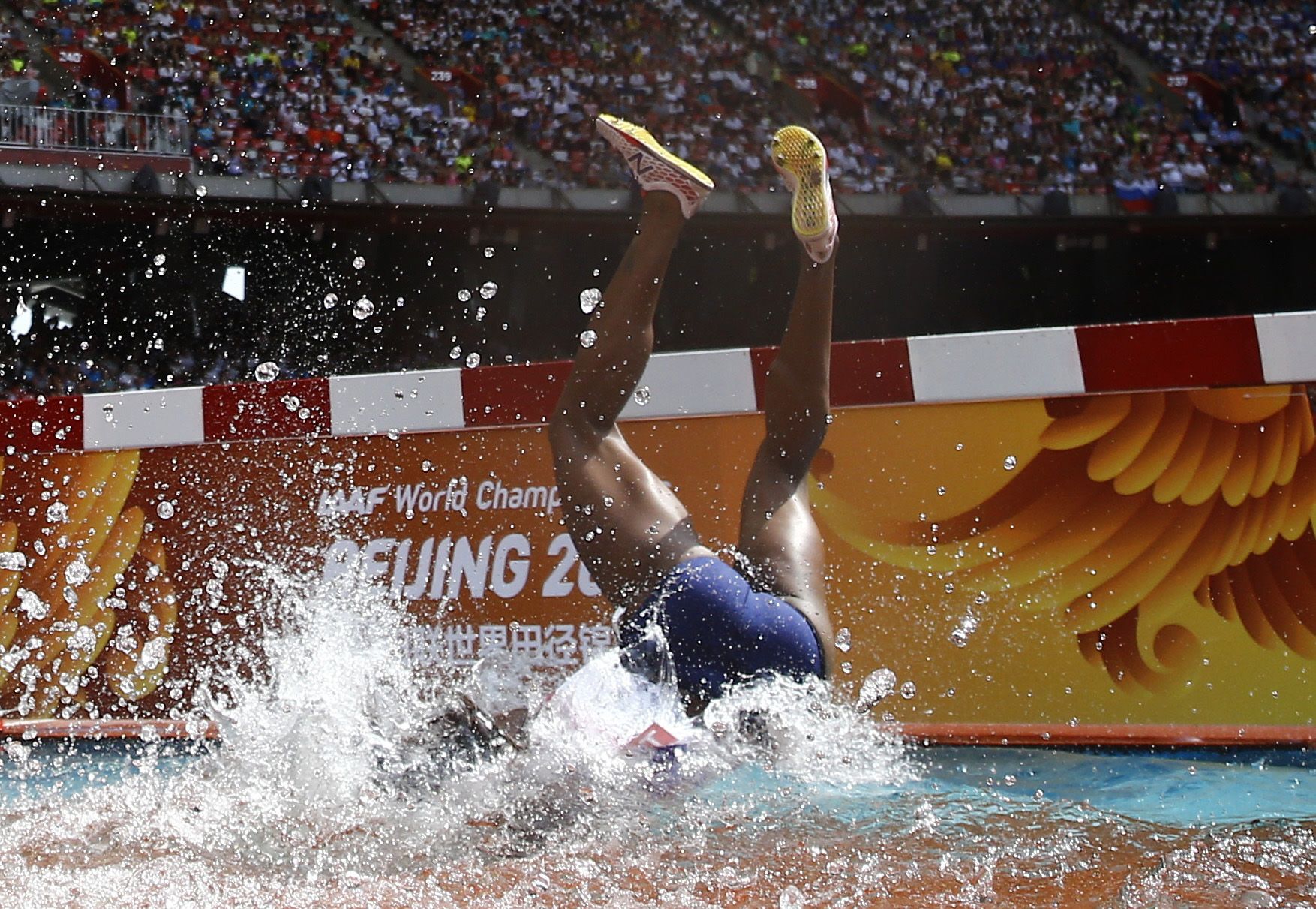 Upon further review…we have indisputable evidence that the year in sports, 2015, was incredible, outrageous and utterly enthralling. Just like every other year in sports. Here is Part 2 of our look back at the year that was. What a time to be alive.
July
A Shot of Jager
The good news for 26-year-old steeplechaser Evan Jager? At this Diamond League event in Paris, he breaks the American record in the 3,000-meter steeplechase by four seconds. The bad news? Nursing a 10-meter lead entering the final hurdle, in a race that included the last two Olympic champions, he loses his footing after clearing that hurdle. Jager finishes second in 8:00:45, narrowly missing a chance to become the first American to break the 8-minute barrier.
Cuban Missive Crisis?
NBA free agent DeAndre Jordan, who has led the NBA in both rebounding and field-goal percentage as a Los Angeles Clipper the past two seasons, verbally agrees to a four-year deal with the Dallas Mavericks. Then, during the league's one-week signing moratorium, Jordan gets cold feet. Clipper coach Doc Rivers and various teammates—including all-star point guard Chris Paul, who cuts short a vacation with LeBron James—convene at Jordan's Houston home to stage a hoops intervention. Jordan re-ups with the Clips, while Maverick owner Mark Cuban wonders if this is the most bizarre episode of Shark Tank ever.
Where's Sheriff Brody When You Need Him?
During the final round of the J-Bay Open in South Africa, Aussie surfer Mick Fanning has a close encounter with what is believed to be a great white shark. Fanning, a three-time Association of Surfing Professionals world champion, is not bitten, but he may have needed to change his trunks.
Is This Purgatory? No, It's St. Louis
The Mets and Cardinals play an 18-inning game in which the New Yorkers strand 25 baserunners and the two teams combine to go 1 for 34 with runners in scoring position. Neither team scores a run until the 13th inning, when both score one. The game lasts five hours and 55 minutes, during the last two hours of which Mets commentator Keith Hernandez appeared to be on the verge of committing both hari-kari and Harry Caray.
Wave Goodbye
Surfer Niccolo Porcella survives this massive wipeout in Teahupoo in Tahiti. Surfer magazine calls it "the worst wipeout ever," while the 27-year-old Maui native says, "It was the most violent thing I ever felt in my life."
Dueling Aces
Los Angeles Dodger pitcher Zack Greinke's scoreless innings streak comes to an end at 45⅔ innings at Citi Field. Mets pitcher Jacob deGrom ends it with a ground-out fielder's choice. Greinke's streak is the fourth longest in MLB history. Teammate Clayton Kershaw will extend his scoreless innings streak to 37 innings six days later before it is snapped.
August
Visitors Not Welcome
For the first time since Major League Baseball expanded to 30 teams in 1998, home teams go 15-0 on one date (August 12).
Sketchy Character
New England Patriot quarterback Tom Brady appears in a Chicago courtroom for a Deflategate hearing, but the loudest outcry comes from art critics who are displeased with artist Jane Rosenberg's sketch of the dreamy passer, which is reminiscent of the critique of the infamous Kramer portrait in Seinfeld: "He is a loathsome, offensive brute. Yet I can't look away."
Trophy Lives
Pittsburgh Steeler linebacker James Harrison posts on Instagram that he is returning his two sons' participation trophies because he wants them to "EARN a real trophy." Harrison's act sparks a weeklong referendum on parenting on social media, ignoring the fact that spending an inordinate amount of time on Twitter and Facebook debating trivial issues is not good parenting.
Head Under Heels
The most incredible sports photo of the year is snapped during the World Championships of Track and Field in Beijing. During a heat in the women's 3,000-meter steeplechase, Panamanian runner Rolanda Bell takes a head-first dive into the water pit. Bell is unhurt but finishes the race in last place.
Flogging Molly
At the World Championships of Track and Field, American middle-distance runner Molly Huddle seems poised to snag a third-place finish in the 10,000 meter run. A mere two or three steps from the finish line, and after racing for nearly 32 minutes, Huddle throws up her arms in triumph. As she does, American teammate Emily Infeld surges past, and finishes ahead of Huddle by .05 of a second, claiming the bronze. "This is going to take a long time to get over," says Huddle.
September
Out of Control Pole
Bayern Munich's Robert Lewandowski starts the Bundesliga match against Wolfsburg on the bench. With his team trailing 1-0 at halftime, Lewandowski is inserted into the lineup and scores five goals in just nine minutes.
The Latest College Football Meme
Surrender Cobra, meet Sad Virginia Fan. This is what happens when your unranked team allows a go-ahead 39-yard touchdown pass to No. 9 Notre Dame in the final 20 seconds.
Final Minute Follies
With 40 seconds remaining in an NFL game between the Broncos and Chiefs in Kansas City, Denver trails 24-17. Fifteen seconds later, the Broncos lead 31-24. First, Peyton Manning throws a 19-yard TD pass to Emmanuel Sanders to tie the score. On the next play from scrimmage, Chiefs running back Jamaal Charles, who earlier in the month declared himself "the LeBron of football," fumbles the ball into the hands of Broncos cornerback Bradley Roby, who returns it 21 yards to paydirt, and victory.
The Blindsiders
Acting on direct orders from assistant coach Mack Breed, a pair of defensive backs from a Texas high school strike a referee from behind in the midst of a play. The players, Victor Rojas, 15, and Michael Moreno, 17, are kicked off the team and sent to an alternative school for 75 days. Breed, who claims referee Robert Watts used racial slurs during the game, resigns. Watts, who is not seriously injured, denies Breed's accusation.
October
Rose Bowl Rugby Scrum
Arizona State's Kalen Ballage appears to be stopped after a 5-yard gain against UCLA, but then, with a little help from his friends, he isn't.
Mercy
At the Rugby World Cup, South Africa, a perennial power, suffers a shocking defeat to Japan, 34-32. The Springboks then take out their wrath on the United States with a 64-0 massacre. New Zealand will defeat Australia to win the championship, with South Africa finishing third.
Basketball Wives
When NBA bad boy Matt Barnes learns, via a phone call from his twin 6-year-old sons, that former Lakers teammate Derek Fisher (now the Knicks coach) is at his home with his estranged wife, he decides to commit a flagrant foul. Barnes drives 95 miles from the California training camp of his current team, the Memphis Grizzlies, to "beat the shit out of" Fisher. A scuffle ensues. No winner is declared, but witnesses claim that it was far more entertaining than Mayweather-Pacquiao. What fight in 2015 wasn't?
Murphy's Lore
New York Mets second baseman Daniel Murphy homers in seven consecutive postseason games, breaking an MLB-record and inspiring a slew of bars in New York City to christen themselves Murphy's. Or maybe that already was a thing?
Epic Fail in Indy
The Patriots-Colts post-Deflategate rematch on a Sunday night in prime time fails to live up to the hype, but this fake punt involving a defenseless Griff Whalen of Indianapolis sets a new standard for dumb.
It Ain't Over Till It's Over, Governor
After the Houston Astros scored four runs to go up 6-2 on the Kansas City Royals entering the eighth inning of Game 4 of their American League Division Series, Texas governor Greg Abbott's staff sends out a tweet from his official account: "Congrats to the @astros on advancing to the ALCS. Hoping for an all-Texas #ALCS. Looking at you @Rangers." The Astros lose the game and the series, and the Rangers lose both as well.
Call of the Year
Florida State had won 33 non-bowl games in a row. Georgia Tech had lost five in a row. Seminole kicker Roberto Aguayo, a former Lou Groza Award winner, had connected on 60 of 66 career field goals. With the score tied 16-16 in Atlanta, Aguayo lined up for a potential game-winning 56 yard field goal with 6 seconds remaining.
Blocked! Yellow Jacket defender Isaac Austin scoops up the football and returns it 78 yards for the game-winning score as ESPN's Mark Jones proclaims, "You can't believe what just happened! WHAT A TIME TO BE ALIVE!"
RIP the U: 10/24/15
The University of Miami, which less than three decades earlier won a Division I record 58 consecutive home games, loses 58-0 at home to Clemson. Hurricanes coach Al Golden is fired the next day.
Stanford Studs
In a Thursday night rout of UCLA, Stanford's Francis Owusu makes a behind-the-defender's-back touchdown catch on a flea-flicker.
Nine days later, against Washington, Cardinal teammate Joshua Garnett, a 6-foot-5-inch 320-pound pre-med student, obliterates two Washington defenders on the same play. Garnett will later win the Outland Trophy as the nation's top interior lineman.
SportsCenter Exchange of the Year
ESPN's Neil Everett is Caucasian. His on-air partner, Stan Verrett, is African-American. Verrett, narrating highlights of the Cal-UCLA football game, disapproves of the Bruins' black uniforms.
Verrett: "And those are UCLA's 'City' uniforms. I don't like them. I don't like teams wearing black if black isn't their normal color."
Everett: "And you can say that because black is your normal color."
A few moments of silence. Then, as both chuckle, Verrett asks, "You went there?"
A Night to Remember
Game 1 of the World Series between the Mets and Royals, which takes place on the anniversary (October 27) of both teams' last World Series clinching wins, features a leadoff inside-the-park home run (the first since 1903), a starting pitcher, the Royals' Edinson Volquez, whose father had died only hours earlier (a fact he was unaware of, while most anyone on Twitter knew), a power outage that forces Fox to use its backup broadcast team of Matt Vasgersian and John Smoltz (almost every viewer considers it an upgrade), the longest game in World Series history (14 innings), and the oldest losing pitcher (Bartolo Colon, 42, of the Mets) in the history of the Fall Classic.
Leg-endary
In Las Cruces, New Mexico State beats Idaho, 55-48, and snaps the nation's longest losing streak (17 games) when defender Terrill Hanks secures an interception in overtime using his ankles. What a time to be alive.
November
Fantastic Finishes
In Durham, North Carolina, Miami uses eight laterals in an updated version of "The Play," Cal's lateral-aided kickoff return to beat Stanford 35 years earlier. The officials are suspended by the ACC for missing at least two calls on the Hurricanes' game-winning kickoff return, though no one mentions that on Duke's go-ahead touchdown the Blue Devil player did not appear to break the plane of the goal line.
In Oxford, Mississippi, Arkansas converts a fourth-and-25 in overtime when tight end Hunter Henry tosses a lateral over his shoulder as he is being tackled. The ball is scooped up by Razorbacks running back Alex Collins, who scoots 27 yards down the opposite sideline for the first down. The Hogs ultimately win, 53-52. Ole Miss's defeat allows Alabama to win the SEC West and enter the College Football Playoff through the back door.
In Lincoln, Nebraska, Michigan State suffers its first loss of the season, 39-38, when the Cornhuskers' Brandon Reilly catches a 30-yard touchdown pass with 17 seconds remaining. Reilly steps out of bounds and then returns to the field before catching Tommy Armstrong Jr.'s pass, but referees rule he was pushed out. Replay seems to refute that, but the call is not reversed.
On a cold, wet and blustery afternoon in Columbus, Ohio, Michigan State knocks off unbeaten defending national champion Ohio State on Michael Geiger's game-winning 41-yard field goal as time expires. Geiger's sprinting windmill celebration is legendary.
Twin Towers
In an otherwise unremarkable college basketball contest between Central Florida and UC-Irvine, 7-foot-6 centers Tacko Fall and Mamadou Ndiaye take part in what may be the tallest tipoff in college hoops history.
December
Flail Mary
Trailing 23-21 but given a second chance after a facemask penalty on the game's final play, Green Bay snaps the ball with 0:00 showing on the clock, 61 yards from the goal line. Packers quarterback Aaron Rodgers uncorks a ballistic missile that teammate Michael Rodgers secures in the end zone for an improbable victory. Note: Detroit's 6-foot-5 Calvin Johnson, arguably the most gifted receiver in the NFL, was not inserted into the game to play defense on the final play.
Post Pattern
Antonio Brown of the Pittsburgh Steelers returns a punt 71 yards for a touchdown and celebrates by leaping onto the field goal post and hugging it with both arms and legs. The NFL is not amused, fining him $11,576.
My Dantonio
For a special college football playoff issue, Sports Illustrated puts Michigan State coach Mark Dantonio on its cover but misidentifies him as "Mike Dantonio." Perhaps SI confused him with NBA coach Mike D'Antoni. Dantonio will later give a signed copy of the issue to his brother, Mike Dantonio, as a Christmas gift.
Quotable
"I feel sorry for my Mormon friends from BYU: They don't drink." —ESPN's Brent Musburger, after BYU falls behind 35-0 to arch-rival Utah after just 10 minutes in the Las Vegas Bowl. The Cougars will rally to only lose 35-28.
Drone Attack
Skier Marcel Hirscher of Austria is nearly struck by a drone camera while competing in a World Cup event in Italy. As if skiing is not dangerous enough already.